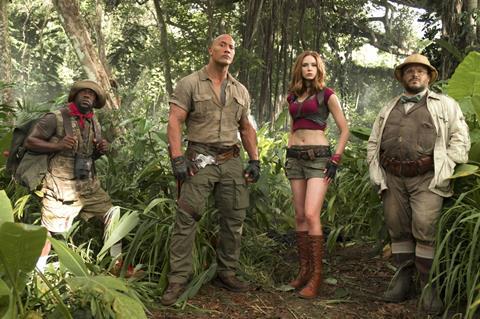 JANUARY 16 UPDATE: A confirmed $39.9m debut in China helped Jumanji: Welcome To The Jungle retain its international box office crown with ease as $81.7m propelled the running total to $385m and $676.6m worldwide.
Elsewhere, Star Wars: The Last Jedi has overtaken Beauty And The Beast to become the tenth highest global release of all time and the top 2017 global release as approximately $30.3m boosted the running total to $1.271bn as of January 16 compared to Beauty's $1.264bn. Working Title's Darkest Hour rules the waves in the UK with a thunderous $6.4m debut including previews.
SONY PICTURES RELEASING INTERNATIONAL
UPDATED: Jumanji's $39.9m China bow has amassed more than The Last Jedi has grossed in the same territory in its first week, and elevated the Asian score to approximately $113.1m, assisted by an impressive $2.3m debut in the Philippines, and a $2.9m second-weekend hold in South Korea that boosted the tally there to $11.6m.
Latin America's regional tally has climbed to approximately $57m as the film opened top in Peru on $1.2m, and held on to number one in its second weekend in Brazil as a superb 29% drop on $3.6m boosted the haul to $13.6m. Jumanji also stayed top in its third consecutive session in Colombia on $1.1m for $6.2m, and added $1.4m in Argentina where it ranks number two and stands at $4.1m after two sessions.
Jumanji has generated approximately $159.2m in Europe. The UK leads the way in the region and added $3.3m for $40.3m after four weekends, while Italy delivered $2m for $9.5m, Germany $1.9m for $17.1m, and France $2.1m for $21.9m. The family smash ruled Australia for a third consecutive weekend on $3.7m for $27.8m.
Insidious: The Last Key grossed $17.6m for $44.5m from 40 markets and set a record as the highest horror release in history in Indonesia on $5.7m including previews. The sequel debuted at number six in the UK on $2.5m for a 39% gain on the previous episode in the series. Mexico added $1.3m for $6.4m, Germany a little below $1m for $3.3m, and France $898,000 for $3.7m.
Ridley Scott's All The Money In The World starring Michelle Williams, Christopher Plummer and Mark Wahlberg grossed $741,000 in the UK in its second weekend for $3.3m, and has earned a supporting actor Bafta nod for Plummer.
ASIA UPDATE
Ex-File 3 (Qian Ren 3) cemented its status as the year's first big hit in China as it added $24.3m for $254m, while Forever Young opened on $20.3m. South Korean fantasy Along With The Gods: Two Worlds grossed $7.9m for 93.8m, and 1987: When the Day Comes added $9.,2m for $40m.
WALT DISNEY STUDIOS MOTION PICTURES INTERNATIONAL
UPDATED: Star Wars: The Last Jedi climbed by approximately $19m to $675m internationally, while North America has generated $595.6m. In Europe, The Last Jedi ranks as the eighth highest grossing release of all time, passing The Hobbit: An Unexpected Journey and held on to number one in Germany and Switzerland for the fifth consecutive weekend. Germany has generated $77.7m, behind the lead market of the UK on $107.4m
The sci-fi has also ranked top in Japan for five consecutive weekends. It stands at $58.3m and ranks fourth on the chart behind the UK, Germany, and France on $60.2m. China has been a disappointment and the film has grossed $39.1m after its first week of release.
Pixar's Coco added approximately $19m to reach $428.4m and stands at $626.6m worldwide. The number one South Korean debut triggered approximately $5.8m rising to $7.4m including previews for Pixar's third highest debut in the territory. A $2.5m number one bow in Argentina delivered Pixar's highest summer holiday debut there.
This is a film that has unlocked China and the $183.1m running total consolidates Pixar's record achievement in that territory. Next is Mexico on $57.8m – Coco is the number one release of all time there – followed by France on $29.9m, Spain on $18.1m, and Italy on $11.9m.
FOX INTERNATIONAL
UPDATED: The Greatest Showman crossed $100m as $15.1m from 76 markets propelled the running total to $100m. The UK produced $2.8m for $18.2m after three sessions, Australia $1.9m for $12.7m after three, Mexico $1.3m for $9.6m after three, Germany $1.2m for $3.7m after two, and Spain $961,000 for $5m after three. Ferdinand added $14.3m from 75 for $133m and opened top in Brazil on $3.6m. The animation stands at $13.8m in France after four.
Three Billboards Outside Ebbing, Missouri, powered by last weekend's Golden Globe wins and Bafta nods that confirms it as an awards season frontrunner, grossed $7.6m from 12 markets for $9.9m. The drama opened in the UK on $3.1m, Spain on $1.1m, and Italy on $1m.
The Shape Of Water debuted top in its first international market of director Guillermo del Toro's native Mexico on $3.4m from 1,342 screens. Murder On The Orient Express stands at $241.8m, and Kingsman: The Golden Circle $305.1m following a $1.7m Japan weekend that elevated the tally after two weekends to $8.9m and more than the lifetime total of the predecessor.
UNIVERSAL PICTURES INTERNATIONAL
UPDATED: Working Title's Darkest Hour added $10.4m to reach a relatively early $19.9m, from 22 territories in play. The Winston Churchill drama delivered a superb $6.4m number one opening weekend in the UK and executives can look to a lucrative run with last weekend's Golden Globe win for Oscar frontrunner Gary Oldman and nine Bafta nominations.
The period drama opened in Australia in sixth place on $1.1m. (Australia's Ben Mendelsohn stars as King George VI.) In other debuts, Brazil produced $767,000, Spain $568,000, New Zealand $248,000, Switzerland $198,000, Norway $193,000, and Portugal $192,000. France generated the top holdover as $858,000 elevated the running total to $2.5m. In another second-weekend effort, a further $204,000 in Hong Kong boosted the tally to $597,000.
Pitch Perfect 3 grossed $8.1m for $68.3m and delivered a mighty $2.1m in the Philippines for number two. It stands at $18.9m after four weekends in the UK, $12.6m after two in Australia, and $8.9m after four in Germany. Local acquisition Benedetta Follia arrived at number one in Italy on $4.6m, while Spanish hit Perfectos Descondidos added $1m in its seventh session in Spain to return to top spot and reach $19.7m.
THE COMMUTER
UPDATE: Liam Neeson thriller The Commuter brought in $9.7m from international markets, of which $2.3m came from Germany and Austria via Studiocanal. The $7.4m balance came from assorted distributors: Italia Film markets generated $2m from the Middle East; Apex reported a $613,00 number two bow in Taiwan; and there was a $500,000 launch in Colombia via Gussi.
PARAMOUNT PICTURES INTERNATIONAL
Downsizing grossed $4.2m in 25 markets including 21 new openings for $7.4m. The satire debuted in France in second place on $1.8m, and arrived in South Korea at number five on $968,000.
SIERRA/AFFINITY
UPDATED: Molly's Game starring Jessica Chastain grossed $3.6m to boost the tally to $14m. The true-life drama opened in Russia on $563,000 and added $720,000 in its second weekend in the UK for $4.6m through eOne. After two weekends, the drama stands at $1.1m in Spain through eOne, and $2.9m in France through SND.
STX INTERNATIONAL
All The Money In The World opened in three territories this weekend (the Netherlands, Finland and Vietnam) as a $2.9m haul including the UK, where Sony distributes the film, brought the running total to $12.7m. There are 20 territories to go including Brazil and Argentina this week.
WARNER BROS PICTURES INTERNATIONAL
UPDATE: Father Figures added $1.1m this weekend from 17 territories for $3.1m. and opened in Russia on $850,000. Justice League stands at $427.6m and the global running total has climbed to $654.8m.
The company did not report number for The Disaster Artist, whose embattled director and Golden Globe-winning star James Franco last week labelled as "not accurate" allegations of misconduct and has since been accused of inappropriate behaviour and misconduct by five women. The film stood at $5m heading into the weekend.