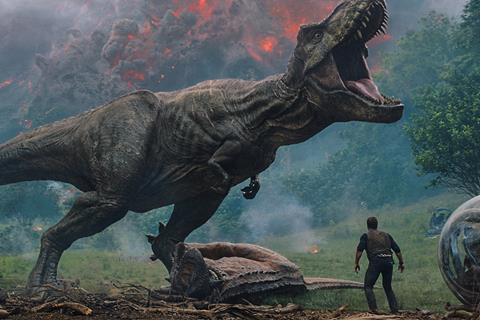 Universal's Jurassic World: Fallen Kingdom could finish its first international weekend in the $135m-$140m range, according to early estimates from industry observers.
The studio would not officially comment on its expectations as it prepares to unleash the dinosaurs in 48 markets this week, part of a staggered release that launches before the World Cup kicks off in Russia on June 14.
While executives will officially downplay expectations, they have every reason to feel bullish given that the last outing for Jurassic World in 2015 resulted in a rare $1bn-plus international final haul ($1.019bn) and finished on $1.67bn worldwide.
Stars Chris Pratt and Bryce Dallas Howard return for the latest instalment, directed by J. A. Bayona. Wednesday brings debuts in France, Germany, South Korea and Indonesia, among others.
On Thursday the dinosaurs venture into Bayona's home turf Spain, Italy, Russia, Middle East, Malaysia, Portugal, Netherlands, Hong Kong, Singapore, Thailand and the U.A.E, among others. The UK will be one of at least a dozen territories where Jurassic World: Fallen Kingdom opens on Friday, along with Sweden, Taiwan, South Africa, Turkey, Poland, and India.
China and Egypt are set for June 15 and a week later the film debuts in North America (June 22) and day-and-date in a number of markets including Australia, Mexico, Brazil, and Argentina. All four countries will be in action in the World Cup that weekend.
Jurassic World: Fallen Kingdom takes place four years after the luxury resort Jurassic World was destroyed by dinosaurs. When Owen and Claire return to the island to rescue the remaining animals during a volcano eruptio, they uncover a conspiracy that threatens to upset the order of Earth.
James Cromwell, Ted Levine, Justice Smith, Geraldine Chaplin, Daniella Pineda, Toby Jones, Rafe Spall and Isabella Sermon also star, and BD Wong and Jeff Goldblum reprise their roles. Steven Spielberg and Colin Trevorrow serve as executive producers.
Trevorrow wrote the screenplay with Derek Connolly, and producers are Frank Marshall, Pat Crowley and Belén Atienz.