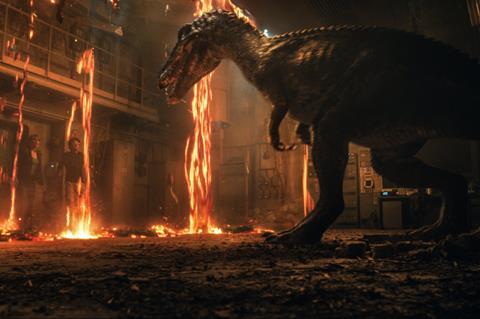 JULY 2 UPDATE: Jurassic World: Fallen Kingdom has raced past $900m worldwide as a $118.4m haul propelled the tally to $935.1m worldwide, while Fox Star scored its second highest debut in India where the biopic Sanju arrived on $21.6m.
UNIVERSAL PICTURES INTERNATIONAL
UPDATED: A $57.3m international weekend from 68 territories boosted the running total on Jurassic World: Fallen Kingdom to $669.2m. The dinosaurs rank second in China on $14.9m behind local opened Animal World and have reached $237.1m after three sessions.
In second weekend holds, Mexico delivered $6.2m for $23.3m and Australia $4.5m for $14.7m, while the UK generated $2.5m for $45.8m after four.
Elsewhere Jurassic World: Fallen Kingdom added $2.5m for $12.8m in Brazil, $1.6m for $4.8m in Argentina, $1.4m for $3.7m in Peru, $1.2m for $3.9m in Colombia, and $1.3m for $3.2m in Chile – all after two – and grossed $1.5m for $45.5m in South Korea and $1.2m for $20.9m in Spain, both after four. The blockbuster arrives in Japan on July 13.
The Blumhouse horror thriller Truth Or Dare added $1.1m for $51.8m and $92.5m worldwide and debuted in Hong Kong at number three on $255,000. Wim Wenders' documentary Pope Francis: A Man Of His Word stands at $2.1m.
WALT DISNEY STUDIOS MOTION PICTURES INTERNATIONAL
UPDATED: Incredibles 2 became the tenth Pixar film to cross $600m worldwide as an $89.8m weekend boosted the running total to $646.8m and overtook the $633m lifetime total (inflation unadjusted) of The Incredibles. A further $45.4m international haul from 36 territories elevated the tally to $208.2m with Latin America in strong early form.
The superhero family ventured into Brazil and opened top on $6.6m in the second highest animation debut behind Despicable Me 3 heading into school holidays. It has grossed an estimated $79m across South America and stands at $30m in Mexico, $8.8m in Argentina, and an estimated $7.8m in Colombia.
Elsewhere the film has generated a highly respectable $40.7m in China, $19.3m in Australia, $13.1m in Russia (where the film ranks as Pixar's second highest release behind Inside Out), and an estimated $7.4m in Indonesia. Incredibles 2 is yet to open in the major European markets. It arrives this week in France, and enters the UK on July 13.
Lucasfilm's Solo: A Star Wars Story added $6.2m for $161.7m, and stands at $368.9m worldwide. It opened in Japan on an estimated $5.9m to rank as the top Western release. The UK remains the lead market on $25.4m, followed by China on $16.6m, Germany on $15.9m, Australia on $12.7m, and France on $10.9m. Latest estimates put Spain on $6.9m, Russia on $6m, and Italy on $5.2m.
CHINA UPDATE
Han Yan's fantasy thriller Animal World ranked top on $31.6m and stands at $34.6m in China, where box office reached $4.77bn (RMB 31.6bn) in the first half of the year according to data from EntGroup. The Animal World cast includes Michael Douglas. Action title Escape Plan 2: Hades with Sylvester Stallone and Dave Bautista debuted in China on $11.6m.
WARNER BROS PICTURES INTERNATIONAL
UPDATED: Ocean's 8 generated $14.4m from 62 markets as the international running total climbed to $95.7m and worldwide reached $210.7m.
In a trio of second weekend holds, the heist caper added $1.7m in the UK to rank number two and stand at $9.1m, grossed $1.1m in Russia where it also ranks second and has amassed $4.6m, and added $1.1m in Germany for $3.6m and ranks number two.
In the third weekend, the film grossed $979,000 in South Korea for $10.4m and ranks fourth, and grossed $732,000 for $4.6m in France where it ranks third. The female masterminds made off with an additional $814,000 in the fourth weekend in the lead market Australia where Ocean's 8 stands at $11.4m and ranks fifth.
The film debuted in Sweden and Finland onan estimated $593,000 and $316,000, respectively, ranking second in both. Ocean's 8 delivered the best debut in the franchise in Finland. It opens this week in Spain.
The comedy Tag grossed $3.8m from 37 markets for $7.6m and opened in third place in World Cup hosts and quarter-finallists Russia on $1.1m, and arrived in the UK on $629,000 in fourth place. The film opens this week in Italy and will continue to roll out in the summer.
The Witch delivered a superb number one debut in South Korea on an estimated $7.3m on 1,090 screens, securing close to 50% of top five market share. The release is a Warner Bros Pictures presentation of a Gold Moon Film Production and Peppermint & Company co-production.
FOX INTERNATIONAL
UPDATED: Fox Star's biopic Sanju about the life of jailed actor Sanjay Dutt debuted in India and the UK for a combined $22.9m, earning top spot in India for Fox Star's second highest debut ever on $22.4m in 4,200 venues.
The UK delivered $597,365 in sixth place from 137. Ranbir Kaboor portrays Dutt, and the cast includes Paresh Rawal.
Deadpool 2 added $3.2m for $409.m and arrived in Egypt on $161,628 in 32 sites. The wise-cracking superhero stands at $43.9m in the UK, $26.9m in Australia, $22.7m in Germany, and $22.1m in France – all after seven weekends. It has amassed $15.4m in Japan after five.
Rom-com Love, Simon stands at $22.1m following a $1.6m session, debuting in Germany on $555,624 in 501, France on $370,454 in 232, and Austria on $118,484 in 83. Spain has produced $602,183 after two.
LIONSGATE INTERNATIONAL
UPDATED: Sicario: Day Of The Soldado arrived in 42 Lionsgate territories on $8.3m. The drug cartel thriller led the way in South Korea on $1.2m, and debuted in Australia on $927,000, the UK on $923,000, the Middle East on an estimated $930,000, and France $677,000. It opens this week in Belgium and the Netherlands.
SONY PICTURES RELEASING INTERNATIONAL
UPDATED: Sicario: Day Of The Soldado debuted in 13 SPRI markets across Latin America and Spain, earning $2.1m on more than 1,800 screens.
Hotel Transylvania 3: Summer Vacation got an early launch in Australia as school holidays begin this week, arriving on a franchise-best $1.9m including previews on 397 screens. The animation opens in Brazil, Mexico, Russia, and Spain over July 12 and 13.
STX INTERNATIONAL
UPDATED: Adrift, the Shailene Woodley and Sam Clafin survival drama, opened in seven international territories including Australia, where it debuted at number seven on $661,000, and the UK, where it also opened at number seven on $528,000. Overall the film added $2.5m from 32 markets and stands at $5m. Adrift debuted in Russia at number four on $529,000, and arrives this week in France.
PARAMOUNT PICTURES INTERNATIONAL
Horror A Quiet Place grossed $900,000 in nine markets to reach $142.7m. The final market will be Japan on September 28. The animation Sherlock Gnomes grossed $341,000 for $44.9m.