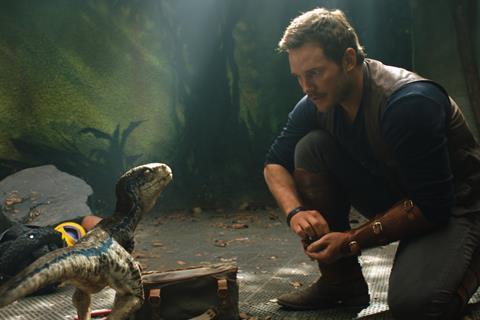 JUNE 11 UPDATE: Universal's early summer tentpole Jurassic World: Fallen Kingdom beat expectations as it opened in its first international wave on a confirmed $150.9m to deliver the fifth highest launch of the year-to-date.
Meanwhile Marvel Studios' Avengers: Infinity War is on course to hit $2bn at the worldwide box office on Monday (June 11) through Disney.
UNIVERSAL PICTURES INTERNATIONAL
UPDATE: Jurassic World: Fallen Kingdom ranks number one in all 48 territories and trails only the opening salvos of Avengers: Infinity War, Monster Hunt 2, Deadpool 2, and Black Panther – all of which debuted in more than 60 territories, excluding China phenomenon Monster Hunt 2.
Universal's president of international distribution Duncan Clark said, "Jurassic World is a genre of one, and each film within this franchise is engineered as a global event. Audiences gravitate to the nostalgia, storytelling and spectacle, and from this outstanding foundation we are set for a lengthy international playout, with major markets – including China, Australia, Latin America and North America – yet to open."
Weekend business was led by $26.8m in South Korea, where the film delivered Universal's highest opening weekend following the industry record $9.7m opening day last Wednesday. It also delivered the studio's highest opening weekend in Hong Kong on $4.3m.
Elsewhere the sequel starring Chris Pratt, Bryce Dallas Howard and Jeff Goldblum has grossed $19.2m in the UK including two days of previews, $10.9m in France including Thursday night previews, and $9.3m in director J.A. Bayona's home turf Spain, where there was one day of previews and a record $3.6m Saturday for the studio.
The launch generated $8.9m in Germany including previews, $8.5m in Taiwan including previews, $8.1m in India including previews, $7.9m in Russia including one day of previews, $5.4m in Indonesia including previews, $4.7m in Thailand, $4.5m in Italy, $4.2m in Malaysia, $4.1m in the Philippines, and $2.9m in Singapore includin, g previews.
Elsewhere the tentpole managed $2.6m in the Netherlands including previews, $1.8m in the UAE and Vietnam including previews, $1.4m in Sweden, $1.3m in Belgium, $1.1m in each of Switzerland, Norway, Poland and Denmark, and $1m in Austria.
Jurassic World: Fallen Kingdom has produced the highest opening weekend for the month of June in nine markets: Spain, Taiwan, Thailand, Netherlands, Turkey, India, Mongolia, Vietnam, and Iceland.
It has scored the highest opening weekend in the Jurassic franchise in 15 markets: South Korea, Spain, Hong Kong, India, Taiwan, Thailand, Turkey, Estonia, Hungary, Iceland, Lithuania, Ukraine, Mongolia, Vietnam, and Estonia.
Truth Or Dare stands at $46.8m and Blockers $32.5m.
FOX INTERNATIONAL
UPDATE: Deadpool 2 raised its game to $376.5m following an $18.3m weekend haul. The expletive-laden Ryan Reynolds smash added $2.2m in its second weekend in Japan for $10.2m and ranks as the top Western release, and used $1.6m to climb to $40.1m after four sessions in the UK where it ranks second. It is also second in Australia on $24.8m after four.
WARNER BROS PICTURES INTERNATIONAL
UPDATE: Ocean's 8 featuring a female ensemble led by Sandra Bullock and Cate Blanchett opened on $12.5m day-and-date with North America in 16 markets, mostly in Latin America where it was the number one film.
The crime caper, which opened top in North America, arrived at number one in Australia on $4.6m, top in Mexico on $2.5m, and number one in Brazil on $1.7m. It opens this week in France and South Korea.
Rampage stands at $420.5m, and Life Of The Party $9.3m.
WALT DISNEY STUDIOS MOTION PICTURES INTERNATIONAL
UPDATE: Avengers: Infinity War is on target to cross $2bn worldwide on Monday (June 11) after adding $19.1m over the weekend to boost the running total to $1.999bn. The global haul consolidates the Marvel Studios release as the fourth highest global release of all time and the highest Marvel Cinematic Universe (MCU) release. Internationally, $1.344bn ranks as the third highest, and it is the highest result for an MCU release.
Solo: A Star Wars Story added $11.8m from 53 markets for a disappointing $136.7m and combines with North America for $313.4m worldwide. The UK remains the lead market on $21.8m, following by China, where the Star Wars universe has struggled to gain a foothold, on $16.3m.
PARAMOUNT PICTURES INTERNATIONAL
Sherlock Gnomes added $1.3m for a $42m running total and has reached $1.7m in Brazil after two sessions, and $10.1m in the UK after five.
Grey dollar drama Book Club stands at $3.1m and opened in France on $416,000. The UK has delivered $2.7m after two weekends. Horror smash A Quiet Place on $138.8m has produced $33.7m from four sessions in China.
SONY PICTURES RELEASING INTERNATIONAL
UPDATE: Family hit Peter Rabbit added $1m for $232.5m.
STX INTERNATIONAL
UPDATE: Survival drama Adrift added $236,000 for an early $865 running total from 12 markets.