NOVEMBER 28 UPDATE: The Disney animation arrived at number one over the Thanksgiving holiday weekend to overthrow Fantastic Beasts And Where To Find Them and distinguish itself from an otherwise mediocre set of debutants.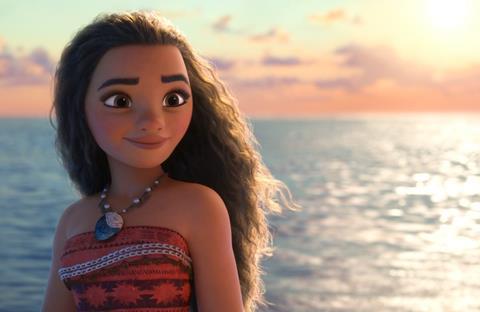 Dwayne Johnson and newcomer newcomer Auli'i Cravalho lend their voice talents to the Walt Disney Animation Studios coming-of-age story set in the Pacific Islands. The film arrived on an estimated $56.6m in 3,875 theatres, rising to $82.1m over five days. Disney did not disclose a production cost.
Warner Bros' Fantastic Beasts slipped 39.4% to second place on $45.1m for $156m after two sessions, and Marvel Studios' Doctor Strange crossed $200m through Buena Vista in its fourth session as $13.7m boosted the running total to $205.8m.
Paramount's wartime thriller Allied starring Brad Pitt and Marion Cotillard opened in fourth place on $12.7m from 3,160, rising to $17.7m after five days. This was a disappointing result considering the stated $85m production cost, which does not include marketing spend.
Broad Green Pictures released Bad Santa 2 starring Billy Bob Thornton in seventh place on a lacklustre $6.2m from 2,920 sites, rising to $9.1m over the full five-day opening weekend. The film reportedly cost $26m to make.
After three weekends from Lava Bear, FilmNation and 21 Laps, Arrival ranks fifth through Paramount on a terrific $62.6m following an impressive $11.5m hold after a superbly low 5.6% drop.
Hacksaw Ridge from Pandemonium Films, Permut Presentations and Cross Creek Pictures is also performing well. The Second World War drama ranks ninth on $52.2m after four sessions. It held well, slipping 18.3% from last weekend.
Rules Don't Apply, Warren Beatty's period Hollywood tale starring himself, Lily Collins and Alden Ehrenreich, also failed to impress as it arrived on a $25m price tag at number 12 through Fox on $1.6m from 2,382, climbing to $2.2m over five days.
The Weinstein Company's awards season contender Lion opened well enough at number 32 on $123,360 from four venues for a $30,840 average. Dev Patel, Rooney Mara and Nicole Kidman star in the true-life drama about an adopted Indian man in Australia who treks down his biological family.
Amazon Studios' Manchester By The Sea, which last weekend produced the biggest opening weekend average in the 13-year history of Amazon's theatrical partner Roadside Attractions, surged eight places to number 14 as $1.2m elevated the early score to $1.6m.
"After garnering so many favorable reviews and enjoying a fantastic opening weekend, Kenneth Lonergan's film continues to connect strongly with audiences and critics in the new markets," said Amazon Studios head of marketing and distribution Bob Berney.
"The film's authentic portrayal of a working-class family, with a full range of emotions, resonated with audiences around the country this holiday weekend. We look forward to expanding the film further with our exhibition partners in the coming weeks."
A24's Moonlight ranks 14th in its sixth weekend on $8.5m and counting.
Focus Features' Nocturnal Animals held firm at number 18 in its second weekend as the distributor expanded the theatre count by 89 to 126 as a further $836,238 elevated the running total to $1.7m. The film expanded by 44 venues to 48.
EuropaCorp released its awards hopeful Miss Sloane, starring Jessica Chastain as a Washington lobbyist. The drama arrived at number 40 on $59,797 from three theatres.
Reliance Big opened the comedy Dear Zindagi at number 16 on $977,928 from 153 for $1.4m over five days, and Music Box released the documentary Seasons in 42nd place on $27,134 from 13.
Overall the top 12 combined for $173.9m, a fraction above the same period in 2015 and a 16.6% rise on last weekend.
This week's wide release is horror title Incarnate through High Top Releasing.
Confirmed top 10 North America November 25-27, 2016
Film (Dist) / Conf wkd gross / Conf total to date
1 (-) Moana (Buena Vista) Walt Disney Studios Motion Pictures International $56.6m $82.1m
2 (1) Fantastic Beasts And Where To Find Them (Warner Bros) Warner Bros Pictures International $45.1m $156m
3 (2) Doctor Strange (Buena Vista) Walt Disney Studios Motion Pictures International $13.7m $205.8m
4 (-) Allied (Paramount) Paramount Pictures International $12.7m $17.7m
5 (4) Arrival (Paramount) FilmNation $11.5m $62.6m
6 (3) Trolls (Fox) Fox International $10.6m $135.4m
7 (-) Bad Santa 2 (Broad Green Pictures) $6.2m $9.1m
8 (5) Almost Christmas (Universal) Universal Pictures International $5.7m $34.7m
9 (6) Hacksaw Ridge (Lionsgate) IM Global $5.5m $52.2m
10 (7) The Edge Of Seventeen (STX Entertainment) STX / Sony Pictures Releasing International $2.9m $10.3m