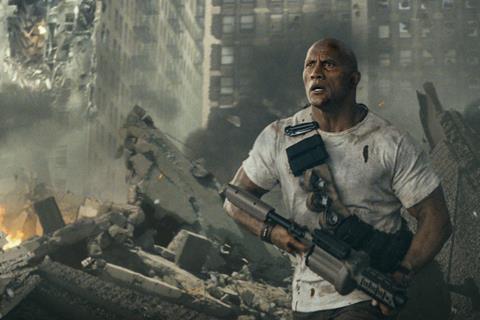 APRIL 14 UPDATE: Rampage has smashed its way to an estimated $73.5m internationally, powered by $36.8m from China after two days.
The Dwayne Johnson action tentpole delivered Warner Bros Pictures International's third highest opening day in China on $15.6m for close to 70% box office share, adding $21.2m on Friday.
Remaining territories accounted for $36.7m by Saturday. The UK stands at $2.8m after two days, and UAE, South Korea and Malaysia each on $1.5m.
Rampage opened top in Mexico on Friday on $992,000, while it arrived as the top Hollywood film in India on $540,000, and delivered an excellent $522,000 in Vietnam for Warner Bros' second highest opening day.
APRIL 13 REPORT: Rampage stormed to a $15.7m opening day in China including Thursday previews as Dwayne 'The Rock' Johnson returned to what continues to be a rewarding territory for the A-lister.
Overall the action adventure has grossed $25.4m including debuts in a further 40 markets in its first two days through Warner Bros Pictures International.
The tentpole arrived in the UK on $1.3m including Wednesday previews and currently ranks second, while a number one result in Malaysia has delivered $877,000 including previews.
The UAE generated $665,000 for number one and the second highest opening day of the year-to-date.
Johnson stars in Rampage as a scientist who teams up with a colleague to stop infected beasts from destroying Chicago. Key weekend markets include Australia, South Korea, Russia, Italy, Mexico, and Brazil.
Ready Player One stands at $322.1m with plenty left in the tank, while MGM and Warner Bros' Tomb Raider has reached $209.9m.
Paramount Pictures International reports that John Krasinski's breakout horror hit A Quiet Place has mustered $28.5m, and animation Sherlock Gnomes stands at $12.8m.
Universal Pictures International's R-rated comedy Blockers has grossed an early $12.3m, while Pacific Rim: Uprising has grossed $117.1m via Universal. Lady Bird stands at $23.6m.
Blumhouse's supernatural thriller Truth Or Dare arrives day-and-date with North America in the UK, Australia and Argentina.
Marvel Studios' Black Panther has amassed $636.7m and Pixar's Coco is on $581.6m.
Fox International launched Wes Anderson's Isle Of Dogs on $5.9m in Australia, France and Belgium. Gay comedy-drama Love, Simon stands at $6.5m and debuts in Mexico and other parts of Latin America.
Lionsgate and Participant Media's drama Wonder starring Julia Roberts and Jacob Tremblay crossed $300m worldwide last week, of which $167.7 m comes from international markets with China the top earner on $29.4m.