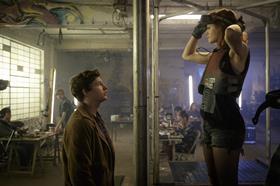 APRIL 6 UPDATE: Last weekend's global box office champion Ready Player One from Warner Bros, Amblin Entertainment and Village Roadshow has soared past $200m internationally and crossed $300m worldwide.

Steven Spielberg's sci-fi adventure based on Ernest Cline's beloved pop culture mash-up has raced to $143m (RMB 897m) and counting in China to become Warner Bros' biggest release in the market.
Ready Player One stands at approximately $232m internationally and arrives in the key market of Germany this weekend, which should play a role in propelling the international running total towards the $300m milestone.
MGM and Warner Bros' Tomb Raider reboot has crossed $200m and stands at $200.9m, performing far better internationally than in North America where the running total stands at $50.7m after three weekends. Warner Bros' crime caper Game Night on $37.1m ventures into Mexico.
Hollywood's only wide international roll-out this weekend brings John Krasinski's horror film A Quiet Place to 40 markets via Paramount Pictures International day-and-date with North America including the UK, Australia, and Latin America.
Krasinski stars alongside his wife Emily Blunt in the acclaimed SXSW opener about an alien invasion that sends a family on the run from a lethal species that hunts what it can hear. Paramount's family release Sherlock Gnomes stands at $9.1m.
Pacific Rim: Uprising should cross $200m this weekend. The sci-fi action sequel has grossed $102.7m through Universal Pictures International and stands at more than $190m including the China release via Legendary East. It debuts in Portugal and Hungary.
Rooney Mara and Joaquin Phoenix Biblical drama Mary Magdalene on $9m opens in Russia and the Catholic market of Poland, while the R-rated comedy and recent SXSW entry Blockers on $6.7m arrives day-and-date with North America in 11 Latin American and European territories including Sweden.
Pitch Perfect series writer Kay Cannon makes her directorial debut on the film, which has already opened in the UK, Australia, New Zealand, and Slovenia. Leslie Mann, Ike Barinholtz and John Cena star.
Sundance 2017 and BFI London Film Festival 2017 dramatic thriller selection Thoroughbreds opens in the UK, while local comedy-drama Champions (Campeones) opens in Spain. Universal opens the Gerard Butler crime thriller Den Of Thieves in Italy. Lady Bird has grossed $22.2m, The Post $36.2m, and Darkest Hour $89.9m.
Smash family animation Peter Rabbit has amassed $134.5m through Sony Pictures Releasing International and opened in France on Wednesday where audiences are expected to boost the impressive running total. The film's worldwide tally has crossed $246m.
Action adventure Jumanji: Welcome To The Jungle opens in Japan and has amassed more than $543m internationally and $946m worldwide.
Marvel Studios' Black Panther directed by Ryan Coogler stands at $628.1m through Walt Disney Studios Motion Pictures International. Fantasy A Wrinkle In Time from Ava DuVernay has reached $22.8m and debuts in Germany. Pixar's Coco has grossed $573.7m.
Fox International heads into what looks to be relatively quiet session. Jennifer Lawrence spy drama Red Sparrow has taken $85.8m so far and infiltrates France, while gay comedy-drama Love, Simon gets launches in the UK and Brazil and stands at an early $2.1m.
Turning to the veterans, Oscar winners The Shape Of Water and Three Billboards Outside Ebbing, Missouri stand at $127.8m and $101.7m, respectively, while Ferdinand has amassed $211.2m, and The Greatest Showman $243.6m.