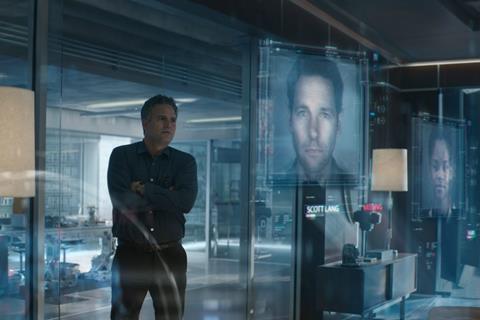 Avengers: Endgame remains on course for an unprecedented $1bn five-day global debut after racing to $644m worldwide through Friday that set international and global opening weekend records and the highest opening day in North America, climbing to $726.4m including a record-breaking Saturday in China.
Internationally, the climactic 22nd instalment in the first phase of Marvel Studios tentpoles grossed $487m by the end of Friday to overtake the former record international opening weekend of $443m set by The Fate Of The Furious.
The tentpole has reached $27m after two days in the UK, and followed up the record $15.3m Thursday opening day with the second highest Friday of all time behind Harry Potter And The Deathly Hallows: Part 2 (holiday launch).
Globally, Endgame has reached $644m and with Saturday and Sunday to go has established a new record, outpacing the $641m debut set last year by Avengers: Infinity War.
China has generated a record $217m in the first three days – Infinity War opened there on $210m – and the tally rises to $300m (RMB 2.02bn) including Saturday's record industry single day of $82.4m (RMB 553m). Endgame took a record-breaking four days to cross the RMB 2bn mark.
In North America, Endgame opened on a record $156.7m first day (including Thursday previews), and Disney executives are estimating a three-day haul in the $310m-$340m range pending Saturday and Sunday grosses that would smash the existing $257.7m opening weekend record established by Infinity War in the final weekend of April 2018.
By territory, Marvel Studios' latest blockbuster has opened everywhere except Russia (April 29) and has recorded all-time industry single day in China (including Tuesday night previews), the UK, Australia, South Korea (admissions), Brazil, Mexico, Argentina, Hong Kong, Taiwan, Thailand, Colombia, New Zealand, The Philippines, Vietnam, Egypt, Panama, Peru, Chile, Bolivia, Paraguay, Trinidad, Ecuador, Uruguay, South Africa and UAE.
It has also registered the highest industry opening day in Indonesia, Malaysia, Netherlands, Greece, Portugal, Bosnia/Herzegovina, Czech Rep, Serbia (non-local), Slovakia, Turkey, Ukraine, East Africa and West Africa.
By territory the film has reached $300m in China, $27m in the UK, $23m in South Korea, $19.7m in Australia, $15.2m in Germany, $13.5m in France, $13.4m in Italy, $12.5m in both Brazil and Mexico, $10m in the Philippines, $9m in India, $7,7m in Indonesia, and $7.1m in Hong Kong.