AUGUST 17 UPDATE: Mission: Impossible - Rogue Nation maintained winning ways thanks to a strong showing in 62 territories that propelled the running total to a confirmed $235.3m after three sessions.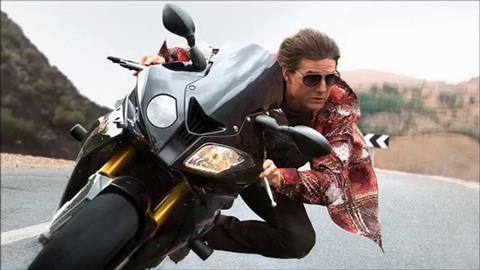 PARAMOUNT PICTURES INTERNATIONAL
UPDATED: The Tom Cruise hit opened top in France on $7.3m from 988 sites, while it arrived at number one in Brazil on $3.1m from 493 for franchise and Cruise records as well as Paramount's fifth biggest debut.
Portugal also generated a $637,000 table-topping result that delivered a high-water market for the Mission Impossible series.
Japan led holdovers on $4.6m from 345 for $19.8m after two sessions, while in the third weekend South Korea and the UK produced $3.7m from 500 for $38.1m and $2.5m from 522 for $23m, respectively.
A further $2.5m from 706 in Germany boosted the tally to $7m after two and $1.8m from 594 in India elevated the running total to $10.4m after the same period.
Rogue Nation stands at $8.7m in the Middle East after a $2.5m session, $8.1m in Russia after two, $8,8m in Australia after three and $4m in Spain after two.
The film arrives in Italy this week and in China on September 8.
Terminator: Genisys grossed $699,000 from 49 territories and stands at $235.9m with China still to come on August 23.
The Little Prince added $1.4m from 861 in France for $7.4m after three weekends.
ASIA UPDATE
Rom-com Go Away Mr Tumor delivered $21.5m to boost he early tally to $29.3m, while Monster Hunt added $11.6m for a staggering $349.5m.
South Korea's Veteran grossed $18.3m to reach $44.4m and The Assassination grossed $7.8m for $71.2m.
FOX INTERNATIONAL
UPDATED: Two terrific local language performances overshadowed the ongoing travails of Fantastic Four, punctuated by Brothers, which grossed $12.4m from seven markets via Fox International Productions (FIP) and opened top in India on $11.2m from 3,400.
Lionsgate partnered with Endemol India and Dharma Productions on the film, based on Lionsgate's Warriors. The film marks Lionsgate's first Hindi-language co-production and is presented by Fox Star Studios in association with Lionsgate Dharma Productions and Endemol India.
Another FIP title, Pablo Trapero's Argentinean thriller El Clan, opened top in its native country on a superb $3.4m from 320 screens for the biggest ever release of a local title. The thriller will screen in competition in Venice and receives its North American premiere in Toronto.
Fantastic Four added $16m from 64 markets to reach a mediocre $59.9m. The superhero saga held on to pole position in its second weekend in Mexico on $1.8m for $9m and ranked third in France where $1.5m raised the tally to $6.2m.
It added $1.3m in Brazil to rank second and reach $5.3m after two and grossed $1.1m for $7.6m in the UK after the same period, ranking sixth. There was a strong $748,000 debut in the UAE from 61.
Paper Towns grossed $3m from 54 markets for $36.5m and the YA adaptation opened at number six in France on $1.1m.
Chilean miners drama The 33 held on to its top berth as $1m from 155 boosted the tally after two sessions to an excellent $3.1m making this the second biggest second weekend for a local title behind Stefan V Kramer.
UNIVERSAL PICTURES INTERNATIONAL
UPDATED: Universal and Illumination Entertainment's Minions brought in a further $18.5m from 61 territories as the family smash vaulted to $648.4m and $960.5m worldwide.
Universal brass reported that Minions has overtaken Finding Nemo on $936.8m to rank as the fifth biggest animation worldwide.
It is the fifth biggest animation at the international box office behind Frozen on $880m, Ice Age: Continental Drift on $718m, Ice Age: Dawn Of Dinosaurs on $690m and Toy Story 3 on $650m. Universal executives expect it to overtake Toy Story 3 this week.
Japan generated $3.3m from 328 for $25.3m after three weekends as the film overtook Despicable Me 2 on $24.7m to become the biggest non-Disney/Pixar animation in the market. There are four territories to go: Italy on August 27, Turkey on September 4, China on September 13 and Greece on September 24.
Jurassic World brought in a further $9.3m from 51 territories for $968.7m and $1.6bn worldwide. The film remains number one for the second session in Japan where $7.6m from 352 venues boosted the tally to $35.1m.
Trainwreck grossed $6m from 27 territories for an early $13.5m running total and opened in fifth place in the UK on $1.4m from 458, fourth in Germany on $1.3m from 476 and fifth in Spain on $389,000 from 265. Amy Schumer's comedy stayed top in its second weekend in Australia as $1.6m from 247 elevated the tally to $7m.
Straight Outta Compton - the runaway number one film in North America over the weekend - opened in Trinidad and other Caribbean Islands on $32,839 from 13 sites. The NWA biopic opens in the UK and Germany in two weeks.
Ted 2 used a $5.7m haul from 48 to climb to $92.9m and $174m worldwide. The comedy arrived in eight new territories led by the Netherlands on $1.2m from 115, Argentina on $543,00 from 110 for number two and Chile on $141,000 from 48 for number three. France produced $1.3m for fourth place and $4m after two sessions.
Unfriended ventured into Latin American and delivered $993,000 overall from seven territories for $25.6m. The horror opened in Mexico in fifth place on $485,000 from 344 and second in Peru on $251,000 from 74 for Universal's third best horror debut behind Ouija and Mama. It opens this week in Colombia.
Pitch Perfect 2 has reached $101m and doubled the $51m lifetime total of the original. It opened in Brazil in fifth place on $225,000 from 211.
SONY PICTURES RELEASING INTERNATIONAL
UPDATED: Pixels arrived in a further eight markets and grossed $12.5m overall from 80 as the running total climbed to $91.5m.
The UK delivered the weekend highlight on a $4.2m number one debut from 908 screens including previews. Malaysia and Singapore also produced number one results on $704,000 from 141 screens and $735,000 from 49 including previews.
There was a notable debut in Vietnam where Sony executives said $210,000 from 99 exceeded the lifetime total of The Lego Movie by 49%.
Pixels added $1.1m from 939 in Germany for $6.6m after three weekends, $617,000 from 639 in Mexico for $11.4m after four and $444,000 for $9.1m after four in Brazil.
WARNER BROS PICTURES INTERNATIONAL
UPDATED: The Man From U.N.C.L.E. debuted in 23 markets including the UK, Germany, Australia and Russia and produced a disappointing $12m.
The 1960s-set TV spy series opened in first place in Russia on a solid $3.1m from 930 screens and scored $2.2m in the UK from 540, $1.2m in Australia from 289, $693,000 in Germany from 485 and $690,000 in Spain from 337.
Vacation added $4.1m from 35 for $6.7m and ranks second in Mexico on $1.6m and second in Italy on $1.2m from 236.
Magic Mike XXL grossed $1.1m from 32 for $51.8m and stands at $10.6m in the UK and $9.1m in Australia.
WALT DISNEY STUDIOS MOTION PICTURES INTERNATIONAL
Ant-Man added $5.6m from 51 territories in its fifth weekend to climb to $189.5m and $347.1m worldwide.
The Marvel Studios release opened at number one in Italy on $2.2m. After approximately 65% of international roll-out, the UK remains the lead market on $24m, followed by Mexico on $14.7m, Brazil $12.4m, France $12.2m and Russia $11.3m.
Pixars' Inside Out grossed $11.4m from 55 in its ninth weekend to reach $327.6m and $666.9m worldwide.
The animation hit is active in around 78% of international markets and the UK is again the lead market thus far on $42.7m, followed by South Korea $31.7m, Mexico $31m, Japan $25.8m and France $25m.