AUGUST 10 UPDATE: Mission: Impossible - Rogue Nation retained the global, international and North American crowns with ease as the second session generated a confirmed $65m from 58 territories and $28.5m in North America.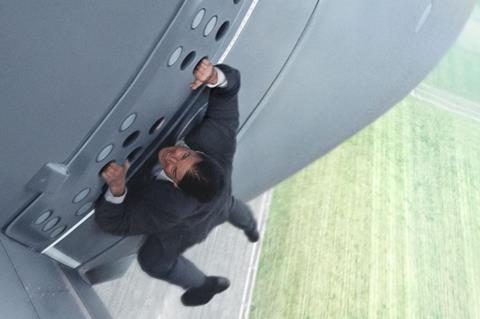 PARAMOUNT PICTURES INTERNATIONAL
UPDATED: The international running total for the Paramount-Skydance action thriller now stands at $156.2m, rising to $264m worldwide factoring in the estimated $107.8m North American tally.
Rogue Nation ranked number one in 17 of its 18 new markets this weekend and scored franchise-best marks in 10 and Tom Cruise records in nine.
The film grossed $6.1m from 346 sites in Japan for second place and $5.3m from 1,235 including previews in Russia for top berth and a pair of records for the franchise and Cruise.
It grossed $4.5m in the Middle East including an outstanding $2.5m in the U.A.E. from 39 cinemas, an estimated $4.1m from 200 for number one in Indonesia, $3.2m from 732 in Germany and $1.8m from 387 in Spain.
South Korea led second-weekend holdover business on $8.1m from 827 for $32.2m, followed by the UK on $3.7m from 569 for $17.2m, Australia on $2m from 276 for $6.9m and Mexico on $1.7m from 693 for $8.8m.
The film took $3.5m from 219 Imax screens in 49 territories for a $9m international running total and a $25m global tally. Rogue Nation arrives this week in France and Brazil.
Terminator: Genisys added $1.4m from 57 territories for $233.8m and hits China on August 23.
The Little Prince grossed $1.4m from 830 venues in France and has reached $5.5m after two sessions.
FOX INTERNATIONAL
UPDATED: Fantastic Four arrived in 43 markets day-and-date with North America and delivered a solid $33.2m, led by two numbers one debuts in Mexico on $5.3m from 2,232 and the UK on $4.2m from 540.
In two further notable number one results, France produced $3.9m from 706 and Brazil $3.1m from 892.
Australia delivered $2.1m from 254 in second place, while $1.7m from 332 in the Philippines earned number one and Fox's fifth biggest opening weekend of all time.
Results across Asia and Latin America were highly encouraging. Fantastic Four grossed $1.6m from 385 in Malaysia for the studio's eighth biggest debut and $1.5m from 62 in Singapore for its ninth best result.
Two number one results in Colombia and Peru resulted in $885,000 from 256 and $816,000 from 152, respectively. Peru also earned the distinction of delivering the second biggest debut for a Marvel film behind X-Men Days Of Future Past.
Argentina delivered $586,000 from 184 for number three, outperforming by considerable margin the likes of 2005's Fantastic Four, X-Men: First Class and Iron Man 2.
Tim Story's first Fantastic Four in 2005 finished on $175.9m internationally, while his sequel Fantastic Four: Rise Of The Silver Surfer ended on $157.1m.
The 33, the US-Chile-China co-production about the stunning 2010 rescue of trapped Chilean miners, ventured into its first market at the weekend.
The $1.6m debut from 140 screens came from Chile appropriately enough and came almost five years to the day after the 33 miners became trapped in the San José copper and gold mine after a cave-in. All the miners were rescued safely after 69 days underground in what became a gobal event. They became known as 'Los 33' or 'The 33'.
This was the second biggest debut ever for a local title behind Stefan Vs Kramer. Alcon Entertainment holds most of world rights and will open the film in the US via Warner Bros in November 13.
Paper Towns added $2.8m from 56 for $31.3m and opened at number three in Spain on $502,000 from 361. Spy stands at $124.6m. Kwai Boo arrived in China on $5.9m from 3,000 screens.
UNIVERSAL PICTURES INTERNATIONAL
UPDATED: Universal and Illumination Entertainment's Minions brought in a confirmed $19.5m from 59 territories to reach $611.1m and cross the $607.5m lifetime total of Despicable Me 2.
Minions now ranks as the fifth biggest animation at the international box office and Illumination Entertainment's biggest ever. The $913.9m worldwide running total positions it as the seventh biggest animation release.
The family smash held firm in Japan at number four on $3m for $14.4m after two weekends and also ranks fourth in its second session in South Korea, where $2.5m boosted the tally to $11.3m.
There are five territories to go including Italy on August 27 and China on September 13.
Jurassic World added $15.1m from 63 for $945.7m powered by a superb Japanese debut, where the film opened on Wednesday and generated $12.8m for the weekend from 803 sites.
The $3.2m Saturday result was a record single day for the studio and the fourth biggest single day of the year-to-date in Japan heading into this week's Obon holidays. The film's global tally has reached $1.581bn.
Trainwreck kicked off with $5.3m from 15 territories for an early $6.1m. The Amy Schumer comedy arrived in nine, led by a $4.5m number one debut from 246 sites in Australia including previews. It arrived this week in the UK, Germany and Spain.
Ted 2 opened at number two in France on $2.1m from 429 and added $3.6m from 43 overall for $85.4m.
Pitch Perfect 2 finally crossed $100m as $822,000 from 10 boosted the running total to $100.2m. The sequel debuted in Mexico at number seven on $400,000 from 391 and in Argentina on $44,000 from 28.
ASIA UPDATE
China's Monster Hunt grossed $16.4m to boost the tally to $312m, while Monkey King: Hero Is Back added $4.7m for $128.2m and Jian Bing Man (Pancake Man) grossed $4.6m for $165.8m.
South Korean action thriller Veteran opened on $15.2m via CJ Entertainment and The Assassination added $8.8m for $54m.
WALT DISNEY STUDIOS MOTION PICTURES INTERNATIONAL
UPDATED: Pixar's Inside Out crossed $300m as a confirmed $13m from 53 territories pushed the family hit to $302.2m.
The UK remains the lead market so far on $35.3m, followed by Mexico on $30.8m, South Korea on $30.2m, France on $23.7m and Australia on $22.7m.
Marvel Studios' Ant-Man crossed $300m worldwide last week and used an $8.6m international session from 50 to surge to $178.4m and a $326m global score.
The UK is also the lead market for this release on $22.4m, followed by Mexico on $14.1m, Brazil on $12.1m, France on $12.1m and Russia on $11m. The film arrives in Italy this week. Avengers: Age Of Ultron stands at $942.6m.
SONY PICTURES RELEASING INTERNATIONAL
UPDATED: Pixels added $9.2m from 75 markets for $73.6m. The second weekend in Germany generated $1.2m from 930 screens for $4.7m, while Brazil has produced $8.5m after three and Mexico $10.2m after the same amount of time.
The family adventure arrives in the UK, Australia and Japan this week.
WARNER BROS PICTURES INTERNATIONAL
Magic Mike XXL added $1.7m from 37 markets for $49.8m as The Gallows reached $15.4m. Mad Max: Fury Road stands at $220.5m.