DECEMBER 19 UPDATE: Rogue One: A Star Wars Story has scored the second highest December opening in history behind last year's $247.9m by Stars Wars: The Force Awakens.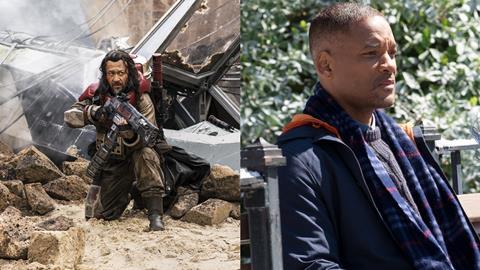 The stand-alone sci-fi episode from Lucasfilm and distributed through Buena Vista obliterated the competition on a confirmed $155.1m and grossed $290m worldwide, where it is in every major market except China and South Korea, which follow in the coming weeks.
Disney chief Bob Iger and his cohorts attempted to downplay expectations over the last couple of months, and while the film was never going to scale the opening weekend heights of The Force Awakens, exuberant early word from the first press and all media screenings blew away any concerns over the much publicised reshoots.
Felicity Jones stars alongside Mads Mikkelsen, Ben Mendelsohn, Forest Whitaker, Donnie Yen, Diego Luna and Riz Ahmed. Gareth Edwards directed the film.
The North American demographic split reveal a 59%-41% male-female viewership. By age, the 26-34 category accounted for 26% of the audience, followed by 35-49 on 23%, 17-25 on 21%, 50-plus on 14%, 13-16 on 9%, and 12 and under on 7%.
Disney brass said 62% of the audience watched Rogue One in 2D and 38% in 3D. Imax generated $19m from Imax and become the first film to be released on more than 400 screens in the format. This was the biggest Imax launch of the year and the second biggest in December behind The Force Awakens.
The $29.2m global Imax haul from 708 is a top five result of all time and trails only The Force Awakens in the December pantheon.
There were other films in release at the weekend. New Line's drama Collateral Beauty delivered a dismal $7.1m launch in fourth place in 3,028 theatres, further highlighting the declining appeal of Will Smith outside highly marketed superhero or action films with an appealing ensemble.
Disney stablemate Moana ranks second and grossed $12.7m for $162.9m in its fourth session, while Paramount's comedy Office Christmas Party in third place stands at $31.7m after two.
La La Land consolidated last weekend's exceptional limited launch and climbed eight places to number seven after Lionsgate expanded the theatre count from five to 200.
The romantic musical added $4.1m for a $5.3m running total and would appear to be perfectly placed heading into holidays and the second phase of the awards season.
Speaking of contenders, Arrival ranks eighth through Paramount on a super $86.7m running total after six sessions.
Amazon Studios' Manchester By The Sea is also well positioned as the drama climbed one place to number seven after theatrical partner Roadside Attractions added 842 sites to bring the count to 1,208 as the drama added $4.2m for a $14.1m running total after five.
Nocturnal Animals, distributed through Focus Features, fell two slots to number ten on $8.8m after five weekends.
Paramount launched another title from its stable of awards contenders as Fences arrived at number 25 on $129,462 from four for a solid $32,366 average.
Denzel Washington directed and stars alongside Viola Davis in the adaptation of August Wilson's play about race and family in 1957 Pittsburgh.
Overall box office for the top 12 reached $206.2m, gaining 175.7% on last weekend and down 22.5% on the comparable session in 2015 when The Force Awakens opened.
This week's wide release is the Fox comedy Why Him? starring James Franco, Bryan Cranston and Zooey Deutch.
Confirmed top 10 North America December 16-18, 2016
Film (Dist) / Conf wkd gross / Conf total to date
1 (-) Rogue One: A Star Wars Story (Buena Vista) Walt Disney Studios Motion Pictures International $155.1m –
2 (1) Moana (Buena Vista) Walt Disney Studios Motion Pictures International $12.7m $162.9m
3 (2) Office Christmas Party (Paramount) Paramount Pictures International $8.6m $31.7m
4 (-) Collateral Beauty (Warner Bros) Warner Bros Pictures International $7.1m –
5 (3) Fantastic Beasts And Where To Find Them (Warner Bros) Warner Bros Pictures International $5.1m $207.7m
6 (7) Manchester By The Sea (Amazon-Roadside Attractions) Sierra/Affinity / Universal Pictures International $4.2m $14.1m
7 (15) La La Land (Lionsgate) $4.1m $5.3m
8 (4) Arrival (Paramount) FilmNation $2.9m $86.7m
9 (5) Doctor Strange (Buena Vista) Walt Disney Studios Motion Pictures International $2.2m $226.3m
10 (7) Nocturnal Animals (Focus Features) FilmNation $1.4m $8.8m