JANUARY 6 UPDATE: Rogue One: A Star Wars Story stands at $838.3m worldwide heading into its fourth session as it prepares to launch in China.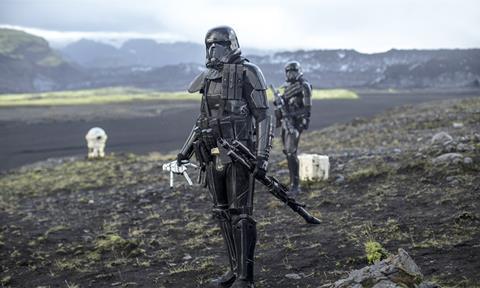 The film, distributed by Disney, added $9.2m on Thursday and produced $5.4m internationally to reach $383.1m.
That lags some way behind the $455.2m out of North America and Disney executives will be eager to see how Friday's opening day in China and the ensuing weekend impacts on box office.
Star Wars was barely a known property before Star Wars: The Force Awakens opened there almost exactly one year ago.
JJ Abrams' franchise reboot grossed $53m in its opening weekend but faded quickly. The $125m-plus final tally was a small piece of the film's $2.1bn global haul and relatively small compared to other hits in China.
What seems safe to say is Rogue One should cross $900m worldwide by Sunday. If China delivers a big debut, $1bn could fall by the end of the weekend.
Thus far the sci-fi has generated $69.7m in the UK, with the next best territory Germany far behind on $38.2m, followed by France on $31.3m.
Australia has delivered $30.2m, Japan $29.1m, Spain $13.8m, Brazil $13.3m, Mexico $10.7m, Russia $10.6m and Italy $10.1m.
Rogue One has grossed $8.8m in Sweden, $6.9m in Poland, $6.4m in South Korea, and $6.3m in the Netherlands.
Marvel Studios' Doctor Strange stands at $428.1m and Moana $203.7m ahead of debuts this weekend in Brazil and Chile.
Assassins' Creed on $50.8m infiltrates around 20 territories through Fox International, among them the UK, Mexico, Russia and Italy. Why Him? On $17.8m arrives in eight including Hong Kong and Argentina.
Collateral Beauty stands at $23.4m through Warner Bros Pictures International and arrives in
Australia on January 12. Fantastic Beasts And Where To Find Them has amassed $558.2m. Sully and Storks stand at $112.3m and $109.6m, respectively.
Sony Pictures Releasing International executives said Passengers has reached $70.4m, while Resident Evil: The Final Chapter is at $23.6m.
Sing has grossed $122.4m through Universal Pictures International, The Great Wall $11.7m outside China, and Nocturnal Animals $13.9m.
Paramount Pictures International brass reported that Monster Trucks has reached an early $4.6m, Allied stands at $49.6m and Jack Reacher: Never Go Back $103.3m.