Now begins the final march towards the coveted milestone for the Disney-Lucasfilm hit, which as of Thursday stood at $937.8m at the global box office.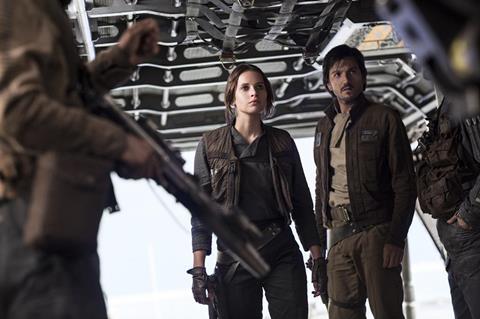 Rogue One: A Star Wars Story has amassed $454.4m from international markets and a further $483.4m from North America. It could cross $500m in both arenas this weekend.
Meanwhile Disney executives reported that Marvel Studios' Doctor Strange has reached $428.3m internationally, while Moana has climbed to $233.5m and debuts in South Korea.
Hacksaw Ridge, the independently financed war film directed by Mel Gibson and starring Andrew Garfield, is on the cusp of corssing $100m through IM Global licencees.
The film sits on $96m and as opened in 32 territories, including China where it opened via Bliss Media and has grossed $58m, earning a rare 30-day extension.
Elsewhere it stands at $3.8m in France through Metropolitan, $6.8m in Australia and New Zealand through Icon, $3.5m in Taiwan via Catchplay, $3.1m in the Middle East through Selim Ramia & Co, $2.2m in Scandinavia via MisLabel, and $2.2m in Spain through DeAPlaneta. Lionsgate distributes in the US where the film stands at $65.2m.
Fox International's Assassins' Creed has crossed $100m and sits on $105m. The video game adaptation infiltrates seven territories this session including Brazil, South Korea and Sweden.
Comedy Why Him? on an early $27.1m opens in ten, among them Germany, Spain and Russia. Trolls has amassed $185.7m.
The Birth Of A Nation arrives in France, Belgium, South Africa and India. Bollywood title OK Jaanu opens in India and the UK.
Universal Pictures International brass reported that Nocturnal Animals stands at $15.9m, while Sing has reached $152.8m and The Great Wall $22.1m excluding China.
Collateral Beauty has amassed $32.6m through Warner Bros Pictures International and arrives this weekend in Australia, while Fantastic Beasts And Where To Find Them is on $568.9m and Sully $113.7m.
Allied has taken $53.7m through Paramount Pictures International and Monster Trucks $10.6m.