DECEMBER 23 UPDATE: Rogue One: A Star Wars Story added $31.7m at the worldwide box office on Thursday according to Disney estimates.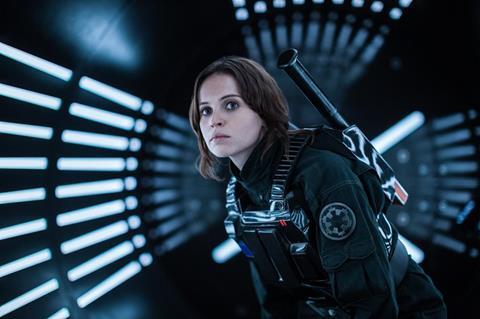 The Lucasfilm sci-fi adventure stands at $419.8m heading into the holiday session and will soar past the half-billion threshold by year's end.
The stand-alone Star Wars film added $16.7m in North America on Thursday to reach $221.9m and overtake Warner Bros' Fantastic Beasts And Where To Find Them to rank as the tenth biggest North American release of 2016.
On Friday it will overtake the $227.3m running total posted by Doctor Strange to become the ninth biggest title of the year. At this rate it looks poised to become the ninth film in 2016 to cross $300m and may well leap several places further up the top ten pantheon by year's end.
Suicide Squad currently ranks eighth on $325.1m, Batman v Superman: Dawn Of Justice seventh on $330.4m and Zootopia sixth on $341.3m.
Rogue One: A Star Wars Story added $15m from international markets to propel the running total to $197.9m.
Turning to international markets, the UK leads the way on $35.1m, followed by Germany on $18.1m, France on $16.5m, Australia on $16.1m, Japan on $11.6m and Brazil on $8m.
Rogue One: A Star Wars Story stands at $7.1m in Mexico, $6.8m in Russia, $6.5m in Spain, $4.7m in Sweden, $4.6m in Italy, $3.6m in Poland, $3.2m in Indonesia and $3.2m in Denmark, which has been gathering pace over the last few days.
The last two major international launches are South Korea on December 28 and China on January 6.
Walt Disney Studios Motion Pictures International executives report that Marvel Studios' Doctor Strange stands at $427.2m, while Moana has amassed $128.5m and debuts in Austria, Germany and Italy. Pete's Dragon on $66.2m opens in Japan this weekend.