DECEMBER 27 UPDATE: Lucasfilm's sci-fi grossed a confirmed $96.1m over the holiday weekend as it crossed $570m worldwide.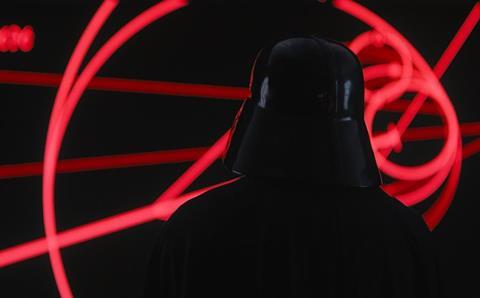 Meanwhile Universal's animation Sing debuted well, Assassin's Creed flopped and Passengers scraped by, while in the limited arena Paramount launched Silence in fine style and propelled Fences into the top ten. Hidden Figures opened well through Fox.
Rogue One: A Star Wars Story now ranks as the ninth biggest release of the year-to-date in North America on $318.2m and counting.
It will certainly vault another couple of places before year's end. At this rate the Star Wars offshoot could pass the $368.3m mark set by The Secret Life Of Pets to become the third highest grossing film released in 2016, if not better. Rogue One stands at $573.8m worldwide.
Sing debuted at number two on $54.9m in 4,022 theatres, rising to $75.5m since December 21 opening day. The film reportedly cost $75m not including marketing costs, which the studio did not disclose.
Sony Pictures' sci-fi Passengers – a long-gestating project that had many glittering Hollywood names attached over the years before settling on A-listers Jennifer Lawrence and Chris Pratt – delivered a disappointing number three debut on $22.7m in 3,478 sites, rising to $30m since December 21 opening day. The film reportedly cost $110m to produce before marketing costs.
Fox's video game adaptation Assassin's Creed starring Michael Fassbender, Marion Cotillard and Jeremy Irons opened poorly in fifth place on $14.8m in 2,970 rising to $22.3m since December 21 opening day. This was well below what the film needed to set it on the road to profitability, given the $125m price tag not including marketing costs.
Fox comedy Why Him? starring James Franco, Bryan Cranston and Zoey Deutch arrived in fourth place on $15.5m in 2,917 and according to reports cost $38m to make.
Paramount's Fences enjoyed a superb weekend and climbed 18 places to number seven in its second weekend. Paramount expanded Denzel Washington's awards contender from four venues to 2,233 and generated $11.6m for an early $11.8m.
Lionsgate's La La Land ranks eighth on $17.1m after three, while Amazon Studios' Manchester By The Sea sits in 12th place through theatrical partner Roadside Attractions on $20.8m after six. Jackie climbed two slots to number 13 in its fourth session through Fox Searchlight and added $1.9m for $4.2m after expanding by 264 to 348 sites.
Lion has begun to roar and climbed ten places to 14 through TWC, which expanded the footprint from 16 to 500 venues, adding $1.5m for $2.4m in the fifth weekend.
Fox opened the space drama Hidden Figures, the true story of three brilliant African American women who worked for NASA starring Octavia Spencer, Taraji P Henson and Janelle Monáe, at number 17 on $838,571 from 25 sites for a $33,543 average.
Paramount opened Martin Scorsese's passion project Silence, a drama about the persecution of Christians in 17th century Japan starring Adam Driver, Andrew Garfield and Liam Neeson, at number 25 on $163,618 from four for a $40,905 average.
Lionsgate opened Patriots Day starring Mark Wahlberg at number 23 on $237,059 from seven for a strong $33,866 average. SPC debuted Pedro Almodovar's Julieta at number 28 on $83,738 from six for a decent $13,956 average.
Warner Bros' crime drama Live By Night directed by and starring Ben Affleck arrived at number 34 on $49,000 from four, while Focus Features launched A Monster Calls starring Felicity Jones, Sigourney Weaver and the voice of Liam Neeson at number 36 on $38,267 from four.
SPC debuted German foreign language Oscar frontrunner Toni Erdmann at number 38 on $29,170 from three.
Overall the top 21 combined for $259.6m over the holiday weekend. There are no new wide releases this week. Next up will be Sony / Screen Gems' Underworld: Blood Wars starring Kate Beckinsale and Theo James on January 6.
Confirmed top 10 North America December 23-26, 2016
Film (Dist) / Conf wkd gross / Conf total to date
1 (-) Rogue One: A Star Wars Story (Buena Vista) Walt Disney Studios Motion Pictures International $96.1m $318.2m
2 (-) Sing (Universal) Universal Pictures International $54.9m $75.5m
3 (-) Passengers (Sony) Sony Pictures Releasing International $22.7m $30m
4 (-) Why Him? (Fox) Fox International $15.5m –
5 (-) Assassin's Creed (Fox) Fox International $14.8m $22.3m
6 (2) Moana (Buena Vista) Walt Disney Studios Motion Pictures International $12.6m $185.6m
7 (25) Fences (Paramount) Paramount Pictures International $11.6m $11.8m
8 (7) La La Land (Lionsgate) $9.2m $17.1m
9 (3) Office Christmas Party (Paramount) Paramount Pictures International $7m $44.1m
10 (4) Collateral Beauty (Warner Bros) Warner Bros Pictures International $6.4m $17.4m