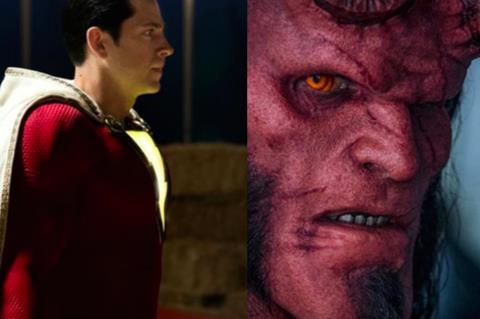 DC Entertainment / New Line's Shazam! sailed to the top of the global charts last weekend and Warner Bros executives will expect to rule international waters for a second weekend despite the launch of independent tentpoles Hellboy and After day-and-date with North America.
Shazam! had amassed $126.3m via Warner Bros Pictures International and $193.7m worldwide through the end of Wednesday and is on course to surge past the $200m barrier on Friday. The superhero adaptation starring Zachary Levi is performing well for a film that reportedly cost $100m to produce, excluding marketing spend.
Hellboy's prospects are tricky to gauge. The Dark Horse Comics property was made famous on screen by Ron Perlman in Guillermo del Toro's first two films, and returns with David Harbour in the lead role under the direction of genre ace Neil Marshall.
The film has moved between Universal and Sony/Revolution Studios in the past and this time around, Lionsgate-Summit distributes in the US, while Millennium Media licensed international rights and the film opens almost everywhere this weekend.
Neither of the first two films performed exceptionally well at the international box office. The 2004 original Hellboy earned $39.7m (roughly $53m in today's terms) and finished just shy of $100m ($131.8m) worldwide. Hellboy II: The Golden Army did better, finishing on $84.4m internationally (around $99m when adjusted for inflation) and $160.4m ($188.3m) worldwide.
In both cases the UK, France, Germany and Spain, where del Toro is particularly popular, were the highest grossing markets. The presence of Milla Jovovich as Hellboy's nemesis The Blood Queen in the reboot could broaden the film's appeal.
Among others, it opened in the key markets of Australia, Germany, Russia and Argentina on Thursday, followed by China, the UK, Mexico, and South Korea on Friday. Hellboy debuts in France on May 8, Spain on May 17, Brazil on May 26, and Japan this autumn.
After, the adaptation of Anna Todd's YA publishing phenomenon that marks the first feature from veteran producers Courtney Solomon and Mark Canton's CalMaple Films and stars Hero Fiennes Tiffin and Josephine Langford, opens day-and-date with North America in select territories around the world through Voltage Pictures partners.
The film, financed by CalMaple, Voltage Pictures and Diamond Film Productions, opens in Germany and Switzerland (Constantin), Italy (Leone), Mexico, Spain, Brazil and Argentina (Sun), Middle East (Front Row), Sweden, Norway and Denmark (Nordisk), Belgium (Belga), Portugal (Cinemundo), Poland (Monolith), and and Greece (Spentzos), among others.
Jenny Gage directed from a screenplay she co-wrote with Susan McMartin, Tamara Chestna, Gage and Tom Betterton based on the first of Todd's books. The story centres on the sexual awakening of a diligent high school student who falls for a brooding rebel. Voltage's Nicolas Chartier and Jonathan Deckter are among the executive producers with Adam Shankman.
"Our production partners have done an amazing job bringing this book franchise from Watt Pad to the big screen, giving our international distributors a film that delivers for both the core fans of the book and the general public," Voltage president and COO Deckter said. "We opened at number one in Germany, Italy, Portugal, Greece, Argentina and Peru and number two in Denmark, Honduras, El Salvador and Nicaragua. Nicolas [Chartier] and I couldn't be happier with our international partners whose results speak for themselves."
Universal Pictures International launches the body-swap comedy Little day-and-date with North America in 11 markets, including Australia and the UK, with additional markets rolling out through the summer. Issa Rae, Regina Hall and youngster Marsai Martin star, and Will Packer produced. Meanwhile Jordan Peel's Us stands at $67.3m, and DreamWorks Animation'sHow To Train Your Dragon: The Hidden World $352.5m.
Walt Disney Studios Motion Pictures International brass reported that Captain Marvel has amassed $669m, and Dumbo $152.7m.
Pet Sematary has grossed $23m through Paramount Pictures International and enters roughly 12 territories including France, India, South Korea, Taiwan, and Thailand.
Fox International opens Keira Knightley postwar drama The Aftermath in 10 territories including Australia, Germany, Spain and Argentina. Faith-based drama Breakthrough starring Josh Lucas arrives in 14 and the biggest splashes are expected in Brazil, Hong Kong, Singapore, and Poland. Family adventure The Kid Who Would Be King stands at $13.7m and debuts in France and Mexico. Alita: Battle Angel has amassed $319.7m, Bohemian Rhapsody $683.9m, and The Favourite $61.4m.
Warner Bros' Creed II stands at $98.3m, The LEGO Movie 2: The Second Part $80.3m, and The Mule $66.8