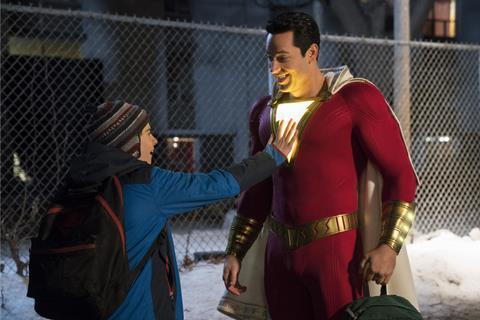 DC Entertainment's Shazam! launched in China on Friday (5) at the start of the three-day Qingming Holiday (Tomb Sweeping holiday) and according to Warner Bros Pictures International executives grossed an estimated $16.4m (RMB 110m).
The superhero adaptation is in contention for top spot and the debut marks the third highest opening day for a Warner Bros film behind Aquaman and Batman V Superman.
The film has grossed an additional $15.7m from a total of 53 markets, after opening in the UK, Mexico and Spain and a further 22 markets on Friday. It ranks number one in 48 including every market in Latin America and Asia Pacific.
Shazam! opened top in Indonesia and took advantage of Wednesday's Isra Minaj public holiday, earning $1.1m on opening day to claim 73% share of the top five films and record the third highest grossing opening day for a Warner Bros release. After two days the tally has reached $2.2m.
Russia delivered $946,000, South Korea $1.1m $668,000 following a non- traditional Wednesday launch, and Australia $636,000. Shazam! debuted in UAE on $630,000 on Thursday, and stands at $848,000 in Brazil, $777,000 in France, and $1.3m in Taiwan. The films opens in North America this weekend and is tracking to debut in the $45m-$50m range.
The LEGO Movie 2: The Second Part has grossed $78.9m, and The Mule $65.5m.
Jordan Peele's Us stands at $53.5m through Universal Pictures International and debuts in Italy. DreamWorks Animation's How To Train Your Dragon: The Hidden World stands at $350m and recently crossed the half-billion global milestone. Mary Queen Of Scots opens in Brazil, and The Sisters Brothers in the UK.
The UK is one of 48 markets to receive horror film Pet Sematary day-and-date with North America this weekend. Paramount Pictures International also launches in Australia, Mexico, Russia, Spain, Sweden, Argentina, Poland and Colombia. It opens in Brazil and Italy on April 9, France on April 10, and South Korea on April 11.
Captain Marvel has amassed $647.5m via Walt Disney Studios Motion Pictures International, and Dumbo $94.4m.