Sony's sequel adds $5.7m (£3.36m) for $27.8m (£16.52m) to date; Fox's The Other Woman posts strong UK bow of $4.5m (£2.7m), including previews.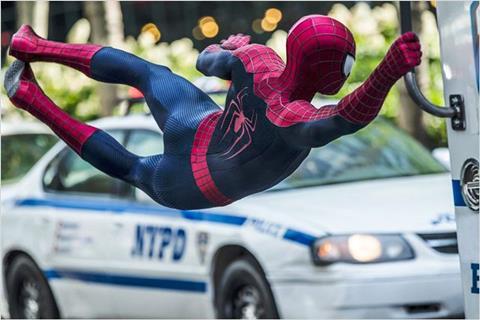 The Amazing Spider-Man 2 caught its competitors in its web as it retained the UK lead for the second consecutive week.
Sony's sequel added $5.7m (£3.36m) in its second weekend and has so far amassed $27.8m (£16.52m). The Amazing Spider-Man stood at $31.8m (£18.8m) at the end of its second weekend, albeit boosted by one extra day of previews.
The Amazing Spider-Man fell over 70% in its third weekend with the arrival of The Dark Knight Rises, so the sequel will be hoping for a stronger hold as it attempts to surpass its predecessor's $43.8m (£26m) UK result.
FOX
Despite being unable to make it a chart-topping UK/US debut weekend, Fox's The Other Woman posted a strong $4.5m (£2.7m) debut, including previews, to chart second.
That marks director Nick Cassavetes' best-ever UK bow ahead of My Sister's Keeper's $1.6m (£922,947), and The Other Woman stands a great chance of surpassing that film's $10.6m (£6.3m) tally to become Cassavetes' best-ever UK performer.
It's worth noting that The Other Woman's Fri-Sun tally of $3.3m (£2m) would have also seen it comfortably land second spot.
Also for Fox, Rio 2 dropped a remarkable 11% in its fourth weekend of release on its way to $1.5m (£879,758). The animated sequel has now flown to $19.9m (£11.8m) in the UK as it attempts to overtake Rio's $22.8m (£13.56m) result.
The Grand Budapest Hotel and Mr. Peabody & Sherman stand at $17.8m (£10.6m) and $22.5m (£13.4m), respectively.
ENTERTAINMENT
Including its previews over the Bank Holiday weekend [April 18-21], Wally Pfister's directorial debut Transcendence recorded a $2m (£1.2m) debut from its 434 sites through Entertainment.
DISNEY
As expected, Captain America: The Winter Soldier has overtaken Iron Man's $29.3m (£17.4m) in terms of Marvel Studios' outings in the UK.
Disney's latest Marvel outing fought its way to a further $975,000 (£578,946) for $30.4m (£18m) to date, with the next target being Thor: The Dark World's $33.9m (£20.1m).
Also for Disney, Muppets Most Wanted is up to $11.6m (£6.9m) following a $467,000 (£276,921) weekend.
PARAMOUNT
Darren Aronofsky's Noah has now sailed to $15.3m (£9.1m) following a $862,000 (£512,000) weekend through Paramount. It has every chance of hitting £10m which would be a very healthy return given the competition it's faced during the run.
EONE
Falling 44% in its second weekend, The Love Punch took $582,000 (£345,477) for $2.6m (£1.55m) to date through eOne. It's in with a good chance of becoming director Joel Hopkins' best-ever UK performer, currently Last Chance Harvey's $3.6m (£2.14m).
Also for eOne, Divergent dropped 40% to add $503,000 (£298,724) for $10.4m (£6.2m), while Calvary fell just 26% in its third weekend to take $493,000 (£292,899) for just over $3.4m (£2m).
Tracks journeyed to a UK debut of $188,000 (£111,337) from its 55 sites at a solid average of $3,410 (£2,024). That's behind director John Curran's best-ever UK bow achieved by The Painted Veil of $440,000 (£261,130), albeit from considerably more sites at 140.
The Raid 2 stands at $1.7m (£991,447) and should cross the £1m mark in the coming days, while Tarzan banked $472,000 (£280,000) towards its opening this Friday [May 2] from previews on April 26-27.
LIONSGATE
Driving into 151 sites on its second weekend, Locke added $256,000 (£152,074) for $985,000 (£584,571) to date, overtaking the UK result of Stephen Knight's directorial debut Hummingbird ($652,000/£387,068).
Also for Lionsgate, The Quiet Ones has scared up $2.6m (£1.5m) following a $140,000 (£83,500) third weekend.
ARTIFICIAL EYE
In its third weekend of release, The Lunchbox bit into an additional $73,000 (£43,577) through Artificial Eye for a strong $529,000 (£314,083) to date.
Joanna Hogg's Exhibition recorded a $31,000 (£18,386) UK opening from its 17 sites through Artificial Eye. That's down on Hogg's Archipelago, which debuted with $101,000 (£60,162) from 18 sites on its way to $511,000 (£303,424).
SODA PICTURES
Released in three sites through Soda Pictures, Looking for Light: Jane Bown enjoyed a $4,300 (£2,533) UK debut, including previews.
Half of a Yellow Sun has grossed $154,000 (£91,545) to date.
PECCADILLO PICTURES
Ahead of its opening at JW3 today, Eytan Fox's Cupcakes posted a $3,100 (£1,833) debut from its one site through Peccadillo Pictures.
That's up on Fox's Yossi which took $1,200 (£730) from its one-site debut, but unsurprisingly down on Walk on Water's $16,000 (£9,637) opening from four sites.
METRODOME
We are the Freaks could only manage a $234 (£139) debut from its two sites through Metrodome.
UPCOMING RELEASES
This week sees saturation releases for Paramount's Plastic (opens April 30), eOne's Pompeii (opens April 30), eOne's Tarzan (following previews this weekend) and Warner Bros' Brick Mansions.
Universal's Bad Neighbours receives a saturation release from May 3, but won't be counted in the official chart until May 9-11.
Picturehouse's Blue Ruin, Kaleidoscope's Willow Creek and Arrow's A Thousand Times Good Night are among the films receiving a limited release.