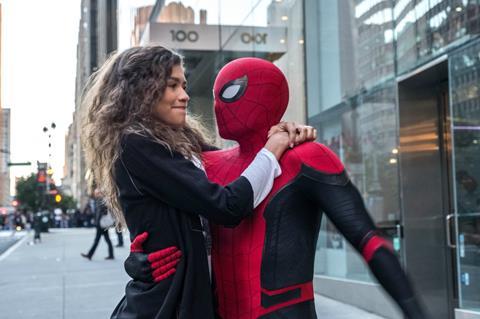 Sony's Spider-Man: Far From Home will cross $1bn at the worldwide box office on Thursday (25), becoming the third tentpole of the year to do so.
The superhero saga starring Tom Holland has reached $1.005bn globally, and is the first Spider-Man tentpole to do so in nominal terms. Some $672m comes from international markets, and $333m from North America.
Far From Home joins follows Disney's Avengers: Endgame on $2.791bn and Captain Marvel on $1.128bn in the 2019 $1bn club. A third Disney film, Aladdin, is on course to hit the milestone by the weekend. Disney's stranglehold on 2019 box office has been well documented and Far From Home is the first non-Disney film to cross $1bn since Universal's Jurassic World: Fallen Kingdom soared past the threshold last year en route to $1.3bn.
Last weekend Far From Home became Sony's second highest-grossing release of all time when it overtook the $963m mark set by Jumanji: Welcome To The Jungle by the end of its run in 2018. It becomes only the second Sony release to cross $1bn after the studio's reigning champion Skyfall. The James Bond thriller achieved $1.108bn globally in nominal terms ($804m internationally and $304m in North America.)
Through Thursday, Spider-Man: Far From Home has amassed $204m in China, $56m in South Korea, $36m in the UK, $30m in Mexico, $26m in Japan, $25m in Brazil, $24m in Australia, and $20m in both Russia and France at time of writing.
Jon Watts directed Far From Home, Holland's second outing in the lead in a stand-alone Spider-Man film - he has appeared as the webslinger in Avengers tentpoles. The cast includes Samuel L. Jackson, Zendaya, Jake Gyllenhaal, Marisa Tomei, and Jon Favreau.