JANUARY 11 UPDATE: The records continued to tumble for Disney/Lucasfilm's juggernaut as executives reported a $146.4m worldwide haul that propelled the space opera past Jurassic World to $1.734bn.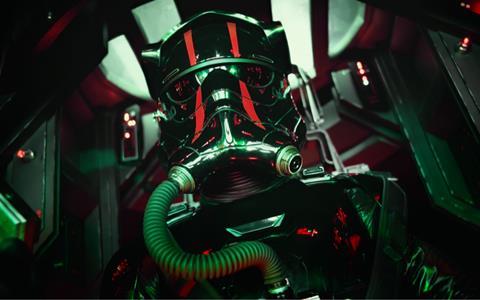 WALT DISNEY STUDIOS MOTION PICTURES INTERNATIONAL
JANUARY 11 UPDATE: Buoyed by a $52.6m two-day session in China (authorities have not officially reported a number yet), Star Wars: The Force Awakens once again dominated the arena and used $104m to climb to a muscular $921.2m international running total.
If that tally has not outstripped North America's $812m haul to the extent that some expected, the fervour of the franchise in North America hardly makes this a surprise. What is undeniable is the film will cross $1bn internationally and establishes a foothold from which to scale future, presumably bigger, summits.
The Force Awakens is now the seventh biggest release of all time at the international box office after overtaking Transformers: Age Of Extinction on $858.6m, Frozen on $875.7m and The Avengers on $896.2m.
If the estimates hold up, the Chinese opening weekend will have produced the biggest Saturday and Sunday debut and the biggest Saturday launch ever. A $161.4m running total in the UK consolidated The Force Awakens' status as the biggest film of all time after it recently toppled Skyfall from its perch.
It is the third biggest film of all time across Europe as a region and ranks as Disney's biggest release and the industry's third biggest ever in Russia on $25.3m. The film has become the biggest 2015 release in Poland and the biggest Disney release ever in Belgium.
A $57.6m haul was good enough for the number two all-time status in Australia. In Latin America it held strong at number one in Argentina for the fourth weekend in a row.
Imax chiefs reported a record $19m worldwide fourth weekend on 940 screens that boosted the running total to an all-time high of $179m after 26 days.
The company generated a record $4.3m on a Saturday in China from 270 screens and stands at $8.1m including Sunday estimates.
Latest figures put the film on $94.7m in Germany, $76.6m in France, $65.5m in Japan, $31.6m in Spain, $27.2m in Italy, $26.2m in Mexico, $24.6m in Brazil and $23.8m in South Korea.
Pixar's The Good Dinosaur added $12m for $148.7m and opened in third place in South Korea on $3.3m for the third biggest Pixar launch and arrived at number one in Brazil on $2.7m.
FOX INTERNATIONAL
JANUARY 11 UPDATE: The Revenant stormed into the international arena on an estimated $20.5m from 18 markets led by Russia on a number one $7.5m and Germany on a number two $4.6m.
The thriller debuted in Australia on $2.9m for second place and in UAE on $785,000. Via non-Fox distributors, The Revenant arrived at number one in Taiwan on $686,000 and in Hong Kong at number two on $475,000. It debuts this week in the UK, Italy and South Korea.
The Peanuts Movie added $8.6m from 63 for $92.1m and opened in Argentina at number two on $668,000 and Peru on $503,000 for number one.
Joy grossed $7.2m from 46 for $23.7m and added $1.6m for $5m after two sessions in the UK. It opened in Spain at number three on $1.1m and in Mexico on $543,000 for fifth place.
Alvin & The Chipmunks: The Road Chip used $6.5m from 26 markets to climb to $36.9m.
DreamWorks' Bridge Of Spies took $3.9m from 30 for $81.2m and debuted in Japan on $1.5m.
THE WEINSTEIN COMPANY
JANUARY 11 UPDATE: The Hateful Eight grossed $17m from 20 territories led by France on $4.6m for number one and the UK on $4.1m in second place.
The Netherlands produced $1.2m including previews and Belgium $549,000 including previews.
Scandinavia generated $1.6m from wide release in Denmark and Norway and a 70mm release in Sweden while Russia produced $1.3m and Brazil $1.5m including previews.
ASIA UPDATE
Detective Chinatown grossed $11.8M for $93m, while Chinese smash Mojin: The Lost Legend added $4.3m for a $249m running total.
ITALY UPDATE
Medusa's Quo Vado? reigned supreme in the local charts on $11.5m and has amassed $52m.
PARAMOUNT PICTURES INTERNATIONAL
JANUARY 11 UPDATE: Daddy's Home grossed $10.9m from 30 markets to reach an early $38.7m. The comedy opened in Russia on $1.5m and added $3.3m in its third session in the UK for $17.4m and stands at $10.8m in Australia.
The Big Short added $4.7m from 24 for $9.7m and opened in second place in Italy behind local title Quo Vado on $1.9m. France has generated $4.4m after three weekends.
WARNER BROS PICTURES INTERNATIONAL
JANUARY 11 UPDATE: Alcon Entertainment's Point Break grossed $3.8m from nine territories as Warner Bros' early running total outside North America reached $9.6m. The film grossed $8.5m overall including Lionsgate International licensees and stands at $71.9m.
Point Break opened top in Mexico on $1.9m and scored a confirmed number one in Colombia on $610,000.
It also opened top in Venezuela on $122,000 and took approximately $320,000 from Central America. Russia has generated $5.3m after three sessions.
In The Heart Of The Sea stands at $63.2m and stands at $1.4m after two weekends in Argentina. Creed has amassed $14m.
UNIVERSAL PICTURES INTERNATIONAL
JANUARY 11 UPDATE: The Danish Girl opened in a further eight territories and generated $3m from ten overall to reach an early $6.8m. UK audiences responded to the drama's five mid-week BAFTA nominations and delivered $1.8m for $5.4m in the second session.
Sisters added $3.2m from 19 for $8m and the comedy opened in Australia on $2.3m. The UK has produced $3.9m after three weekends. Legendary's Crimson Peak has reached $43.4m.
French comedy Babysitting 2 added $1.2m for $20.7m (€19m) after six weekends and has passed the €15m lifetime gross of the original.
Ocho Apellidos Catalanes (Spanish Affairs 2) stands at $36.6m (€34m) in Spain after eight sessions and is the third biggest Spanish film of all time behind Ocho Apellidos Vascos (Spanish Affairs) on €56.4m and The Impossible on €42.4m.
SONY PICTURES RELEASING INTERNATIONAL
JANUARY 11 UPDATE: Spectre grossed $2.9m from 53 markets to reach $673.7m including MGM markets. The James Bond film reached $71.8m in Germany to overtake Skyfall and become the franchise leader. Japan has amassed $22.6m to overtake the previous James Bond's lifetime total.