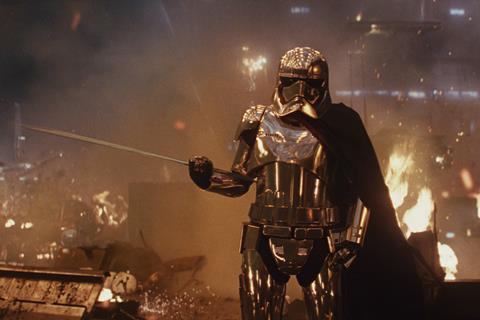 DECEMBER 15 UPDATE: Lucasfilm's Star Wars: The Last Jedi has shot out of the gates, earning $105.8m worldwide in its first two days, comprising $60.8m from 48 international markets and $45m in North American Thursday night previews for the second highest ever result in that category.
The sci-fi opened number one in each territory except Turkey and South Korea and based on the same suite of territories at today's exchange rates, the first two days are 63% ahead of Rogue One and 25% behind Star Wars: The Force Awakens.
The Last Jedi scored the third highest industry opening day of all-time in the UK on $10.2m and Norway on $1.5m; and the second biggest industry opening day of all-time behind Star Wars: The Force Awakens in Germany on $6.1m, Australia on $5.6m, and Sweden on $2.4m. It achieved the same accolade in New Zealand, Finland, Netherlands and Iceland.
The biggest opening day of 2017 came in France on $6m, as well as in the UK, Germany, Belgium, Denmark on $1.7m, Finland, Hungary, Iceland, Netherlands, Norway, Sweden, and Switzerland.
Brazil generated $2.5m, Italy $2.3m, Mexico $2.1m and Russia $1.6m. The tentpole opens on Friday in Spain and Japan.
DECEMBER 14 REPORT: Lucasfilm's Star Wars: The Last Jedi launches worldwide this weekend in what is expected to be one of the biggest debuts of all time. The sci-fi opera directed by Rian Johnson opens in North America day-and-date with every territory except China through Walt Disney Studios Motion Pictures International.
Disney chiefs have been reluctant to be drawn on a precise range but said the latest instalment in the 40-year franchise could cross $400m in opening weekend, with as much as $225m coming from international markets.
Star Wars: The Last Jedi opened on Wednesday in France, Italy, Belgium, Scandinavia, Netherlands, Switzerland, Israel, Turkey, Indonesia, Philippines and Taiwan.
Thursday would have seen debuts in the UK, Germany, Australia, South Korea, Russia, Brazil and Mexico along with Austria, Croatia, Czech Rep, Greece, Hungary, Iceland, Lebanon, Poland, Portugal, Slovakia, Slovenia, Ukraine, Hong Kong, Malaysia, New Zealand, Singapore, Thailand, Argentina, Panama, Uruguay, Paraguay, Peru, Trinidad, Ecuador, Bolivia, Chile and Colombia.
On Friday (December 15) it opens in Spain, Japan, South Africa, India, Vietnam and Venezuela. China receives the film on January 5.
Star Wars: The Force Awakens opened in December 2015 on $281m, while the other biggest international December launches came from Avatar on $164.5m in 2009, The Hobbit: An Unexpected Journey on $138m in 2012, The Hobbit: The Desolation Of Smaug on $135.5m in 2013, and Rogue One: A Star Wars Story on $135m in 2016.
The Force Awakens scored the biggest North American opening of all time in 2015 on $248m and also holds the Thursday night preview record of $57m.