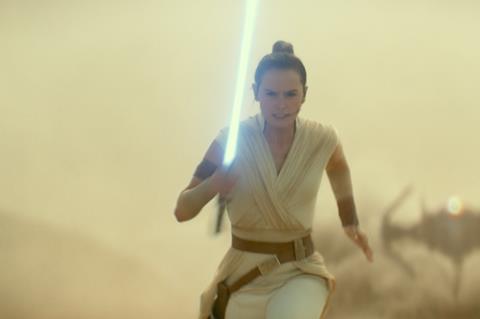 DECEMBER 23 UPDATE: Star Wars: The Rise Of Skywalker opened to $376.2m at the worldwide box office, coming in at $198.8m internationally for a somewhat muted debut by the franchise's lofty standards as it set the second or third highest debuts of 2019 in a number of territories heading into holiday season.
WALT DISNEY STUDIOS MOTION PICTURES INTERNATIONAL
UPDATE: Star Wars: The Rise Of Skywalker had been expected to come in at more than $200m at international box office, possibly $250m, however it opened top in almost every market and is expected to hold well in the coming weeks.
Leading the way on a confirmed $27m debut was the UK for the second highest opening weekend of the year, followed by $22.1m in Germany for the same accolade, $16.5m in France, and $14.3m in Japan for the third highest opening of the year for a Western film.
The sci-fi, which marks the final entry in the third trilogy of a 42-year-old franchise, opened on $12.3m in Australia for the seventh highest of all time, and delivered $12.2m in China where its unspectacular arrival was expected as the property struggles to register with audiences in the way that other Hollywood blockbuster franchises have done.
The Rise Of Skywalker opened on $7.7m in Spain, $7.3m in Mexico for the second highest December opening weekend; $6m in Italy and $5.9m in Brazil for the third highest December opening; $5.8m in Russia; and $4.6m in Sweden for the second highest debut of the year.
By region, the film directed by J.J. Abrams earned approximately $122m in Europe, $22m in Latin America, and $54 in Asia-Pacific. It opens in South Korea on January 8, 2020.
Walt Disney Animation Studios' Frozen II added $45.5m for $1.1037bn globally and becomes the fourth highest animated release of all time worldwide, having passed Despicable Me 3 on $1.035bn, Toy Story 3 on $1.067bn and this year's Toy Story 4 on $1.074bn. It added $34.2m internationally for $719.9m and is yet to open in Scandinavia, Brazil, and Argentina. China remains the top market on $114.6m, while the UK has generated $54.2m.
Fox's Ford v Ferrari stands at $193m worldwide following a $3.8m session, with international on $91m.
SONY PICTURES RELEASING INTERNATIONAL
UPDATE: Columbia Pictures' Jumanji: The Next Level surged past $200m at the international box office thanks to a $33.5m session from 52 markets that propelled international to $211.4m and worldwide to $312m. The fantasy action sequel dropped 37% across Western Europe, and added $3.8m in its second weekend in the UK to reach $19.5m, $2.4m in its third in France for $13.5m, and $4.3m in its second in Germany to settle on $8.5m. Coming up are Italy on December 25, Australia on December 26, and Brazil on January 16, 2020.
LIONSGATE INTERNATIONAL
UPDATE: Rian Johnson's admired whodunnit Knives Out brought in $5.9m from 76 markets and has reached $95.6m internationally and $185.5m worldwide. China and the UK are the top markets after four weekends on $27.8m and $12.5m, respectively.
The film ranks third in Australia where it has grossed $6.6m after four sessions, and stands at $5.1m and $4.9m, respectively, in France and Russia after four. The next major markets are Germany on January 2, 2020, and Japan o January 31, 2020.
UNIVERSAL PICTURES INTERNATIONAL
UPDATE: Tom Hooper's all-star musical adaptation Cats, which has earned poor reviews in many quarters and blazed a trail of bewilderment in others, arrived in the UK in second place on $4.1m day-and-date with the dismal $6.5m launch in North America. The film faces another test this week when it creeps into 37 markets including France, Germany, Australia, South Korea, Mexico and Spain.
Rom-com Last Christmas with Emilia Clarke and Henry Golding used a $5.8m haul to boost the global running total to $111.1m, while $5.6m elevated international to $76.2m as that slice of the pie now accounts for roughly 68% of the worldwide tally. A $724,000 number six debut in Italy delivered the highlight of the opening weekends, and $951,000 in the UK in fifth place was the top hold as the tally there climbed to $22.3m after six weekends.
The Addams Family stands at $194.8m worldwide and $96.8m internationally, of which $80.6m comes from Universal markets. Horror reboot Black Christmas added $1.9m at the international box office for an early $6.4m running total, opening in Mexico in fifth place on $437,000, and Russia in eighth on $197,000. DreamWorks Animation's How To Train Your Dragon: The Hidden World stands at $359.5m internationally, Downton Abbey $93.2m, and The Lighthouse $1.3m after opening in France on $191,000.
WARNER BROS PICTURES INTERNATIONAL
UPDATE: Joker has reached $729.5m internationally and $1.063bn worldwide, with the UK the lead market on $72.3m. Thriller The Good Liar debuted in Mexico on $337,000 and stands at $12.6m internationally overall.