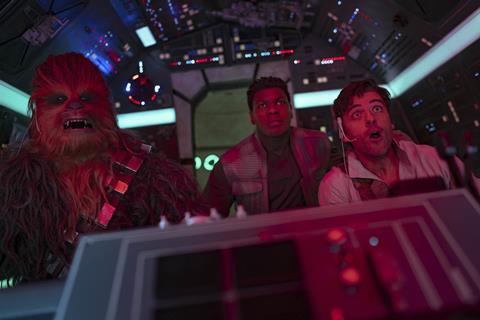 DECEMBER 30 UPDATE: Capitalising on the holiday period with a $166.3m worldwide session that brings the $1bn global milestone within sight, Lucasfilm's Star Wars: The Rise Of Skywalker vaulted to $725.5m through Disney's distribution pipeline after 12 days of release.
Cats continued its miserable trajectory as it launched wide outside North America and according to reports is on course to lose anywhere from $75m-$100m. Columbia Pictures' Jumanji: The Next Level delivered a superb $61.6m weekend, while Lionsgate and MRC's whodunnit Knives Out crossed $200m and $100m internationally.
WALT DISNEY STUDIOS MOTION PICTURES INTERNATIONAL
UPDATED: Star Wars: The Rise Of Skywalker added $94.5m from international markets resulting in a $363.3m running total, of which the UK remains the clear frontrunner after adding $12.2m for $51.3m, followed by Germany, which grossed $14.3m for $43.8m, and France on $34.1m after a $12.8m weekend haul.
After less than two weeks in action the sci-fi ranks as the 10th highest global release of 2019, and the seventh highest in North America, where it added $72.4m for $362.2m. However insiders say it is unlikely to reach the numbers posted by 2017 release The Last Jedi, which finished on $712.4m internationally and $1.332bn globally. 2015's The Force Awakens is out of sight, and grossed $1.33bn internationally to rank sixth on the all-time pantheon, and fourth highest worldwide on $2.068bn.
Blue Sky Studios' animation Spies In Disguise opened day-and-date with North America, earning $29.2m globally for the weekend to elevate the early tally to $39.1m.
Internationally, the family action film featuring the voice talents of Will Smith and Tom Holland grossed $16.9m from 32 territories. Mexico delivered the lead result on $2.3m, then France on $2.2m, the UK on $1.9m, Germany on $1.2m, Spain on $1m, Indonesia $800,000, and Italy $700,000. Coming up this week are debuts in China and Australia, followed by Russia on January 9.
With Brazil and Argentina still to come, Walt Disney Animation Studios' Frozen 2 added $58.7m worldwide and ranks as the third highest grossing animated release of all time worldwide on $1.220bn, having overtaken Minions on $1.159bn.
A $44.3m international session put the running total at $798.4m and produced record-breaking starts across Scandinavia including the highest opening weekend of all-time in Denmark including previews on $4.8m, Norway on $4.3m and Estonia on $585,000, as well as the fourth highest opening weekend of all-time in Sweden on $5m and Finland on $2.6m.
China tops the leaderboard on $116.5m, and next is South Korea on $94m, then Japan on $87.7m, the UK on $59.8m, and Germany on $50.3m.
SONY PICTURES RELEASING INTERNATIONAL
UPDATED: Columbia Pictures' Jumanji: The Next Level delivered a superb international session on $61.1m that knocked The Rise Of Skywalker off its perch in eight out of 10 of its new markets and boosted the fantasy adventure sequel to $296.9m and the worldwide tally to $472.4m.
The top result was Australia on a superb $9.6m including previews, while The Next Level debuted in Italy on $6.8m to finish approximately 49% ahead of the first film. Other openings of note included Colombia on $2.3m, Central America on $2.1m, Peru on $1.7m, and Thailand on $1.7m including previews.
China is the lead market on $40.9m, then the UK on $28m, France $18.4m, Russia $14.6m, Indonesia $14.6m, Germany $14.3m, Mexico $13.5m, Malaysia $12.2m, Australia with that $9.6m opening weekend, and India $8.6m. The Next Level opens in Brazil on January 16.
Greta Gerwig's Little Women took $6.3m from its initial limited international rollout as the UK delivered the top result on $4.7m including previews, followed by Spain on $1.6m. Coming up for the latest adaptation of Louisa May Alcott's Civil War era drama are Australia and France on January 1, with Brazil and Italy up on January 9, Mexico on January 24, and Germany and Russia on January 30.
ASIA UPDATE
Ip Man 4: The Finale from Mandarin Motion Pictures and Tin Tin Film Production Ltd and starring Donnie Yen brought in $28.9m to reach $111.9m. CJ Entertainment's South Korean volcano drama Ashfall earned $11.2m as the tally climbed to $29.4m.
UNIVERSAL PICTURES INTERNATIONAL
UPDATED: After it launched in the UK last weekend day-and-date with North America, Cats crept into a total of 38 territories, earning a disappointing $13.5m over the holiday weekend to bring the early tally to $20.5m. Including North America, Tom Hooper's all-star musical adaptation, which has earned withering reviews in some quarters, climbed to $38.3m at the worldwide box office.
Key drivers from the new markets were South Korea in fifth place on $5m, Australia in fourth on $1.2m, Germany in seventh on $1.1m, Mexico in sixth on $679,000, and Spain in ninth on $482,000. Cats added $2.5m in the UK to climb to $9.5m, ranking fifth after two weekends.
Rom-com Last Christmas earned $3.3m for an $83.4m international running total and $118.5m worldwide. Italy delivered $1m in the second weekend for $2.2m, and the UK stands at $23.9m after seven. Animation The Addams Family grossed $1.9m for $83.6m internationally, rising to $99.9m through all distributors, and $197.9m worldwide. In early stages of release, horror reboot Black Christmas has taken $8.1m and $17.7m from international and global markets, respectively.
LIONSGATE INTERNATIONAL
Knives Out crossed $200m worldwide and $100m at the international box office over the holiday weekend as Rian Johnson's all-star murder mystery climbed to $214.8m and $104.6m following a $6m haul from 70 markets.
China is the top market after five weekends on $27.9m, and many other have impressed too. Knives Out climbed 29% in the UK to reach $13.7m, 14% in Australia for $7.4m, and 50% in France to scale $6.2m – all after five sessions. Coming up are debuts in Germany on January 2, followed by Japan on January 31.