EXCLUSIVE: Julianne Moore drama becomes highest-grosser for UK distributor.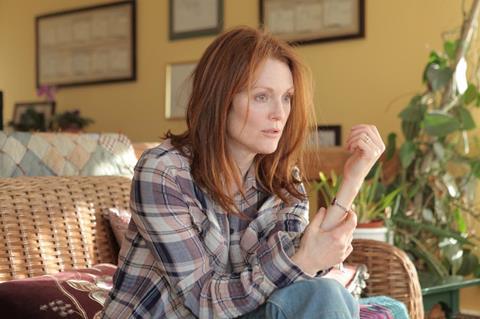 Oscar-winning drama Still Alice has become UK distributor Curzon Artificial Eye's highest-grossing film at the box office.
The film crossed the £2.5m mark last night to overtake the company's previous biggest hits We Need To Talk About Kevin, which grossed £2.2m in 2011, and Cyrano de Bergerac, Artificial Eye's long-standing top-grosser which made £2.45m on release in 1990.
Moore won an Oscar for her portrayal of a linguistics professor who is diagnosed with Alzheimer's Disease in the drama directed by the late Richard Glatzer and Wash Westmoreland.
Inevitably, the UK audience for Still Alice skewed older, proving the power of the grey-pound, but the film's cast (including Kristen Stewart) and subject matter also added to its broad appeal.
Curzon Artificial Eye picked the film up at script stage and spent £450k on P&A, including £150k support from the BFI.
Big promotional support from star Moore, a UK release slot post-Oscar win and the film's universal themes [an estimated 20-35 million people suffer from Alzheimer's worldwide] will have contributed to the film's significant success.
The landmark comes one month after the company set the highest-ever opening weekend for a day-and-date release in the UK, taking £183,423 from 50 screens on black-comedy Wild Tales.
Curzon's CEO, Philip Knatchbull, told ScreenDaily: "It is already shaping up to be a fantastic year for Curzon. The Still Alice result demonstrates our expertise in marketing and releasing films into the UK market."
Curzon Artificial Eye acquisitions picked up three Oscars and three BAFTAs this year. The company has been releasing in the UK since 1976.