Swedish cinemas registered a total of 16.3 million admissions last year, down 2% on 2013 – but the 25.1% local market share was the highest since 2009.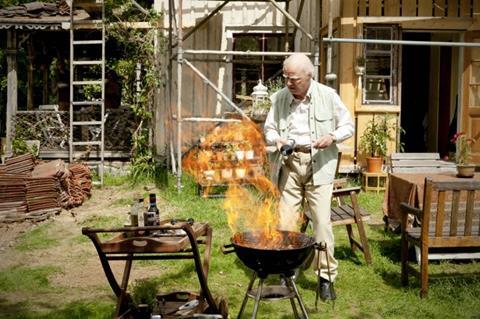 Scroll down for Sweden's top 10 of 2014
Gross box office receipts exceeded $200m (SEK 1.6bn), which was 0.5% more than in the previous year, according to statistics published by the Swedish Film Institute.
Local productions sold 4.1 million tickets, down 32,000, but still accounting for the highest market share in the last five years.
Swedish director Felix Herngren's adventure comedy The Hundred-Year-Old Man Who Climbed Out of the Window and Disappeared (Hundraåringen som klev ut genom fönstret och försvann) reached a 1.1 million attendance, to become the undisputed number one on the charts. Since it premiered during Christmas 2013, its final total was 1.6 million.
"The other Swedish films contributing to the result were films for children and young audiences – six of the local 10 best grossing releases were from that category, including the other two on the Top 10 list," said Johan Fröberg, head of strategic intelligence and statistics at the Swedish Film Institute.
US movies commanded 58.2% of the market, down 6% - "mainly because The Hobbit: The Battle of the Five Armies was this year considered to be a New Zealand title, while the franchise earlier used to be attributed to the US," according to Fröberg.
Australia and India are first-timers on the statistics for land of production.
SWEDEN: TOP 10 FILMS 2014
1 The Hundred-Year-Old Man Who Climbed Out of the Window and Disappeared (Hundraåringen som klev ut genom fönstret och försvann/Sweden). Dir: Felix Herngren. Prod: Nice FLX Pictures. 1,143,578 admissions
2 The Hobbit: The Battle of the Five Armies (NZ). Dir: Peter Jackson.729,143 adms
3 Frozen (US). Dirs: Chris Buck, Jennifer Lee. 670,454 adms
4 The Hunger Games: Mockingjay – Part 1 (US). Dir: Francis Lawrence. 670,454 adms
5 How to Train Your Dragon 2 (US). Dir: Dean DeBlois. 386,725 adms
6 Interstellar (US). Dir: Christopher Nolan. 355,298 adms
7 Bamse and the City of Thieves (Bamse och tjuvstaden/Sweden). Dir: Christian Ryltenius. 321,664 adms
8 Guardians of the Galaxy (US). Dir: James Gunn. 3122,952 adms
9 The Anderssons Rock the Mountains (Sune i fjällen/Sweden). Dir: Gustav Åkerblom. 308,388 adms
10 The Wolf of Wall Street (US). Dir: Martin Scorsese. 295,078 adms