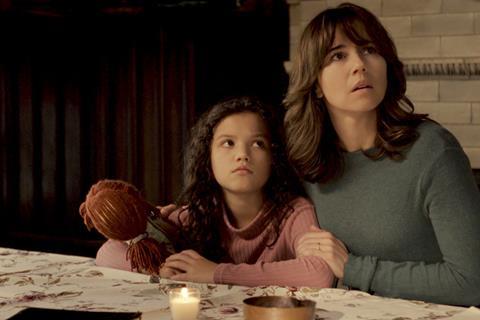 APRIL 22 UPDATE: The Curse Of La Llorona opened top of the global box office for Warner Bros over the weekend, earning a confirmed $55.4m including $29m from 71 international markets as it toppled stablemate Shazam! as the superhero adaptation crossed $200m internationally.
WARNER BROS PICTURES INTERNATIONAL
UPDATED: The Curse Of La Llorona, the latest film to hail from The Conjuring universe, based on a Mexican myth about the ghost of a woman who drowned her children, ranked number one across Latin America, where executives said it was tracking 6% ahead of the opening weekend of The Conjuring and more than 100% ahead of that of Pet Sematary.
It also ranked number one across Asia, where brass claimed it was tracking more than double the opening weekend of Pet Sematary. Results across EMEA were tracking roughly on par with The Conjuring's opening weekend.
By territory it was perhaps no surprise to learn Mexico delivered the top result, opening at number one on $5.1m (Ps 96.6m) for a 43% market share of the top five films. Next was Colombia on $2.3m (Ps 7.3bn) for nearly 40% share, France on $2m (€1.7m) in second place, Spain on $1.8m (€1.6m) in third, and Indonesia on $1.5m (IDR 21.9bn) in first place.
The Curse Of La Llorona grossed $1.3m (KRW 1.4bn) in South Korea for number two, $1.1m (INR 77.8m) in India for number one, $1.1m (Rub 72m) in Russia for number three, $852,000 (€753,000) fin Italy or number three, and $775,000 (R$ 3m) in Brazil in fourth place. The horror film debuts in the UK on May 3, and in Japan on May 10.
Shazam! crossed the $200m mark at the international box office as $22m from 80 markets boosted the running total to $201.5m, and $322m worldwide. The superhero adaptation opened at number four in Japan on $2m (¥220.2m), and has produced the highest gross of all markets so far in China, where $1.7m (RMB 11.4m) propelled the tally to $43.5m (RMB 291.8m) after three weekends.
Elsewhere in third weekends, Shazam! stayed top in in Brazil courtesy of $1.9m (R$ 7.4m) for $11.4m (R$ 44.3m), and held on to number one in Australia, where $1.8m (A$2.6m) boosted the tally to $9.8m (A$13.8m). The film generated $1.7m (Ps 32.3m) in Mexico to rank third and reach $14.2m (Ps 271.4m), and it claimed top spot in the UK on $1.3m (£1m) and $15.4m (£11.7m). France stands at $6.8m (€6m), Spain $4.4m (€3.9m), Russia $9.4m (Rub 617m), and Colombia $2.5m (Ps 8.1bn).
WALT DISNEY STUDIOS MOTION PICTURES INTERNATIONAL
UPDATED: Dumbo crossed $200m internationally and $300m worldwide. The family film directed by Tim Burton grossed $13.9m from 55 for $206.8m internationally, and added $20.5m worldwide for $307.9m. The UK remains the lead market on $27.8m, followed by China on $21.8m, Mexico on $20.2m, Spain on $14.1m, and France on $12.4m.
Captain Marvel brought in $16m globally to reach $1.09bn and overtook The Dark Knight Rises to become the eighth highest superhero release, and the 25th highest film overall at the worldwide box office. A $6.8m international haul from 49 material territories elevated the tally to $690.1m, with China the lead market on $153.8m, followed by the UK on $49.8m, and South Korea on $45.1m, Brazil on $37.8m, and Mexico on $33.2m.
In the first weekend that Disney executives reported Fox International grosses since the company completed its $71.3bn acquisition of the entertainment assets of 21st Century Fox, they said Bohemian Rhapsody had reached $685.5m internationally, $901.8m worldwide, and an "outstanding" $115.7m in Japan. Foxstar's Bollywood drama Kalank opened in India and the UK on $10.3m, earning $9.5m in India and $799,539 in the UK. Faith-based drama Breakthrough starring Josh Lucas added $2.8m for a $5.8m running total from 20 markets. It earned a further $1.7m for $3.8m in Brazil after two weekends, and opened in Mexico on $441,655.
ASIA UPDATE
Hong Kong crime thriller P Storm brought in a further $11.9m as the tally climbed to $113m. Indian black comedy Andhadhun grossed $8.1m for $43.7m.
PARAMOUNT PICTURES INTERNATIONAL
Wonder Park grossed $10.9m from 56 markets to reach $48.5m in a session that saw the family animation debut at number three in China on $3m, and open in the Netherlands on $328,000, and Hong Kong on $328,000. France led holdovers on $1m for $6.1m after three weekends, and Australia generated $767,000 for $3.1m after two. Also after two sessions, Mexico has produced $2.8m, and Spain $2m. The final market is South Korea on August 8.
Stephen King horror adaptation Pet Sematary added $5.5m from 58 for $46.1m, adding $1.1m for $4.1m in France after two weekends, and $638,000 in Germany for $3.8m. Brail and Italy are the final markets to launch on May 9.
VOLTAGE PICTURES
YA sexual awakening drama adaptation After starring Josephine Langford and Hero Fiennes Tiffin added $9.5m to reach an early $25.4m, and $35.9m worldwide.
MILLENNIUM MEDIA
Hellboy brought in a further $3.4m to stand at an early $18.2m. David Harbour, Milla Jovovich and Ian McShane star in the supernatural superhero adaptation.
UNIVERSAL PICTURES INTERNATIONAL
UPDATED: Us from Jordan Peele crossed $75.4m from 63 territories following a $1.8m haul from 58 in play, as the worldwide running total reached $245.8m. Australia delivered the best holdover result on $387,000 for $6.3m after four weekends, and the lead market remains the UK on $12.6m after five. The horror film arrives in Mexico on May 3, and in Japan on August 23.
Super producer Will Packer's latest comedy Little, a body-swap story that stars Issa Rae, Regina Hall and Marsai Martin, grossed $1.4m from 13 territories to settle on an early $4.8m, and $34m globally. It opened in South Africa on $141,000, and stands at $1.8m and $1.3m in the UK and Australia after two weekends, respectively.
DreamWorks Animation's How To Train Your Dragon: The Hidden World stands at $355.6m internationally, and $514.7m worldwide. Wrestling drama Fighting With My Family with Florence Pugh has grossed $5.1m from 20, and Neil Jordan's psychological thriller Greta starring Isabelle Huppert and Chloe Grace Moretz stands at $1.4m, and opened in the UK on $442,000 at number nine.