JANUARY 11 UPDATE: A confirmed $42.4m fourth weekend propelled Star Wars: The Force Awakens to $812.7m as the worldwide tally reached $1.73bn.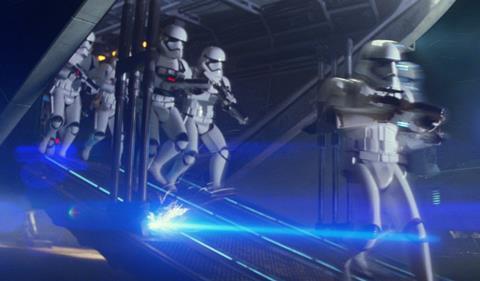 The session was not enough to usurp Avatar's $50.3m fourth-weekend mark set five years ago but has pushed a film past $800m in North America for the first time.
STAR WARS: THE FORCE AWAKENS (NORTH AMERICA)
Biggest North American release in history $764.4m
First film to cross $800m
Highest grossing release to open in 2015 ($686.4m)
Biggest Disney release of all time
Biggest North American opening weekend and three-day gross $247.9m
Biggest second weekend $149.2m
Biggest third weekend $90.2m
Biggest Imax debut $30.1m
Biggest opening week $391.1m
Biggest Thursday preview $57m
Biggest Friday opening day and single day $119.1m
Biggest Sunday $60.5m
Biggest Monday $40.1m
Biggest Tuesday $37.3m
Biggest Christmas Day $49.3m
Biggest New Year's Day $34.5m
Fastest to cross $100m (21 hours of first day), $150m (two days), $200m (three days), $250m (four days), $300m (five days), $350m (six days)
Fastest to cross $400m (eight days), $450m (nine days), $500m (ten days), $550m (11 days), $600m (12 days), $650m (14 days), $700m (16 days), $750m (18 days); $800m (23 days)
Meanwhile, Fox scored a sensational expansion for The Revenant – nominated for four Golden Globes on Sunday night – as it vaulted 21 places to number two on $39.8m for $41.8m after three sessions.
Fox expanded the theatre count from four to 3,375 as box office climbed 8,385% week-on-week. The film will need to generate strong box office in the weeks to come in order to recoup the estimated $135m production cost, which does not include marketing.
Focus Features debuted The Forest starring Natalie Dormer on its Gramercy label at number four on $12.7m. The horror film has a stated price tag of $10m and is off to a decent start.
TWC's The Hateful Eight expanded by 464 into 2,938 sites in its third weekend as box office dropped by 60%. A further $6.4m boosted the running total to $41.5m. Reliance Big opened Wazir on roughly $586,000 in 111 theatres.
Overall box office for the top 12 generated $147.2m and fell 28.7% against last weekend but gained 25.1% on the comparable session in 2015.
This week's wide releases are Universal's comedy Ride Along 2 with Ice Cube; animation Norm Of The North via Lionsgate; and Paramount's Michael Bay action thriller 13 Hours.
Concfirmed top 10 North America January 8-10, 2016
Film (Dist) / Conf wkd gross / Conf total to date
1 (1) Star Wars: The Force Awakens (Buena Vista) Walt Disney Studios Motion Pictures International $42.4m $812.7m
2 (23) The Revenant (Fox) Fox International $39.8m $41.4m
3 (2) Daddy's Home (Paramount) Paramount Pictures International $15m $116.3m
4 (-) The Forest (Focus Features) Good Universe / Lava Bear $12.7m –
5 (4) Sisters (Universal) Universal Pictures International $7.2m $74.9m
6 (3) The Hateful Eight (TWC) TWC International $6.4m $41.5m
7 (7) The Big Short (Paramount) Paramount Pictures International $6.2m $42.7m
8 (5) Alvin And The Chipmunks: The Road Chip (Fox) Fox International $5.7m $75.8m
9 (6) Joy (Fox) Fox International $4.5m $46.5m
10 (8) Concussion (Sony) Sony Pictures Releasing International $3m $30.9m