JANUARY 5 UPDATE: With the North American box office record poised to fall on Tuesday or Wednesday, Disney confirmed that Star Wars: The Force Awakens added $8m on Monday to reach $750.2m following a $90.2m weekend that wiped out Avatar's $68.5m third-weekend mark from exactly five years ago.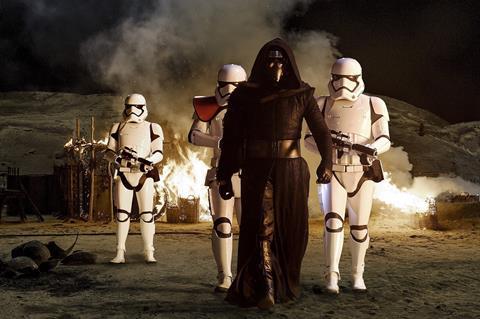 As of Monday Disney/Lucasfilm's box office hero stood at $1.536bn worldwide and eased past $750m in North America in a record 18 days on Monday. It remained on course to cross Avatar's $760.5m 2010 milestone early this week and become the biggest release of all time in North America.
Turning to the weekend, the film's record-breaking third weekend followed a 39.5% drop days after it established itself as Disney's biggest ever release in North America over the holidays.
It is the highest grossing film to be released in 2015, while Universal's Jurassic World remains the biggest film at the box office within 2015 on $652.3m.
The Force Awakens' Imax haul increased by $13.2m to $98.2m in North America after 19 days and will cross $100m in a day or two to overhaul Avatar's previous speed record of 49 days. The global Imax haul stands at $152m.
STAR WARS: THE FORCE AWAKENS (NORTH AMERICAN BOX OFFICE)
Highest grossing release to open in 2015 ($686.4m)
Biggest Disney release of all time
Biggest North American opening weekend and three-day gross $247.9m
Biggest second weekend $149.2m
Biggest third weekend $88.3m
Biggest Imax debut $30.1m
Biggest opening week $391.1m
Biggest Thursday preview $57m
Biggest Friday opening day and single day $119.1m
Biggest Sunday $60.5m
Biggest Monday $40.1m
Biggest Tuesday $37.3m
Biggest Christmas Day $49.3m
Biggest New Year's Day $34.5m
Fastest to cross $100m (one day), $150m (two days), $200m (three days), $250m (four days), $300m (five days), $350m (six days)
Fastest to cross $400m (eight days), $450m (nine days), $500m (ten days), $550m (11 days), $600m (12 days), $650m (14 days), $700m (16 days), $750m (18 days)
Paramount's Will Ferrell-Mark Wahlberg comedy Daddy's Home held firm at number two on $29.2m for $93.9m.
TWC expanded Quentin Tarantino's The Hateful Eight wide on December 30 from the 100 roadshow venues to 2,474 theatres and the Western climbed seven places to number three and grossed $15.7m for $29m after two weekends.
Paramount opened its acclaimed animation Anomalisa in four sites for a sturdy $135,222, while China Lion opened the Chinese hit Devil And Angel on $44,855 from 12.
With the Oscar nominations fast approaching on January 14, Creed crossed $100m for Warner Bros and ranks 12th on $3.7m for $103.1m after six sessions.
Brooklyn at number 14 has reached $20.8m via Fox Searchlight after nine weekends, while Spotlight ranks 15th and has grossed $27.1m after nine weekends through Open Road
Carol sits at number 16 and stands at $4.9m after seven sessions through TWC and Trumbo has amassed $7m after nine via Bleecker Street and ranks 29th.
Overall box office for the top 12 reached $206.3m and while it dropped 26.6% against last weekend, 2016 box office got off to a solid start by gaining 34.9% on the comparable session in 2015.
This week's wide releases are Focus Feature's horror The Forest with Natalie Dormer and drama The Masked Saint via Freestyle Releasing.
Confirmed top 10 North America January 1-3, 2016
Film (Dist) / Conf wkd gross / Conf total to date
1 (1) Star Wars: The Force Awakens (Buena Vista) Walt Disney Studios Motion Pictures International $90.2m $742.2m
2 (2) Daddy's Home (Paramount) Paramount Pictures International $29.2m $93.9m
3 (10) The Hateful Eight (TWC) TWC International $15.7m $29m
4 (4) Sisters (Universal) Universal Pictures International $12.8m $62.9m
5 (5) Alvin And The Chipmunks: The Road Chip (Fox) Fox International $12.1m $67.6m
6 (3) Joy (Fox) Fox International $10.2m $38.5m
7 (6) The Big Short (Paramount) Paramount Pictures International $9.1m $33.1m
8 (7) Concussion (Sony) Sony Pictures Releasing International $7.8m $25.3m
9 (8) Point Break (Warner Bros) Lionsgate International $6.8m $22.4m
10 (9) The Hunger Games: Mockingjay – Part 2 (Lionsgate) Lionsgate International $4.6m $274.2m