JAN 2 UPDATE: A further estimated $59.5m from the global box office on Friday saw Disney/Lucasfilm's behemoth reach $1.391bn.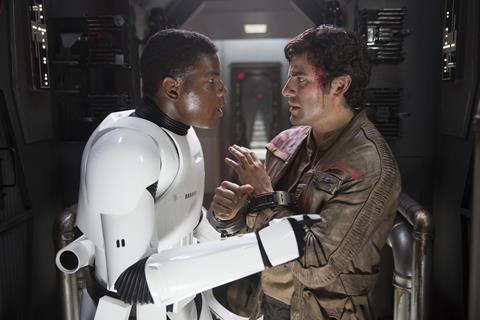 Star Wars: The Force Awakens added $25m from all its international markets as it climbed to $704.2m with the final market of China set to open on January 9.
The sci-fi continues to scale the box office pantheons and sits at number five on the 2015 international roster and ranks seventh in the all-time global pecking order.
It was on course to overtake Avengers: Age Of Ultron's $1.405bn running total on Saturday to rank as the third biggest release of 2015 and the sixth biggest in history.
The UK has generated $133.5m, Germany $73.9m, France $61.4m, Australia $47.1m, Japan $46.1m, Spain $24.7m and Italy $23.3m.
Mexico has produced $23.1m, South Korea $21.8m, Russia $20.3m, Brazil $19.1m, Sweden $13.8m, Poland $11.6m and the Netherlands coming up on $10.2m.
STAR WARS: THE FORCE AWAKENS (international and global box office)
Fastest to cross $1bn worldwide (12 days)
Biggest worldwide opening weekend ($529m)
Fastest to cross $100m worldwide on Imax (12 days)


Biggest Imax worldwide debut $48m
Biggest four-day UK debut $50.5m
Biggest three-day debuts in Germany ($27.5m), Australia ($19.6m), Russia ($12.3m), Sweden, Norway, Finland, Austria, Poland
Biggest five-day debut in Denmark
Biggest opening weekends in Romania, Hungary, Bulgaria, Croatia, Ukraine, Iceland, Serbia, New Zealand.