APRIL 25 UPDATE: Disney's The Jungle Book clung on to the highest vines in its second session as a confirmed $61.5m easily saw off the feeble challenge of Universal's The Huntsman sequel and propelled the family hit to $192.2m.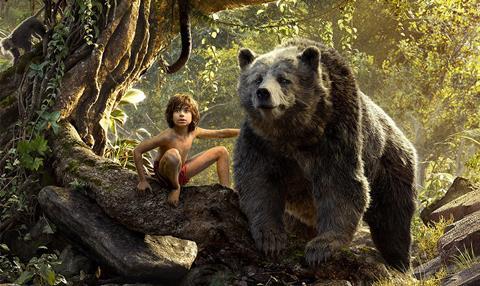 The Jungle Book directed by Jon Favreau already ranks as the fourth biggest North American release of the year-to-date and has amassed $528.5m worldwide. It dropped 41.1% in the second weekend.
The Imax running total from 377 North American screens jumped $5.6m to $18.4m after ten days and the film has grossed $39m worldwide in the large screen format.
Fantasy-adventure The Huntsman: Winter's War starring Charlize Theron, Chris Hemsworth, Jessica Chastain and Emily Blunt arrived in second place on a disappointing $19.4m.
The launch was approximately 35% of that of the $56.2m June 2012 franchise debut Snow White And The Huntsman (a fraction less when adjusted for inflation), which boasted the added star power of Kristen Stewart.
Cube Vision and MGM's Barbershop: The Next Cut fell one place to number three and added $10.5m for $35.7m after two weekends through New Line-Warner Bros.
Disney's Zootopia at number four has reached $316.4m after eight sessions and surged past $900m worldwide.
One other new release broke into the top ten as Pantelion opened the action comedy Compadres at number nine on $1.4m from 368 theatres.
Roadside Attractions debuted Tom Hanks starrer A Hologram For The King directed by Tom Tykwer at number ten on $1.1m from 401 venues, while Bleecker Street's Eye In The Sky broke back into the top ten and has mustered $14.8m after seven sessions.
Bollywood thriller Fan starring the world's biggest film star Shah Rukh Khan has grossed $1.6m through Yash Raj after two sessions.
Fresh from last week's Tribeca Film Festival world premiere, Elvis & Nixon debuted at number 20 via from Bleecker Street on $466,447 from 381 venues. Amazon Prime Video will debut the lighthearted drama on its SVOD and transactional platform 90 days after theatrical.
Overall the top 12 combined for $119.9m, marking a 28.6% drop on last weekend when The Jungle Book delivered that muscular $103.3m opening weekend. However the weekend gained 28.3% gain on the comparable session in 2015.
This week's wide releases are: animation Ratchet & Clank via Focus Features, which Cinema Management Group championed from inception and sold internationally; comedy Keanu through Warner Bros; and comedy Mother's Day through Open Road Films.
Confirmed top 10 North America April 22-24, 2016
Film (Dist) / Conf wkd gross / Conf total to date
1 (1) The Jungle Book (Buena Vista) Walt Disney Studios Motion Pictures International $61.5m $192.2m
2 (-) The Huntsman: Winter's War (Universal) Universal Pictures International $19.4m –
3 (2) Barbershop: The Next Cut (New Line-Warner Bros) Warner Bros Pictures International $10.5m $35.7m
4 (5) Zootopia (Buena Vista) Walt Disney Studios Motion Pictures International $6.6m $316.4m
5 (3) The Boss (Universal) Universal Pictures International $6.2m $49.7m
6 (4) Batman vs Superman: Dawn Of Justice (Warner Bros) Warner Bros Pictures International $5.5m $319.5m
7 (6) Criminal (Lionsgate-Summit) Lionsgate International $3.1m $10.9m
8 (7) My Big Fat Greek Wedding 2 (Universal) Universal Pictures International $2.1m $55.4m
9 (-) Compadres (Pantelion) $1.4m –
10 (0 Eye In The Sky (Bleeker Street) eOne $1.2m $14.9ms
10 (-) A Hologram For The King (Roadside Attractions) Lotus Entertainment $1.2m –