NOVEMBER 2 UPDATE: In the lowest top 12 weekend of the year-to-date, Fox's juggernaut continued to steam towards a North American high-water mark for director Ridley Scott as the space adventure grossed $11.7m for $183.1m.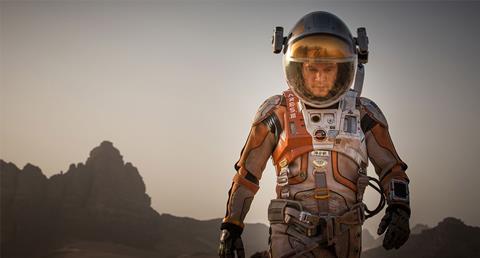 After five sessions The Martian is a week away from overtaking Gladiator's $187.7m to become Scott's biggest release in North America.
TWC's chef drama Burnt starring Bradley Cooper and Warner Bros' lobbying drama Our Brand Is Crisis with Sandra Bullock positioned in the run-up to release as a potential awards contenders misfired badly.
Burnt arrived at number six on $5m while Our Brand Is Crisis opened in eighth place on $3.2m as both studios misjudge the market catastrophically. The former opened on 3,003 venues and the latter in 2,202 for Bullock's lowest wide-release debut.
In an intriguing weekend for studios and exhibitors, Paramount opened Scouts Guide To The Zombie Apocalypse at number 12 on $1.8m from 1,509 venues.
The result is dismal and while it will have suffered considerably from an alienating 12 rating, damage is also attributable to the fact that many chains boycotted the release.
Scouts is the second film in two weekends to stem from Paramount's revenue-sharing pact with AMC Theatres and Cineplex Entertainment in Canada that will see digital roll-out follow 17 days after the theatre count drops below 300.
Last weekend the studio released Paranormal Activity: The Ghost Dimension on a franchise-low $8.1m from 1,656 and in its second session the film fell one place to number seven on $3.4m for $13.6m.
Paramount withdrew the horror from 126 sites for a 1,530 count and studio executives say they are watching consumer demand to decide when to activate the digital component.
China Lion opened The Witness on $194,736 from 40 and Alchemy released Gaspar Noé's Love in two sites on $29,301. Abramorama debuted Heneral Luna, Philippines's foreign-language Oscar submission, on $15,485 from three.
Overall box office for the top 12 reached $62.6m, down 34% from last weekend and down 21.6% against the comparable session in 2014 when Ouija held on to number one on $10.7m and Nightcrawler arrived in second place on $10.4m.
Things will look up this week when Sony unleashes Spectre, already a giant in the making at the international box office on $80.4m. Fox opens Peanuts and Clarius Entertainment distributes counter-programmer The Outskirts.
Estimated top 10 North America October 30-November 1, 2015
Film (Dist) / Est wkd gross / Est total to date

1 (1) The Martian (Fox) Fox International $11.7m $183.1m
2 (2) Goosebumps (Sony) Sony Pictures Releasing International $9.9m $56.8m
3 (3) Bridge Of Spies (DreamWorks-Buena Vista) Fox International $8.4m $45.5m
4 (5) Hotel Transylvania 2 (Sony) Sony Pictures Releasing International $5.9m $156m
5 (4) The Last Witch Hunter (Lionsgate-Summit) Lionsgate International $5.2m $19m
6 (-) Burnt (TWC) TWC International $5m –
7 (6) Paranormal Activity: The Ghost Dimension (Paramount) Paramount Pictures International $3.44m $13.6m
8 (-) Our Brand Is Crisis (Warner Bros) Warner Bros Pictures International $3.2m –
9 (8) Crimson Peak (Universal) Universal Pictures International $3.1m $27.7m
10 (7) Steve Jobs (Universal) Universal Pictures International $2.7m $14.7m