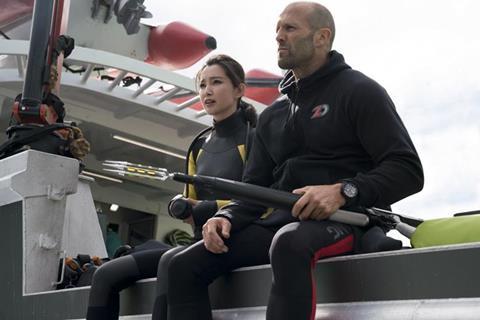 AUGUST 11 UPDATE: The Meg has glided to an estimated $66.9m through Saturday, earning $23.4m via Warner Bros Pictures International (WBPI) from 42 markets, and an additional $32.4m in China.
The giant shark action thriller starring Jason Statham and Li Bingbing opened in the UK on Friday at number two on $1.5m, Mexico at number one on $1.5m, and Spain at number one on $830,000. The tentpole added $16.1m in China on Saturday.
After two days The Meg has reached $2.4m in Russia, $1.4m in the UAE, $1.1m in Malaysia, $970,000 in Italy, $781,000 in Germany, and $623,000 in Brazil. Indonesia has produced $1.1m after three days.
AUGUST 10 REPORT: The Meg stormed to an estimated $16m from Thursday night previews and Friday in China, combining with $7.2m from the first 29 markets via Warner Bros Pictures International (WBPI) for an early $23.2m international haul.
The China tally puts the action thriller about a giant prehistoric shark third behind two local releases and WBPI sources said that put it ahead of Skyscraper, San Andreas and Geostorm by the same stage. The action thriller debuts in the UK and Mexico as well as a further 12 markets on Friday.
The Jason Statham and Li Bingbing tentpole opened top in all its other Asian markets except Hong Kong where it ranked second, grossing a combined $1.9m.
Thursday highlights include Russia on $1.3m for number one and a 73% share of the top five films, and the UAE on $706,000 for number one in the second highest opening day for the studio behind Batman V Superman.
The film arrived top in Italy on $569,000 for a 75% share and the studio's highest opening day of the year-to-date, second in Germany on $361,000, top in Holland on $285,000 for the studio's highest opening day of the year so far, and top in Brazil on $264,000.
The Meg will give Mission: Impossible – Fallout a run for its money as that film cruises towards the $300m mark. The Tom Cruise action thriller has reached $233.8m internationally and ventures into Estonia, Latvia and Poland this weekend. The worldwide tally stands at $363.4m.
Fox International's YA thriller The Darkest Minds on $5.3m debuts this weekend in the UK, Spain, France, Belgium, Switzerland, Portugal, Sweden, and Norway.
Cannes selection El Angel debuts in Argentina, where events in the true-life crime thriller took place, as well as Uruguay. Isle Of Dogs on $31.9m opens in Israel.
Universal Pictures International brass said Skyscraper stood at $127.3m through its territories, rising to $221.1m including $93.8m from China, and $286.5m worldwide factoring in North America.
Mamma Mia! Here We Go Again has reached $154.5m, while The First Purge stands at $55.5m, and Jurassic World: Fallen Kingdom $860.1m.
Sony Pictures Releasing International's Hotel Transylvania 3: Summer Vacation on $212.8m will get a boost when it debuts in South Korea, while thriller Equalizer 2 starring Denzel Washington in the first sequel of his career stands at $8.1m heading into Spain.
Walt Disney Studios Motion Pictures International executives report that Incredibles 2 has amassed $479.7m, while Ant-Man And The Wasp has reached $237.9m. Family title Christopher Robin has grossed an early $7.9m and opens in Belgium, Ecuador, Iceland, India, Netherlands, Thailand, and Trinidad this weekend.
Warner Bros Pictures International's other releases include Melissa McCarthy comedy Life Of The Party on $12.8m, female ensemble crime caper Ocean's 8 on $137.3m with a debut set for Japan, comedy Tag on $21.1m, and children's release Teen Titans Go! on $3.1m.