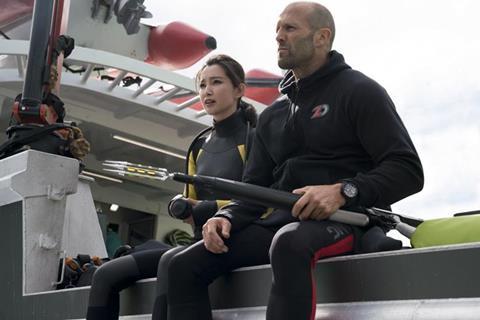 AUGUST 13 UPDATE: The Meg took a tasty bite out of global box office in its launch weekend, gliding to the top of the international pile with a confirmed $101.5m international launch from 42 territories fired up by $50.7m in China.
Elsewhere, Incredibles 2 is days away from crossing $500m in the international arena, Mission: Impossible – Fallout reached $275.6m, Mamma Mia! Here We Go Again climbed to $177m, and El Angel scored the highest debut for a local production in Argentina.
WARNER BROS PICTURES INTERNATIONAL
UPDATE: Factoring in the $45.3m number one North American launch, the giant shark action thriller stands at $146.8m worldwide. It ranked top in 34 markets and was the number one film across Europe, finished top in most Asian markets, and secured pole position in all of its Latin American markets.
Opening in China via Gravity Pictures – the US-China co-production is backed by Warner Bros, Flagship Entertainment and Gravity Pictures and reportedly carries a $150m price tag – the film starring Li Bingbing alongside Jason Statham is tracking 5% ahead of Skyscraper by the same stage, 8% ahead of San Andreas, and 53% ahead of Geostorm.
The UK generated a $4.4m number two debut, while a string of number one bows saw Mexico deliver $6.5m for Warner Bros' biggest debut of the year-to-date. Russia produced $5.3m and the same accolade for the studio, Spain $2.4m, Indonesia $2.7m, Malaysia $2.4m, Brazil $2.1m, the UAE $2.1m, and Italy $1.9m.
The Meg opened in second place in Germany on $1.9m and arrives this week in South Korea and Australia, followed by France on August 22 and Japan on September 7.
Crime caper Ocean's 8 grossed $4.1m from 43 for $141.6m, and $280m worldwide. The female ensemble debuted in Japan on $3m, and added $329,000 in Italy for $2.9m after three weekends. The UK remains the top market on $14.6m, followed by Australia on $13.6m, and South Korea on $10.8m.
Family title Teen Titans Go! To The Movies generated $1.3m from 17 for an early $4.5m, and stands at $1.3m in the UK, $810,000 in Argentina, and $319,000 in the UAE.
ASIA UPDATE
Comedy ipartment grossed $80m on its debut in China, while comedy The Island arrived in China on $77.2m. This is the season for comedies in China, as box office smash Hello Mr. Billionaire added $10.9m for $334.9m. South Korean fantasy sequel Along With The Gods: The Last 49 Days grossed $15.9m for $62.8m.
PARAMOUNT PICTURES INTERNATIONAL
Mission: Impossible – Fallout grossed $38.4m this weekend in 59 markets as the international running total climbed to $275.6m, and $437.6m worldwide. The Tom Cruise action vehicle is tracking 19% ahead of Mission: Impossible – Rogue Nation for the same group of markets by the same stage of its international run.
Japan delivered $5.9m in the second weekend to hold at number one and rise to $18.7m, while in the same session another string of number one holds saw France produce $4.1m for $14.4m, Germany $4m for $8m, and Australia $2.7m for $8.9m.
In the third weekend, South Korea generated $2.3m for $46.4m, while the UK delivered $2.3m for $22.4m. Fallout ranks fifth in both those markets.
The tentpole added $1.3m in the Netherlands to rank number one and surge to $3.9m after two weekends. In its third session, Ethan Hunt and the crew grossed $1.2m in Brazil for number two and a $9.6m tally, $842,000 in Taiwan for number two and $11.9m, $762,000 in Mexico for number four and $10.8m, and $582,000 in the UAE for number two and $6.4m. The Middle East has generated $13.9m.
Poland was the only new debut of the weekend and delivered $615,000 for top spot. Japan and China are the final two major markets to come on August 29 and 31.
UNIVERSAL PICTURES INTERNATIONAL
UPDATE: Mamma Mia! Here We Go Again brought in $22.2m from 58 territories as the running total climbed to $178m, and $281.9m worldwide. The Abba-inspired musical romance opened in six markets led by a $6.6m haul in South Korea at number three behind two local titles.
In a strong of solid fourth weekends the UK led the way on $4.6m, which was enough to keep The Meg at bay and contributed to a mighty $63.1m running total. The film ranks as the third highest musical of all time in the UK. Germany produced $1.6m for $14.1m, Australia $1.2m for $14m, and the Netherlands $708,000 for $5.6m. This week brings debuts in Russia and Mexico.
Jurassic World: Fallen Kingdom grossed $5.1m from 60 for $867.9m, and $1.278bn globally. The dinosaurs added $2.8m in Japan for $58.1m after five sessions.
The First Purge added $2.9m from 35 for $58.6m, and $127.1m worldwide. The horror film opened top in Colombia, ahead of Mission: Impossible – Fallout in its second weekend, on $500,000. Skyscraper added $2.7m from Universal markets for $130.6m, and the worldwide running total stands at $196.8m excluding China.
Spike Lee's BlackKklansman opened day-and-date with North America in Finland, Israel and Central America, grossing $304,000 for number one, $61,000 for number seven, and $6,000 for number five, respectively. The early international tally stands at $400,000.
SONY PICTURES RELEASING INTERNATIONAL
UPDATE: Hotel Transylvania 3: Summer Vacation used a $18.2m session from 58 markets to boost the tally to $232.6m, fired up by a $3.4m debut in South Korea. The family release arrives in China this week, followed by Italy on August 22.
Mexico is the lead market on a $25.5m running total, followed by Brazil on $18m, Russia $17.7m, the UK on $14.5m, and Australia on $13.5m.
The Equalizer 2 brought in $2.1m from 16 markets for $10.2m and expands this week into the UK, France, Brazil, Germany, and Mexico, with Russia, Italy, Japan and South Korea to follow later in the autumn.
WALT DISNEY STUDIOS MOTION PICTURES INTERNATIONAL
UPDATE: Incredibles 2 is days away from crossing $500m at the international box office after a $14.7m weekend elevated the running total to $498.8m. The worldwide tally stands at $1.089bn.
In the UK the film has reached $58.6m (£44.7m) and overtaken Toy Story 2 (£44.3m) to rank as Pixar's second highest release in local currency terms behind Toy Story 3 (£74.1m). China is the second highest market on $53.6m, then Mexico on $37.2m.
Incredibles 2 ranks as Disney-Pixar's third highest release in Hong Kong. There are still Italy and Germany to go on September 19 and 27, respectively.
Ant-Man And The Wasp added $6.7m from 42 for $245.6m, and $449.1m globally. The top markets are South Korea on $42.4m, Mexico on $14.9m, Australia on $14.3m, and the UK on $13.4m.
In its early days, family release Christopher Robin brought in $4.1m from 25 for $12.4m, and $62.4m worldwide. So far Mexico is the lead market on $3m, followed by Russia on $2.8m, and Hong Kong on $900,000.
LIONSGATE INTERNATIONAL
Action comedy The Spy Who Dumped Me starring Mila Kunis and Kate McKinnon earned $4.9m from 52 markets for $7.3m, with a $1.1m number three launch in Australia the highlight.
It took $785,000 in Russia for second place, $514,000 in France, and $221,000 in Italy. After two weeks the Middle East remains the top market on $1.6m. It opens in Spain and parts of Scandinavia this week, followed by the UK, South Korea, Mexico, Brazil and Sweden over August 22-24.
FOX INTERNATIONAL
UPDATE: YA adaptation The Darkest Minds grossed $4.8m from 48 markets to raise the early international tally to $10.8m. The thriller debuted in 12, among them France on $1.7m for fourth place, the UK $507,554 for seventh, and Spain $410,508 for fifth.
Luis Ortega's true-life serial killer thriller El Angel from Fox International Productions opened in two markets on $1.54m. The studio said it scored the highest debut ever for a local production in Argentina – where the story about 1970s teen killer Carlitos Robledo Puch takes place – on $1.52m from 363 screens.
STX INTERNATIONAL
Adrift added $1.1m for $20.6m and opened in Brazil on $417,000. The survival drama starring Shailene Woodley and Sam Clafin has grossed $52m worldwide.