Disney's latest Marvel outing records $13.8m (£8.65m) debut, including previews, to dominate the UK chart; Fox's Philomena posts Stephen Frears' best-ever UK opening at $2.4m (£1.5m).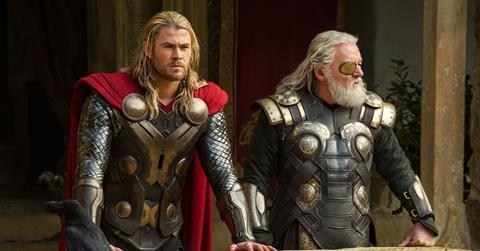 The ever-popular Marvel franchise shows no sign of audience fatigue as Thor: The Dark World hammered its competition to top the UK box office on debut.
Disney's superhero sequel topped weekend estimates by smashing its way to $13.8m (£8.65m) from its 523 sites at a mighty average of $26,379 (£16,525). The opening included $4.9m (£3.1m) in previews, but even Thor: The Dark World's Fri-Sun performance of $8.9m (£5.54m) would have seen it comfortably land the top spot.
Thor: The Dark World marks the third-best opening for a Marvel outing in the UK, behind Iron Man 3 ($21.9m/£13.7m including $3.7m/£2.3m previews) and Marvel's Avengers Assemble ($25.2m/£15.8m including $4.1m/£2.6m previews).
Based solely on Fri-Sun weekend figures, Thor: The Dark World is the fourth-best Marvel debut behind Iron Man 2's $10.8m (£6.8m), as well as Iron Man 3 ($18.2m/£11.5m) and Marvel's Avengers Assemble ($21.1m/£13.2m).
Thor: The Dark World is already over halfway to surpassing Thor's $22.4m (£14m) entire UK run.
Also for Disney, Monsters University added $196,000 (£122,739) for $48.8m (£30.6m), while Cars spinoff Planes has flown to $14.1m (£8.8m) after 12 weeks in play.
SONY
Last week's champion, Cloudy with a Chance of Meatballs 2 fell just 2%, discounting previews, as it grossed $3.4m (£2.1m) to chart second.
Sony's animated sequel enjoyed a healthy half term, taking $8.5m (£5.3m) over the past seven days to stand at an early $14.4m (£9m). It's already overtaken its predecessor's $10.5m (£6.5m) UK result and with no new animation openers until eOne's Free Birds on Nov 29, should enjoy a long run at the box office.
Capping off a terrific October for Sony, Captain Phillips posted a great hold in its third week, dropping 33% on its way to $2.6m (£1.61m).
Paul Greengrass' thriller has amassed an impressive $18.2m (£11.4m) and will become the director's second-best UK performer this week, overtaking The Bourne Supremacy's $18.7m (£11.6m).
Also for Sony, Drinking Buddies was released in 70 sites resulting in a $30,300 (£19,000) debut.
FOX
Pathe's Philomena, distributed in the UK through Fox, is off to an excellent start as it charted fourth with a $2.4m (£1.5m) debut from its 510 sites.
That marks director Stephen Frears' best-ever UK opening, topping The Queen's $1.4m (£856,273) from 347 sites, and Philomena has every chance of becoming Frears' best-ever UK performer, currently The Queen's $15m (£9.4m).
Given its older skewing audience, Philomena draws comparisons to The Best Exotic Marigold Hotel which opened with $3.5m (£2.2m) from 504 on its way to $32.6m (£20.4m).
Philomena's midweek performance should be strong, given both the "grey pound" and its critical acclaim, and its holdover next weekend will go a long way to showing if it can replicate Best Exotic's long UK run.
Also for Fox, Turbo has sped to $15.5m (£9.7m) after adding $2.1m (£1.3m) this weekend, a 7% boost week-on-week.
Enough Said dropped 47% in its second weekend and stands at $725,000 (£454,431) after ten days in play, while Percy Jackson: Sea of Monsters has sailed to $11.6m (£7.25m)
PARAMOUNT
Recording a decent holdover (discounting previews), Paramount's Jackass Presents: Bad Grandpa added $1.5m (£970,000) in its second weekend as it fell to sixth.
The latest in the Jackass franchise now stands at $6.5m (£4.05m) and only has Jackass 3D's $9.1m (£5.64m) tally to catch to become the franchise's best-ever UK performer.
EONE
Sci-fi Ender's Game fell over 50% in its second weekend to post $746,000 (£467,454) as it climbed to $3.9m (£2.46m) after ten days in play.
Also for eOne, Escape Plan stands at $4m (£2.5m) following a $291,000 (£182,224) third weekend, while the critically acclaimed drama Prisoners has amassed $11.3m (£7.1m) after six weeks in play.
ENTERTAINMENT
Falling 54% in its second week, Entertainment's One Chance dropped to ninth as it grossed $540,000 (£340,000) according to figures from The Weinstein Company.
The biopic of Paul Potts has now taken $3m (£1.9m) and is unlikely to catch the $6.6m (£4.1m) result of director David Frankel's last UK outing, Hope Springs.
WARNER BROS
Woody Allen's best UK performer Blue Jasmine added a further $172,000 (£108,000) through Warner Bros as it sets its sights on £5m with $7.7m (£4.8m) to date.
UNIVERSAL
The year's biggest hit to date Despicable Me 2 has grossed $75.3m (£47.21m) to date through Universal.
While it probably won't surpass Shrek 2's $76.7m (£48.1m) tally as the UK's second biggest animation, the sequel has set a tough target for the likes of Frozen, The Hobbit: The Desolation of Smaug and The Hunger Games: Catching Fire to beat.
STUDIOCANAL
Ron Howard's biopic of the rivalry between F1 drivers James Hunt and Niki Lauda, Rush, is set to cross £10m in the coming seven days, as it stands at $15.9m (£9.94m) following a $70,900 (£44,477) weekend through StudioCanal.
Child's Pose and Milius both received limited releases through StudioCanal this weekend, posting debuts of $3,000 (£1,874) from two sites and $302 (£189) from one sites, respectively.
ARTIFICIAL EYE
In its second weekend of release, Artificial Eye's The Selfish Giant took $51,200 (£32,091) from its 30 screens for a ten-day running total of $292,000 (£182,542).
METRODOME
Released on six prints through Metrodome, The Nun posted a $4,200 (£2,657) opening.
DOGWOOF
In a limited release of three sites (all on reduced shows), Dogwoof's Cutie and the Boxer debuted with $2,030 (£1,272).
UPCOMING RELEASES
This week's only saturation release comes in the form of the Warner Bros' highly anticipated sci-fi Gravity (opens Nov 7), which has already made over $400m worldwide.
Soda's Seduced & Abandoned and Dartmouth Films' How to Survive a Plague are among the films receiving a limited release.