JUNE 26 UPDATE: China delivers biggest franchise bow on $125.3m, while The Mummy nears $350m worldwide.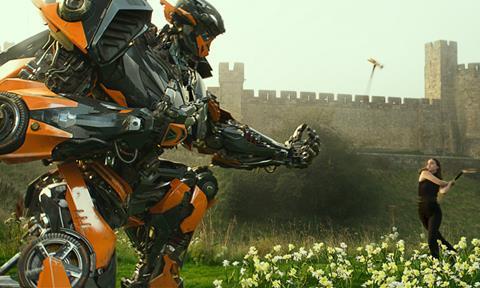 PARAMOUNT PICTURES INTERNATIONAL
UPDATED: Transformers: The Last Knight opened at number one in 40 territories at the weekend as the tentpole earned $199.2m internationally, debuting roughly 2% ahead of previous instalment Age Of Extinction in the same markets.
Combined with $68.5m from North America, Michael Bay's latest action tentpole starring Mark Wahlberg delivered $267.7m worldwide.
The initial wave generated 40 number one bows and included a $125.3m debut in China from 7,800 venues – the biggest in the franchise to date and approximately 35% ahead of that of Age Of Extinction.
South Korea produced $12.9m, Russia $8.5m, the UK $5.9m, Germany $4.9m, Taiwan $3.8m, and Australia $3.6m.
The Philippines generated $3.3m, Malaysia $3.1m, Thailand $2.8m, Hong Kong $2.5m, Singapore $2.4m, Italy $2m, Vietnam $1.2m, and the UAE $1.1m.
The film opens in France this week, Brazil on July 20, Mexico July 21, and Japan and Spain August 4.
Imax screens generated $24.3m from 1,402 screens worldwide and this was the biggest debut for the series on the large-screen format and the second biggest of all time for Paramount.
Baywatch grossed $11.2m in 56 markets including six new openings, bringing the international total to $80.9m.
France debuted at number one on $2.6m at 545 locations. Elsewhere, Mexico delivered $1.7m for a $5.6m running total, while Germany added $1.2m for $13.3m after four weeks.
After two weekends, Brazil sands at $2m and Spain $1.4m.
UNIVERSAL PICTURES INTERNATIONAL
UPDATED: The Mummy grossed $17.9m from 69 territories raising the international total to $275.2m. With North America's estimated $68.5m, the worldwide total is an estimated $343.7m.
The film arrived at number one in Egypt on $43,000, while South Korea generated $1.3m for $26.3m after three weekends. France held at number three in week two on $1.8m for a $5.7m running total.
Meanwhile, Brazil produced $1.3m for $11.4m after three weekends, Mexico added $1.2m for $11.6m, while China added a further $945,000 for $89.4m after three. Japan is the final territory set to release on July 28. The UK has generated $9.7m.
Illumination's Despicable Me 3 has kicked off in six territories ahead of the rest of the world – Australia, India, Malaysia, Philippines, Singapore and Thailand. The animation grossed $6.6m for a running total of $18.4m. There are still 64 markets left to open.
The family film debuted in India on $1.8m including previews, the biggest opening ever for Illumination in India. Australia held at number two in week two on $2.7m for an 11-day total of $7.8m and is keeping pace with Despicable Me 2 and Minions.
The film is holding at number two behind Transformers in Malaysia on $2m to date, $2.7m in both the Philippines and Singapore, and $1.3m in Thailand. The Steve Carell and Kristen Wiig animation debuts in 44 territories along with North America this week.
WARNER BROS PICTURES INTERNATIONAL
UPDATED: Patty Jenkins' Wonder Woman added a further $21.7m from 64 markets lifting the international tally to $335.8m.
The film opened in Spain on $2.2m for a 49% box office share of the top five films and first place in that market.
Warner Bros' tentpole generated $2.4m in Brazil for $27.2m after four weekends, while the UK decreased just 20% from last weekend, producing $2m for $24m internationally. Australia generated $1.7m for $17.7m, France $1.7m for $10.8m, Germany produced $1.4m for $5.2m, while Mexico added $1.2m for a $21m running total.
China remains the film's top grossing market on $87.6m.
King Arthur added $895,000 from 40 territories bringing the international tally to $101.6m. Russia is the top market on $12.4m, followed by China on $8.3m, the UK on $6.3m, France on $6m, and $5.9m in Mexico.
Teen romance Everything, Everything added $3.1m from 36 territories for $8.6m internationally.
FOX INTERNATIONAL
UPDATED: Alien: Covenant added $2.5m from 32 markets bringing the international total to $154.5m. China grossed $2.2m over the weekend for $41.4m after two weeks.
Captain Underpants: The First Epic Movie generated $986,997 from eight markets for $6.2m. Spain has delivered $2.7m after three sessions. Most of the international marketplace has yet to open.
Diary Of A Wimpy Kid: The Long Haul stands at $10.6m, and the UK has produced $6.9m after five weekends.
WALT DISNEY STUDIOS MOTION PICTURES INTERNATIONAL
UPDATED: In its second weekend, Cars 3 brought in $12.7m from 26 territories for $42.1m. Combined with North America's $98.8m, the film stands at $140.9m worldwide.
Cars 3 debuted in Australia and New Zealand pre-holidays taking in $2m and $400,000 respectively.
Mexico is the current top market on $12.1m, followed by Russia on $8.6m, Panama and Colombia each on $2.4m, Poland on $2.3m, and Australia on $2m. Several key markets have yet to release, including the UK, Brazil, Japan, France, Italy and Germany.
Pirates Of The Caribbean: Dead Men Tell No Tales added $9.6m to reach $519.2m at the international box office. Last week, the film crossed the $500m international mark, the 21st Walt Disney Studios film to do so. The action-adventure stands at $679.4m globally.
China is the top market on $172.3m, followed by Russia on $39.6m, Germany on $25.8m, the UK on $23.7m and France on $22.8m. The European region was down 41%, while Latin America saw a 53% drop.
Guardians Of The Galaxy Vol. 2 stands at $471.2m internationally and $851.4m worldwide. China is the lead market on $99.3m, followed by the UK on $52.8m, Germany on $29.7=8m and Russia on $27.8m.
SONY PICTURES RELEASING INTERNATIONAL
UPDATED: Scarlett Johansson comedy Rough Night grossed $2.1m from 21 markets for $7.7m internationally. The film will debut in Germany this week.