Fox's animation takes top spot with $6.3m (£3.9m), including previews; Captain Phillips wins Fri-Sun weekend, charting second overall with $5.6m (£3.48m) for Sony's biggest opening of 2013.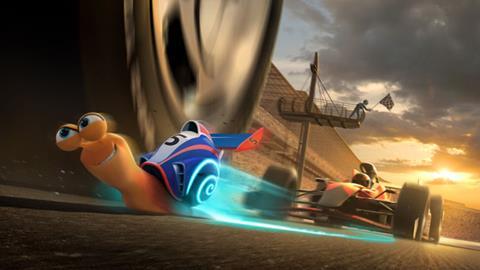 After the lowest-grossing weekend last week, the UK box office kicked back into gear this week with Turbo speeding to the top spot, thanks to its previews last week.
Fox's animation posted a $6.3m (£3.9m) debut from its 528 sites, including $2.9m (£1.8m) in previews. Based solely on its Fri-Sun gross of $3.4m (£2.1m), it would have charted second.
In terms of DreamWorks Animations (DWA) outings in the UK, Turbo is behind 2013's other release, The Croods, which clubbed $8.7m (£5.4m) from its 521 sites, including $3m (£1.9m) in previews, on its way to an excellent $42.4m (£26.2m).
Overall, Turbo ranks as the ninth best DWA opening, ahead of Chicken Run ($6.2m/£3.8m from 455) but behind Monsters Vs Aliens ($7m/£4.3m from 520).
Also for Fox, Enough Said recorded a $243,000 (£150,541) debut from its 79 sites, resulting in director Nicole Holofcener's best-ever UK opening, surpassing Friends with Money's $154,000 (£95,092) bow from 51 sites.
Runner Runner and Baggage Claim stand at $4.2m (£2.6m) and $561,000 (£347,432), respectively.
SONY
Officially charting second but winning the Fri-Sun weekend with $4.9m (£3m), LFF opener Captain Phillips is off to an excellent start in the UK.
Including $760,000 (£470,000) from Wednesday previews, Paul Greengrass' hijack thriller recorded an overall debut of $5.6m (£3.48m) from its 536 sites. That marks Sony's biggest opening of 2013, ahead of The Smurfs 2's $4.9m (£3.2m) bow which included $2.7m (£1.8m) in previews.
In terms of Greengrass' directorial outings, Captain Phillips is his second biggest behind The Bourne Ultimatum's $10.6m (£6.6m) debut, including $2m (£1.24m) in previews.
With strong word-of-mouth and an older-skewing audience, Captain Phillips is also likely to post healthy midweek numbers and enjoy a fruitful run.
EONE
Completing an all-new top three was eOne's Escape Plan, which recorded a decent debut of $1.5m (£958,092) from its 362 sites.
That's a solid average of $4,277 (£2,647), and is a debut ahead of both recent solo outings for Sylvester Stallone and Arnold Schwarzenegger: Bullet to the Head ($694,000/£429,317 from 298) and The Last Stand ($871,000/£538,867 from 356).
It's also director Mikael Håfström's second biggest UK bow, narrowly behind 1408's $1.7m (£1.1m) from 406 sites.
The UK's reigning champion for the past three weeks, Prisoners might have fallen from first but has crossed the £6m mark in its fourth week.
eOne's drama took a further $921,000 (£569,608) from its 420 sites for an excellent $10m (£6.16m) tally to date.
Also for eOne, The Fifth Estate fell heavily in its second week to gross $191,000 (£118,338) for a ten-day total of $1.4m (£874,902), while Insidious: Chapter 2 has now scared up $11.5m (£7.1m).
WARNER BROS
Crossing £4m in its fourth week, Warner Bros' Blue Jasmine fell to sixth as it grossed $587,000 (£362,989).
Woody Allen's latest outing – and his best UK performer – is now up to $6.6m (£4.1m) and could well hit the £5m mark, having added around $1.3m (£800,000) in the past seven days.
LIONSGATE
Now in its third week of nationwide release (fourth in Scotland), Lionsgate's Filth crossed the £3m mark after a $553,000 (£342,000) weekend.
Jon S. Baird's adaptation of Irvine Welsh's novel has now amassed $5.3m (£3.28m) in the UK, a more than healthy return for a tricky, adult-orientated sell.
Also for Lionsgate, Machete Kills unsurprisingly fell heavily to post a $33,000 (£20,287) second weekend for a ten-day total of $482,000 (£298,071).
STUDIOCANAL
Dropping 47% in its eighth week, StudioCanal's Rush added $454,000 (£280,960) for a tally to date of $15.3m (£9.5m).
CURZON FILM WORLD
In its second week of release, Curzon Film World's Le Week-end fell by around a third to gross $334,000 (£206,424) from its 136 sites.
Roger Michell's latest has now taken $1.2m (£765,276) in the UK and has surpassed Enduring Love's UK result of $1.1m (£710,054).
DISNEY
Cars spinoff Planes flew to a further $320,000 (£197,954) for $13.9m (£8.6m) after ten weeks in play.
Also for Disney, Monsters University stands at $48.7m (£30.2m).
UNIVERSAL
Minion fever seems to have finally slowed as 2013's biggest hit Despicable Me 2 dropped 48% in its 17th week, adding $126,000 (£78,000) for $75.7m (£46.81m) through Universal.
Meanwhile, Richard Curtis' alleged directorial swansong About Time stands at $12m (£7.44m) following a $116,000 (£72,000) seventh weekend.
ARROW FILMS
Released in 11 sites through Arrow Films, Cannes jury prize winner Like Father, Like Son posted a non-final $21,800 (£13,481) debut.
That's behind the debut of director Hirokazu Kore-eda's last UK outing, I Wish, which opened with $33,000 (£20,463) from seven sites earlier this year.
UPCOMING RELEASES
In one of the busiest release windows this year, this week sees saturation releases for Paramount's Jackass Presents: Bad Grandpa (opens Oct 23), Sony's Cloudy with a Chance of Meatballs 2, eOne's Ender's Game, Universal's Closed Circuit and Entertainment's One Chance.
Artificial Eye's The Selfish Giant and Empire's The Reef 2: High Tide both receive wide releases, while Arrow's The Taste of Money and Dogwoof's Muscle Shoals are among the films receiving a limited release.