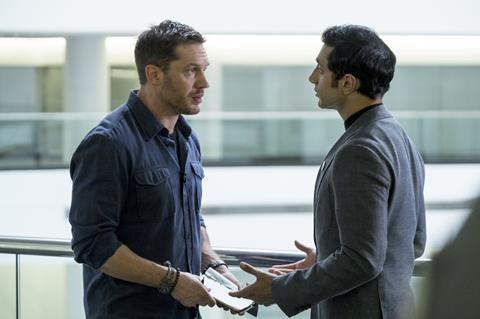 OCTOBER 8 UPDATE: Sony/Marvel's Venom starring Tom Hardy smashed the opposition with a confirmed $207.1m global debut that set a new October high at the box office.
A Star Is Born grossed $14.2m from its first markets through Warner Bros, while Universal's Johnny English Strikes Again debuted at number two in the UK on $5.4m.
SONY PICTURES RELEASING INTERNATIONAL
Comic book adaptation Venom ranked number one in 57 of its international 58 markets through Sony Pictures Releasing International (SPRI) and dominated the international arena with a bracing $126.8m haul from 20,800 screens.
Tracking approximately 38% ahead of Wonder Woman, 32% ahead of Ant-Man And The Wasp, 29% ahead of Logan, and 20% ahead of Doctor Strange based on to SPRI data from the same group of markets at current exchange rates, the release delivered one of the biggest launches for a stand-alone superhero film, according to the studio.
South Korea led all markets on $16.4m in a five-day haul that has already surpassed the lifetime totals of Captain America: The First Avenger, Justice League, Suicide Squad, and Wonder Woman.
Venom delivered $13.6m in Russia, and $10.5m in the UK for a strong debut that beat rival newcomers Johnny English Strikes Again from Universal and A Star Is Born from Warner Bros.
In Mexico the Tom Hardy tentpole produced Sony's best opening weekend and the best debut by a stand-alone superhero film on $10.2m. Australia delivered $6.8m, Germany $5.7m, and Brazil $5.1m.
Elsewhere Venom opened in Italy on $4,4m, Taiwan on $4.2m, Spain $3.7m, Malaysia $3.3m, India $2.7m, Hong Kong $2.2m, UAE $2m, Philippines $1.9m, Singapore $1.8m, Central America $1.7m, Peru and Netherlands each on $1.5m, Colombia $1.4m, and Sweden $1m.
Next up is France this week, and Japan on November 2. The China release date is yet to be set.
Denzel Washington revenge thriller The Equalizer 2 added $1.5m from 40 markets to reach $85.4m as Japan generated $1m debut. Thriller Searching used a $1.4m weekend in 39 to climb to $39.4m, and Hotel Transylvania 3: Summer Vacation grossed $1.1m from 39 for $347m. Ladies In Black from Sony Pictures Worldwide Acquisitions' Stage 6 Films added $1m in its third weekend in Australia to reach $5.6m. Overall the film stands at $6m.
ASIA UPDATE
Hong Kong crime thriller Project Gutenberg starring Chow Yun Fat and Aaron Kwok and directed by Felix Chong made good use of the week-long National Day holiday to generate a further $38m and propel box office to $98.5m.
Zhang Yimou's historical epic Shadow set during the time of the Three Kingdoms grossed $17.9m to reach $65.2m, while mistaken identity comedy Hello Mrs Money featuring Chinese theatre troupe Mahua FunAge used a $15.6m session to climb to $74.7m following last weekend's number one debut. Showbox's South Korea thriller Dark Figures Of Crime arrived on $9m.
Comedian Bao Beier's directorial debut Fat Buddies added $8m for $28.8m, Lost Found grossed $6.9m for $8.3m, and Luo Luo's romance Cry Me A Sad River added $5.2m to reach $45.2m.
UNIVERSAL PICTURES INTERNATIONAL
Johnny English Strikes Again used a $13.7m session from 49 territories to climb to a relatively early $66.1m running total. The Rowan Atkinson comedy debuted at number two behind Venom in the UK on $5.4m, marking the lowest launch in the franchise in real terms. Johnny English debuted in the UK in April 2003 on $5.4m (which adjusts for inflation to $7.4m), while Johnny English Reborn opened in October 2011 on $7.2m ($8m).
The third entry in the spoof spy franchise added $1.4m in its third weekend in Australia to reach $7.5m, and added $385,000 in the second weekend in Indonesia for $3.6m.
Tiffany Haddish and Kevin Hart comedy Night School grossed $3.4m from 21 for $12m and $59m worldwide. It stands at $2.9m in Australia after two weekends. Amblin Partners' fantasy The House With A Clock In Its Walls grossed $2.6m from 20 for $14.1m through Universal, and added $3.4m from Amblin territories for an overall international running total of $34.8m.
BlacKkKlansman stands at $35.1m internationally and $83.3m worldwide, while Ole De Crimines scored a $798,000 number two debut in Spain, marking the best debut for director Gracia Querejeta. Mamma Mia! Here We Go Again has reached $271.4m internationally and $391.9m worldwide. Fifty Shades Freed stands at $270.8m and debuted in its final market Japan on $62,000. The global gross stands at $371.2m.
WARNER BROS PICTURES INTERNATIONAL
A Star Is Born grossed $14.2m from 31 markets in an initial wave of debuts that centred on Europe. This is the studio's big awards push and campaign strategists will be encouraged by the strong word of mouth and early box office to carry them through the season.
Bradley Cooper directed and stars opposite Lady Gaga in the latest iteration of the stirring tale of an ingénue and her mentor who fall in love while their career trajectories head in opposite directions. The film launched at number three in the UK on $5.3m including previews, arrived at number two in France on $2.2m, and opened in Germany in third place on $1.8m. Spain and Russia produced $812,500 on $716,000, respectively.
A Star Is Born debuts in 34 markets this week as it expands into Latin America and Asia, where highlights are expected to come from South Korea, Italy, Mexico, Brazil. It opens in Australia on October 18, and Japan on December 21.
The animation Smallfoot featuring a voice cast of Channing Tatum, Zendaya, Common and James Corden added $12.1m from 57 markets to reach an early $33.3m.
It added $2.1m in the third session in Australia at number two for $6.8m, $1.8m in the second weekend in Mexico at number two for $6.3m, and opened in Italy at number three on $988,000. Smallfoot grossed $874,000 for number two in Brazil for $2.6m after two weekends, and opened in Italy on $988,000. This week the family release ventures into the UK, Spain, Germany, and Japan. France is October 17, China October 19, and Russia October 25.
New Line's horror hit The Nun is slowly down after an impressive run and brought in a further $7.1m over the weekend from 90 markets to boost the tally to $233.7m, and $347.2m worldwide. Mexico is the lead market on $22m, followed by $17.8m in Brazil, the UK on $14.4m to establish a franchise-best gross in the Conjuring universe, then fast-rising Asian titan Indonesia on $13.8m, and Spain on $11.5m.
Crazy Rich Asians added $1.7m from 38 for $57m. Australia remains the lead market on $16.5m after six sessions, followed by the UK on $7m, Indonesia on $5.5m, Singapore on $5.2m, and Philippines on $3.2m.
WALT DISNEY STUDIOS MOTION PICTURES INTERNATIONAL
Incredibles 2 has reached $614.2m on the back of a $6.9m session from 19 active territories. Global stands at $1.22bn and the tally has overtaken Iron Man 3 to rank as the 16th highest release of all time, and the second highest animation behind Frozen. The UK remains by far the lead market on $72.6m ahead of China's $53.7m, and Japan on $43.8m.
PATHE INTERNATIONAL
Pathé's Alad'2 launched on $5m. Lionel Steketee directed the comedic take on the adventures of Aladdin starring Kev Adams, Jamel Debbouze, and Vanessa Guide.
LIONSGATE INTERNATIONAL
Crime caper A Simple Favor grossed $4.1m from 59 markets for $27.4m internationally and $76.4m worldwide. Australia and the UK remain the top markets on $6.1m, and $5.9m, respectively.
FOX INTERNATIONAL
The Predator grossed $1.8m in 68 markets to reach $73.2m. The action reboot debuts in Italy this week, followed by France on October 17 and China on October 26. El Potro from Fox International Productions opened at number one on $698,679 in Argentina.
STX INTERNATIONAL
Jennifer Garner action thriller Peppermint stands at $9.6m from 44 markets. Mark Wahlberg action thriller Mile 22 has reached $27.4m from 5