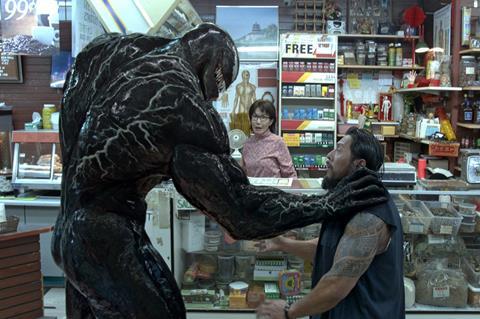 NOVEMBER 10 UPDATE: Venom added an estimated $43.7m on its second day in China, scoring the second biggest Saturday for an imported film in 2018 behind Avengers: Infinity War as the international running total soared past $400m.

Combined with Friday's $34.9m opening day (including Thursday midnight takings), which is Sony's biggest opening day in the territory and the biggest opening day for a single-hero Marvel launch, the running total stands at $78.6m.
International crossed $400m on Saturday and stands at $431m. Studio executives expect Venom to deliver a $100m weekend in the territory. Through Saturday the film stands at $32.2m in Russia, $30.2m in South Korea, $26m in the UK, $24m in Mexico, and $18.7m in both France and Brazil.
Fox International executives want Bohemian Rhapsody to deliver a glorious encore at the international box office, although it seems unlikely to beat Venom over the weekend, and faces a stiff challenge from Paramount's Overlord, and Universal-Illumination's Dr. Seuss' The Grinch.
Last weekend's global champion has reached $110.9m, setting an impressive pace for a film that surprised everyone with its box office clout (worldwide stood at $180m as of Friday.) This weekend the Queen and Freddie Mercury biopic arrives in a further 13 mostly Middle Eastern territories as well as Japan.
Dr. Seuss' The Grinch opens day-and-date with North America in 23 international markets through Universal Pictures International, including the UK, the Middle East, Sweden, Brazil and Malaysia. Remaining territories will roll out through December.
The eighth fully animated feature from Illumination and Universal Pictures also features the voice talent of Rashida Jones, Kenan Thompson, Angela Lansbury, and Cameron Seely. Pharrell Williams narrates the film. How The Grinch Stole Christmas voiced by Jim Carrey launched in the UK in January 2001 and went on to gross $21.9m, which adjusts for inflation to $31.5m in real terms.
Paramount Pictures International unleashes World War 2 horror film Overlord in 52 markets, which encompasses all the majors except France and Australia, which are set to debut on November 21 and December 6, respectively. J.J. Abrams produced the film.
Fox International debuts Bad Times At The El Royale, which has grossed $11.6m, in France and South Africa. Steve McQueen's heist thriller Widows launches in the director's home turf, the UK, while The Hate U Give has no debuts this weekend and stands at an early $2.2m.
Elsewhere for Sony Pictures Releasing International, Goosebumps 2: Haunted Halloween has reached $40.6m, while Claire Foy in The Girl In The Spider's Web opens day-and-date with North America in Australia, Mexico, Brazil, Spain, and South Korea.
A Star Is Born stands at $135.7m through Warner Bros Pictures International. Crazy Rich Asians has amassed $61.9m and ventures into France this weekend, while the animation Smallfoot has grossed $119.9m
Walt Disney Studios Motion Pictures International executives report that The Nutcracker And The Four Realms stands at an early $46.9m and has no debuts this weekend. Incredibles 2 has grossed $630.3m and Christopher Robin $97.2m.