The Expendables held firm in the face of stiff competition from The Last Airbender to retain its international crown for a second week.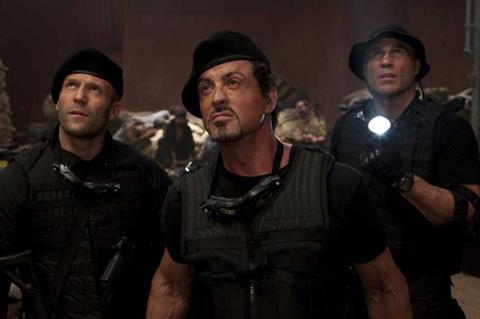 The Sylvester Stallone-starring action-adventure opened top in Hong Kong ($623,000 from 36 sites) and had strong debuts in Germany ($2.8m from 531 screens) and Norway ($401,000 from 44 screens) despite losing out on top spots in those territories to Step Up 3D and Toy Story 3 respectively. It opens in Italy next weekend as it aims to repeat the feat of Alice In Wonderland and Inception in spending three consecutive weeks at the top of the international pile.
Paramount's The Last Airbender continued its climb up the international chart thanks in part to an impressive opening in Mexico where it topped the chart after taking $3.7m from 845 screens at an average of $4,436. M Night Shyamalan's action-fantasy is still to open in Australia (Sept 16), Italy (Sept 24) and Sweden (Oct 15), so will be hoping for an extended stay near the top of the chart.
Animated behemoth Toy Story 3 continues to add to its staggering total. Not content with passing the $1bn mark globally, Disney's film landed in the top spot in each of the four territories it opened in this week with the strongest performance coming in Sweden ($1.5m at an average of $7,114).
After debuting top in Italy, Paramount's Shrek Forever After became the sixth-biggest animated film on the international stage, overtaking Ice Age: The Meltdown with its predecessors Shrek 2 ($478.6m) and Shrek The Third ($476.2m) in its sights. Its $4.5m opening weekend even out-performed Toy Story 3's Italian debut of $3m and with a release in Japan on 18 December, we haven't heard the last from the ogre yet.
The week's biggest improvement in performance came from Wild Bunch's Piranha 3D at 302% after opening top in Ukraine ($216,000 from 49 screens) and Russia ($3.8M from 591 screens). Universal's Scott Pilgrim Vs. The World also saw a strong improvement as it jumped 20 places from 37th to 17th despite the disappointment of losing out on top spot to Sony's Grown Ups in the UK.
Avatar's re-release in 37 territories didn't gross enough for it to land in the top ten as it re-entered the chart at 13th but its $4.5m haul was enough for it to pass the $2bn mark on the international stage.
The only new entry in the top 20 was Emperor's action-thriller The Stool Pigeon which opened 15th after taking $3.7m from four territories for the second biggest screen average of the week at $8,770.