Deathly Hallows conjured up $115.6m from 16,093 screens in 61 territories in its second weekend to remain top of the international chart.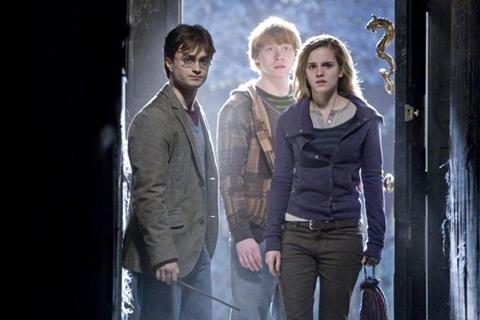 It only suffered a week-on-week drop of 40% which was the second best of the series after 2007's Order Of The Phoenix which dropped 33%, although it's worth noting that the latter opened in 14 more territories in its second weekend compared to Deathly Hallows' eight extra territories.
However, its $115.6m haul is the best second week gross of 2010 with only Alice In Wonderland, which took $80.6m in its second week, coming close. The seventh entry in Warner Bros. fantasy franchise nows stands at $386.1m overall as it seeks to become the biggest grosser of the series which currently belongs to the $657.2m taken by Harry Potter And The Philosopher's Stone.
It was a busy week on the international scene with 11 new entries and six re-entries into the top 40. The highest new addition was Walt Disney's Tangled which tied up $17.7m from its ten territories to debut in second place, the majority of which came from a record-breaking number one debut in Russia ($8.9m from 710 screens) managing to knock the seemingly invincible Potter off the top spot in the process. Its protracted roll-out means it's unlikely to trouble the top spot but with openings in Italy (Dec 3), Germany (Dec 9) and UK (Jan 28) to come, it's likely to hang around in the chart for the foreseeable future.
CAA's Skyline continued to do good business despite only being released in 18 territories so far. The sci-fi leapt five places up to sixth after taking $6.3m from 2,608 screens, a 39% week-on-week increase, with a third of its haul coming from an impressive number one debut in South Korea ($2.7m from 473 screens) where it beat local film Villain And Widow to the top spot. It's still to open in the major markets of France (Dec 15) and Germany (Dec 23).
Other new entries in the top ten included Italian comedy A Natale Mi Sposa, which grossed $3.6m from its second place opening in Italy to chart eighth internationally, and Reliance's Break Ke Baad which followed closely behind in ninth after taking $3.5m from 844 screens in 16 territories.
The week's strongest re-entry came in the form of Takers which charted at 19th after a 606% week-on-week increase. Sony's action-thriller made $1.6m from its 16 territories largely thanks to a solid opening in Spain where it took $851,000 from 206 screens at an average of $4,129, the second highest average in the Spanish chart this week.
Star Cinema's romantic drama My Amnesia Girl boasted the week's best screen average of $10,625 after debuting second in the Philippines, taking $999,000 from just 94 screens in the process.