JUNE 5 UPDATE: Patty Jenkins superhero adaptation delivers $103.3m North American opening weekend.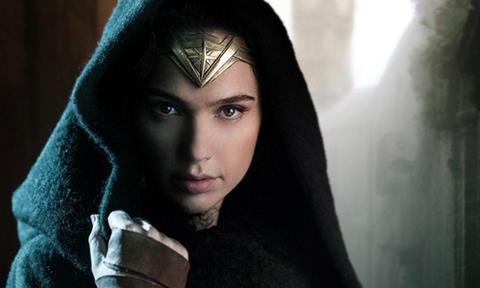 Warner Bros and DC Entertainment finally hit the jackpot at the weekend as Wonder Woman scored a mighty opening weekend accompanied by a 93% Fresh rating on Rotten Tomatoes.
Patty Jenkins produced the biggest opening weekend for a female director and the sixth biggest June debut as the superhero tentpole arrived on a confirmed $103.3m in 4,165 theatres.
The previous best mark by a female director was set in February 2015 by Sam Taylor-Johnson when Fifty Shades Of Grey debuted on $85.2m.
Gal Gadot, Chris Pine, David Thewlis and Robin Wright star in the First World War-set action adventure about the otherwordly princess with superhuman powers.
Besides the opening gross – the film took $125m internationally and is on its way towards break-even given the stated $149m production cost that does not include marketing – what will encourage executives most is that a DC Entertainment film has performed well commercially and critically.
Previous outings like Batman v. Superman: Dawn Of Justice (where Gadot was first seen as Wonder Woman) and Suicide Squad were neither critical hits nor commercial juggernauts.
DreamWorks Animation's Captain Underpants: The First Epic Movie – the last DreamWorks Animation title to open through Fox – debuted in second place on $23.9m in 3,434 venues and features the voices of Kevin Hart and Ed Helms.
Pirates 5 fell two places to number three and plunged 64.9% in its second weekend, adding $22.1m for $115.1m. The film has grossed roughly 75% of what its 2011 predecessor On Stranger Tides had taken by the same stage when it stood at $153.4m, dropping to 67% when adjusted for inflation.
Guardians Of The Galaxy Vol. 2 delivered better news for Buena Vista. The superhero saga ranks fourth after five weekends on $355.6m.
In its second session Baywatch fell 52.8% and two places to number five on $8.7m for $41.9m. Fox's Alien: Covenant has amassed a dispiriting $67.3m after three weekends and ranks sixth.
Pantelion released 3 Idiotas at number 13 on $609,249 from 349 sites, while Cohen Media Group opened Churchill starring Brian Cox at number 16 on $400,843 from 215.
The top 12 generated $180.3m, 32.1% up on the previous week and roughly 29.1% ahead of the comparable session in 2016 when Teenage Mutant Ninja Turtles: Out Of The Shadows opened top on a lacklustre $35.3m.
This week's wide releases are: Universal's The Mummy starring Tom Cruise and Sofia Boutella; horror It Comes At Night through A24 starring Joel Edgerton, Christopher Abbott, Carmen Ejogo, and Riley Keough; and drama Megan Leavey with Kate Mara through Bleecker Street.
Confirmed top 10 North America June 2-4, 2017
Film (Dist) / Conf wkd gross / Conf total to date
1 (-) Wonder Woman (Warner Bros) Warner Bros Pictures International $103.3m –
2 (-) Captain Underpants: The First Epic Movie (Fox) Fox International $23.9m –
3 (1) Pirates Of The Caribbean: Dead Men Tell No Tales (Buena Vista) Walt Disney Studios Motion Pictures International $22.1m $115.1m
4 (2) Guardians Of The Galaxy Vol. 2 (Buena Vista) Walt Disney Studios Motion Pictures International $9.8m $355.6m
5 (3) Baywatch (Paramount) Paramount Pictures International $8.7m $41.9m
6 (4) Alien: Covenant (Fox) Fox International $4.1m $67.3m
7 (5) Everything, Everything (Warner Bros) Warner Bros Pictures International $3.3m $28.3m
8 (7) Snatched (Fox) Fox International $1.32m $43.8m
9 (6) Diary Of A Wimpy Kid: The Long Haul (Fox) Fox International $1.29m $17.9m
10 (8) King Arthur: Legend Of The Sword (Warner Bros) Warner Bros Pictures International $1.2m $37.2m