Mission: Impossible – Rogue Nation arrives in 40 territories day-and-date with North America in an opening salvo that should result in a new weekend champion.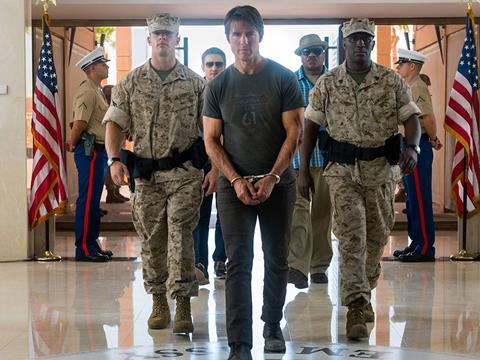 Paramount Pictures International (PPI) executives anticipate strong returns across the board for Rogue Nation and highlights are expected in the UK, Mexico, Australia and South Korea.
The action thriller starring Tom Cruise as super-spy Ethan Hunt debuts in roughly 40% of the international footprint and is scheduled to open in China on September 8. Paramount-Skydance Productions' Terminator Genisys has amassed $223m through PPI.
Universal-Illumination's Minions has grossed more than $500m via Universal Pictures International and will remain potent this weekend with launches in Japan and South Korea.
By Monday Ted 2 stood at $73.9m and Jurassic World $918.5m.
Disney-Marvel Studios' Ant-Man has grossed $138.4m via Walt Disney Studios Motion Pictures International and leaps into the UAE, South Africa and Lebanon, among others.
Pixel hit Inside Out stands at $250.7m while Disney-Marvel Studios' Avengers: Age Of Ultron has taken $940.2m with no territories left to go.
Pixels has grossed $35.9m through Sony Pictures Releasing International (SPRI) and ventures into 18 new territories this weekend including Germany, Italy and India.
Insidious: Chapter 3 stands at $55.8m via SPRI and more than $63.9m through all distributors. There are new releases for Brazil and Ghana. Chinese hit The Monk arrives in Hong Kong.
Elsewhere, Warner Bros Pictures International opens the comedy Vacation day-and-date with North America in three markets and will report numbers on Monday.
The comedy's big weekend is expected to be August 20, when it debuts in the UK, Australia and Germany.
The Gallows has grossed $11.5m and opens this weekend in Spain, while Magic Mike XXL on $42.8m arrives in Brazil.
Fox International's Spy has reached $122.9m, while Paper Towns on $17.1m opens in 19 markets, among them Germany and Holland.