Meanwhile Paramount stablemate Rings circles 36 markets in day-and-date launch with North America.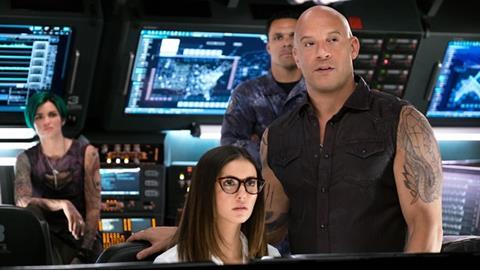 Paramount Pictures International executives anticipate XXX: The Return Of Xander Cage to finish the weekend on more than $100m.
The Vin Diesel action thriller stands at $99.3m heading into its third international session.
Meanwhile Rings is expected to make a splash when the latest entry in the long-running horror franchise opens day-and-date in a number of key territories.
The horror opens in 36 markets including the UK, Germany, France, Mexico, Brazil and Russia.
Paramount's Allied has grossed $72.8m and Monster Trucks $24.1m
M Night Shyamalan's thriller Split stands at $28.8m and opens in 10 territories this weekend through Universal Pictures International.
Illumination Entertainment's animation Sing has $212.2m internationally with all territories opened.
Oscar contender Manchester By The Sea debuts in five terrtories including Australia and Spain, while The Great Wall starring Matt Damon has reached $28.8m. A Dog's Purpose opens in three.
Moana added $10.7m from 36 territories for $300.7m internationally last weekend through Walt Disney Studios Motion Pictures International. The animated feature opens in Denmark, Norway and Sweden this weekend.
Marvel Studios' Doctor Strange has $435m with all territories opened, while Lucasfilm's Rogue One: A Star Wars Story took $4.8m with all territories opened, bringing it to $514.8m.
Hidden Figures stands at an early $2.8m through Fox International and the Oscar-nominated drama heads into 18 iitories including Brazil and Mexico. Comedy Why Him? stands at $52.1m and opens in the Philippines.
Assassin's Creed starring Michael Fassbender and Marion Cotillard has grossed $155.1m and opens in China and Japan on February 24 and March 3, respectively.
Collateral Beauty staring Will Smith has amassed $50.1m through Warner Bros Pictures International heading into the weekend and opens next in Japan on February 25.
Ben Affleck's prohibition era drama Live By Night heads to Germany this weekend on $9.3m overall.
Another Affleck starrer, The Accountant, stands at $67.4m.