UPDATE: Zootopia is shaping up to be the latest Disney hit at the global box office and stands at $299.7m worldwide.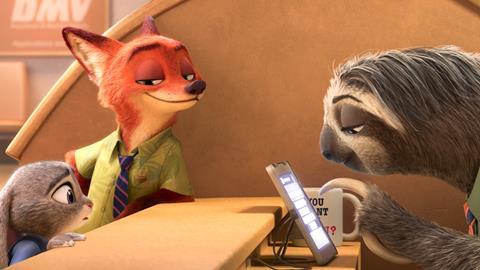 The family animation soared past $200m internationally on Thursday and as of Friday stood at $207.1m through Walt Disney Studios Motion Pictures International. It will cross $300m worldwide on Friday.
China has generated $52.1m, France $22.4m, Russia $16.7m, and Mexico $13.2m.
South Korea has delivered $12.3m, Italy $10.6m, Spain $10.1m, Germany $8.2m, and Argentina $5.6m.
The film scored Disney's biggest animated debuts in Russia, China and Belgium, and the biggest Walt Disney Animation Studios debuts in France, Germany, Italy, Argentina, Mexico, Poland, and India. Zootopia has also already become Disney's biggest animated release of all time in Russia and Thailand.
Dreamworks Animation's Kung Fu Panda 3 has raced to $194m through Fox International from six markets and gets a big push this weekend.
The family release will open in the UK, Mexico, Spain, Colombia, and Singapore, among 14 other markets.
Horror film The Other Side Of The Door arrives in 15 mostly Middle Eastern and Latin American markets.
The Revenant has grossed $255.9m, Deadpool $365.4m, and DreamWorks' Bridge Of Spies $93.5m, and Alvin And The Chipmunks: The Road Chip $144m.
Gods Of Egypt has amassed more than $49m via Lionsgate International licensees and arrives in China on Friday.
London Has Fallen grossed around $12m in its opening session last weekend via Nu Image licensees and opens this weekend in Germany through Telepool and Mexico and Argentina through Sun.
Sacha Baron Cohen comedy Brothers Grimsby has reached $7.8m and opens in 14 territories day-and-date with North America through Sony Pictures Releasing International. Germany and Russia are expected to be among the highlights.
Universal Pictures International's The Danish Girl stands at $47.8m, Hail Caesar $20.3m with a debut set for Italy, Room $5.5m ahead of the French release this weekend, and The Witch $1m as it enters the UK.
Paramount Pictures International executives said 13 Hours has grossed $10.1m, The Big Short $58.6m, Daddy's Home $88.6m, and Zoolander 2 $25.3m.
Best picture Oscar winner Spotlight has taken more than $33.2m through Sierra/Affinity markets and heads into Norway and Serbia this weekend.