Lee Yong-kwan tells Jean Noh about Busan International Film Festival's role in the international industry, the diverse, new voices of Asian cinema and the festival's focus on safety and stability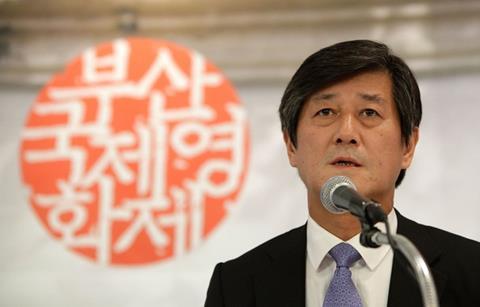 In its 19th year, Busan International Film Festival (BIFF) is continuing in its mandate to showcase new Asian films while putting an added emphasis on safety and stability. The festival opened October 2 with the international premiere of Chen-Zer Doze Niu's Taiwanese film Paradise In Service.
It will close on October 11 with the world premiere of Lee Bo-Cheung's Hong Kong-China film Gangster Pay Day.
BIFF will screen 314 films from 79 countries, with 98 world premieres and 36 international premieres. The 12-film New Currents competition comprises world and international premieres, including one from Asian Film Academy (AFA) alumnus Abu Shahed Emon - the Bangladeshi film Jalal's Story.
The fest is showcasing Georgian women film-makers and New Turkish Cinema, while also launching a Cinekids programme. New awards include the Daemyung Culture Wave award, which will give a Korean independent film $20,000 cash and $100,000 towards distribution costs.
In a country marked by the shock of the Sewol ferry disaster of April 2014 - largely attributed to endemic safety and administration issues - which resulted in more than 300 people dead or missing, Busan is also making safety a priority.
BIFF festival director Lee Yong-kwan gave Screen the lowdown on this year's festival.
What's your main focus at the festival this year?
The most important thing is safety. It's part of audience service and something we have to make sure to take care of as we go along. Last year, Busan experienced a typhoon during the festival. This year, [Korea] had a very shocking safety-related incident. I think BIFF's crisis-management capabilities have improved. We didn't have a single accident last year despite the typhoon. We were able to show how we've matured in that sense, and will build on that stability for a safe festival.
Has the festival budget been affected by the economy?
Busan Metropolitan City and the central government continue to support us in a stable manner and we don't have any special problems. We were affected a little by the World Cup and Asian Games in terms of sponsorship. We tried to get a bit more than last year, factoring in prices and payroll costs, but the festival budget is roughly the same - about $11.5m (won12bn).
What trends are you seeing in Asian cinema these days and how does BIFF reflect that?
Whether we're talking about commercial films or independent films, the subject matter has become diverse, and the size of films has started to match their [creators'] imagination. We're seeing more diverse films as developing nations are growing and changing culturally, economically and politically. If you look at the titles in BIFF this year, you can discover this in films from all around and the far reaches of Asia. For example, countries like Georgia and Vietnam that show how their industries have grown since the influence of socialism has decreased.
How does the Asian Film Market fit into that?
It actively supports international sales and meetings for festival films. More serious buyers and sales agents are coming and we're shaping a fully-fledged market that will help films get more confidence on the international stage.
Are you making any special preparations for your 20th anniversary?
We're very happy to see the organisation is running smoothly at 19 years of age. Rather than looking for extraordinary things to do outwardly, we're figuring out what has been lacking and are trying to make things more stable and mature.
Who are some of the guests you are most looking forward to welcoming this year?
We have so many honoured film-makers and stars attending, and it's important for us to have them meet with audiences. I'm looking forward to Zhang Yimou, who's bringing Coming Home, and our Asian Filmmaker of the Year Ann Hui, who's bringing The Golden Era.
Also, AFA is celebrating its 10th year - results have been tremendously good - and a lot of alumni who are active in the film industry are returning to Busan. I'm looking forward to meeting with them and discussing the future.
Tokyo International Film Festival (October 23-31) has announced a major Asia push this year. Has that affected Busan?
Previously, Tokyo has been known to be dependent on [local] importers, but the festival in recent years has been making more efforts to select good films. In a way, we're competitors and in another, we're well-intentioned companions.
A lot of us from BIFF, with [founding and honorary festival head] Kim Dong-ho and I, will be attending Tokyo this year to cultivate our new relationship and see how their programming has changed.