SCREEN SUBSCRIBERS: High-rolling sequels, a Wong Kar Wai-produced rom-com and Johnnie To's latest crime thriller: Liz Shackleton previews the top titles marching out of China and Hong Kong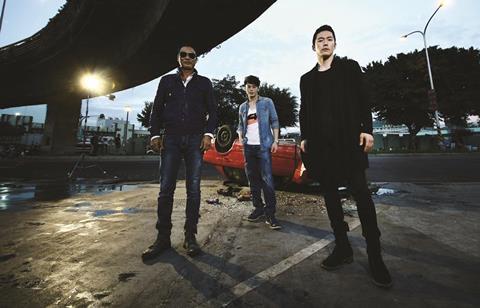 Chronicles Of The Ghostly Tribe
Dir Lu Chuan
Marking City Of Life And Death director Lu Chuan's first foray into the fantasy genre, Chronicles Of The Ghostly Tribe is based on Zhang Muye's bestselling internet novel, Ghost Blows Out The Light. Mark Chao, Yao Chen and Rhydian Vaughan head the cast of this film about a young soldier working in China's snowcapped mountains, who unearths the fossils of what appears to be a previously undiscovered civilisation. Produced by Le Vision Pictures, the film was released in China on September 30 and grossed more than $100m in 12 days.
Contact Rosemarie Xie, Le Vision Pictures xieman@letvpicture.com
Deadly Reclaim
Dir Benny Chan
Sean Lau Ching-wan, Louis Koo and Eddie Peng star in the latest epic action film from Benny Chan (The White Storm, Shaolin), which is in post-production for delivery in the second quarter of 2016. Set during the warlord era after the fall of the Qing Dynasty, the story revolves around a plucky group of villagers standing up to a cruel young general. Universe Entertainment is producing the $32m film, which has Sammo Hung on board as action choreographer.
Contact Alice Leung, Universe Films Distribution alice_leung@uih.com.hk
The Ferryman
Dir Zhang Jiajia
Wong Kar Wai's Jet Tone Productions is producing this romantic comedy based on Zhang Jiajia's bestselling 2014 novel, I Belonged To You. Zhang has also been brought on board to direct the film, which stars Tony Leung Chiu-wai, Takeshi Kaneshiro, Angelababy and Eason Chan. The $25m film is one of the first projects to be backed by Alibaba's new production arm, Alibaba Pictures. Mei Ah Entertainment is handling Hong Kong and several Southeast Asian territories.
Contact Sarah Law, Mei Ah Entertainment sara@meiah.com
From Vegas To Macau III
Dir Wong Jing
Chow Yun Fat, Nick Cheung and Carina Lau are reprising their roles in the third instalment of Wong Jing's wildly popular From Vegas To Macau franchise, produced by Andrew Lau, which is in post-production. While the first instalment in the gambling caper grossed $85m in 2014, the second doubled that with box office of more than $160m this year. Both films were released over Chinese New Year, a traditional time for tales of high rollers, and the third instalment is expected to be a huge hit when it is released over the holiday in 2016.
Contact Angela Wong, Mega-Vision Project Workshop angelaolwong@mvphk.biz
Inside Or Outside
Dir Gary Wing-lun Mak
Scheduled for an early November release, this $10m mystery thriller stars Korea's Jang Hyuk as a businessman who teams up with a detective (Simon
Yam) when he suspects his wife of having an affair. Wallace Huo plays the wife's cunning hitman lover who then targets them both. Directed by Gary Wing-lun Mak, whose credits include comedy SDU: Sex Duties Unit, the film is produced and part-financed by start-up production and sales outfit Turbo Films. Release is tentatively scheduled for early December.
Contact Annie Fung, Turbo Films annie@turbofilmcorp.com
Ip Man 3
Dir Wilson Yip
Mike Tyson is taking on martial-arts star Donnie Yen in the third instalment of Pegasus Motion Pictures' hit franchise about the life of Bruce Lee's Wing Chun master. Initially scheduled for release in 2016, the 3D kung-fu biopic has been brought forward to December 2015. Directed by Wilson Yip from a script by Edmond Wong, the film also stars Lynn Hung, Max Zhang and Patrick Tam. Well Go USA has rights for North America and a slew of other territories.
Contact Kat Yeung, Pegasus Motion Pictures kathy.yeung@pegasusmovie.com
Kill Time
Dir Fruit Chan
Following his critical and commercial success with The Midnight After, Hong Kong maverick film-maker Fruit Chan has directed a thriller starring Angelababy and Ethan Juan for Emperor Motion Pictures. The story follows a girl who goes online to the ŒWitch's Zone' to find her late father's favourite song and ends up unleashing a torrent of memories and clues to an unsolved murder. Produced by Li Rui, the film is in post-production.
Contact May Yip, Emperor Motion Pictures mayyip@emperorgroup.com
Lazy Hazy Crazy
Dir Luk Yee-sum
Produced by Pang Ho-chueng and Subi Liang's Making Film Productions, Luk Yee-sum's drama follows three teenage girls who are best friends at school but find their friendship tested when they enter the dubious world of compensated dating. The film has been selected for the Asian Future competition of Tokyo International Film Festival and will also play at Taiwan's Golden Horse Film Festival. Luk previously worked with Pang as a writer on hits such as Love In The Buff, Vulgaria and Women Who Flirt.
Contact Ricky Tse, Bravos Pictures ricky.tse@bravospictures.com
Lost In Hong Kong
Dir Xu Zheng
Released on September 25, the sequel to Xu Zheng's 2012 hit Lost In Thailand has already out-scored the original and become the second highest-grossing local film of all time with box office of $252m after 24 days. Xu also stars as a man who takes his family to Hong Kong on holiday where he arranges a secret rendezvous with an old flame. The cast includes Vicky Zhao Wei, Bao Bei'er and Du Juan, along with cameos from veteran Hong Kong actors such as Sam Lee, Eric Kot and Lawrence Cheng, as the film tips its cap to the legacy of Hong Kong action cinema.
Contact Yamin Zhang, Enlight Pictures zhangyamin@ewang.com
Mojin - The Lost Legend
Dir Wu Er Shan
Also based on internet novel Ghost Blows Out The Light, this 3D fantasy adventure revolves around three grave robbers who come out of semi-retirement in New York to raid the treasures of China's ancient tombs. Chen Kun, Huang Bo, Shu Qi and Angelababy head the cast of the film, which is co-produced by Wanda Pictures, Huayi Brothers and Enlight Media. Release has been scheduled for December 18 in both 3D and Imax versions. Wu Er Shan's credits include Painted Skin: The Resurrection and The Butcher, The Chef And The Swordsman.
Contact Leslie Chen, IM Global leslie_chen@imglobalfilm.com
The Monkey King 2
Dir Soi Cheang
Aaron Kwok, Gong Li and Feng Shaofeng star in the $70m sequel to Soi Cheang's 3D fantasy epic The Monkey King (based on Chinese classic Journey To The West) which grossed more than $170m over Chinese New Year 2014. Kwok is replacing Donnie Yen, who starred in the original but couldn't reprise the role due to a busy shooting schedule. Filmko Entertainment is again producing with mainland partners. The film is scheduled for release over Chinese New Year 2016.
Contact Jackie Poon, Filmko Entertainment jackie.cl.poon@gmail.com
Monster Hunt
Dir Raman Hui
Currently the highest-grossing film ever in China with a gross of $390m, Edko Films' live action/CGI fantasy adventure has also sold widely to international territories including North America, where FilmRise is planning a release across all media in early 2016. Jing Boran, Bai Baihe and Tang Wei head the cast of the film about a baby monster king who attempts to bridge the world of monsters and humans. Director Raman Hui worked on the Shrek franchise and behind-the-scenes talent includes production designer Yohei Taneda (Kill Bill: Vol 1) and costume designer Yee Chung Man (Curse Of The Golden Flower).
Contact Julian Chiu, Edko Films chiujulian@edkofilms.com.hk
Mountain Cry
Dir Larry Yang
The feature debut of young mainland Chinese film-maker Larry Yang, Mountain Cry premiered to strong reviews as the closing film of this year's Busan International Film Festival, where it was also sold to Japan's Hark & Company. Based on Ge Shuiping's novel set in a remote mountain village, the story follows a young mute widow and her relationship with the man charged with her care after he is involved in her husband's death. Co-produced by Hairun Pictures and Village Roadshow Pictures Asia, the film stars Lang Yueting and Wang Ziyi.
Contact Will Lin, Fortissimo Films will@fortissimo-hk.com
Mr Six
Dir Guan Hu
Guan Hu's Venice Film Festival closing title stars film-maker Feng Xiaogang as an old-school gangster who is dragged back into battle to protect his wayward son. Produced by Huayi Brothers, the film smartly contrasts the values of 'lao Beijing' (the old Beijing of hutong alleyways) with today's rich, brash youth. The cast also includes Zhang Hanyu, Xu Qing and younger actors Li Yifeng and Kris Wu. Guan Hu made his name with rural comedy dramas such as Design Of Death, before graduating to period action comedy The Chef, The Actor, The Scoundrel in 2013.
Contact Leslie Chen, IM Global leslie_chen@imglobalfilm.com
Office
Dir Johnnie To
Johnnie To garnered rave reviews at Toronto International Film Festival for his 3D adaptation of Sylvia Chang's musical Design For Living. Chang, who co-scripted with To's long-time writing partner Wai Ka-fai, reprises her stage role as an aggressive boss steering a company towards an IPO. Also starring Chow Yun Fat, Tang Wei and Eason Chan, the film was produced by To's Milkyway Image, Edko Films and Hairun Pictures.
Contact Julian Chiu, Edko Films chiujulian@edkofilm.com.hk
Operation Mekong
Dir Dante Lam
Following sports drama To The Fore, Dante Lam is returning to crime action drama with Operation Mekong, inspired by the true story of a merchant vessel operating in the Mekong River Delta that was attacked by bandits in 2011, leaving 13 people dead. Chinese authorities teamed up with police forces from Thailand, Laos and Burma to launch an investigation into the incident when a massive stash of drugs was found on board. In production for a late 2016 release, the film reunites Lam with Eddie Peng and also stars mainland actor Zhang Hanyu (The Taking Of Tiger Mountain).
Contact Virginia Leung, Distribution Workshop virginia@distributionworkshop.com
The Promised Land
Dir He Ping
He Ping's first contemporary drama explores China's massive internal migration through the story of a dance instructor who returns to her home town after losing her fiancé in Beijing. Wang Jiajia, who starred in He's 2009 film Wheat, heads the cast of the film, which also stars Zhang Yi (Dearest) and Wang Zhiwen (The Golden Era). Produced by Classics Media Co and Beijing Junfei Century Culture, the film was the only Asian entry in Toronto International Film Festival's Platform section this year and was released in China on October 27. It was executive produced by former Sony China production chief Barbara Robinson, who worked with He on his 2003 period drama Warriors Of Heaven And Earth.
Contact Annie Fung, Turbo Films annie@turbofilmcorp.com
Saving Mr Wu
Dir Ding Sheng
The latest crime thriller from Ding Sheng (Police Story 2013, Little Big
Soldier) stars four award-winning actors - Andy Lau, Liu Ye, Wang Qianyuan and Wu Ruofu - in a story based on a true incident about the kidnapping of a Hong Kong star in Beijing. The film is the first production of Ding's Beijing Going Zoom Media Co and is co-financed by Shanghai New Culture Media Group and Beijing Skywheel Entertainment. Released over China's recent National Day holidays, the film has grossed more than $30m.
Contact Clarence Tang, Golden Network Asia clarence@goldnetasia.com
Scandal Makers
Dir Ahn Byeong-ki
Ahn Byeong-ki, producer of original Korean blockbuster Scandal Makers, is directing this Chinese-language remake starring Michelle Chen (You Are The Apple Of My Eye) and Tong Dawei (American Dreams In China). Produced by Gosh Pictures Entertainment, the film follows a radio DJ in his 30s who learns that he may be a grandfather when a young girl blackmails him into sheltering her and her baby son. Ahn Byeong-ki's directing credits also include the Bunshinsaba horror series. Scandal Makers is in post-production.
Contact Sarah Law, Mei Ah Entertainment sara@meiah.com
The Secret
Dir Barbara Wong Chun-chun
Leon Lai and Wang Luodan star in this supernatural romance from Hong Kong film-maker Barbara Wong Chun-chun (The Allure Of Tears, Perfect Wedding), who is known for sassy comedy dramas that often delve into issues of female sexuality and gender identity. When a man's dead wife comes back to life, he realises he must never let her know she is a spirit or she will disappear forever. Taiwan-based actor JJ Lin and actress Sandrine Pinna also star in the Mandarin-language production, which is screening in the market at AFM.
Contact Fred Tsui, Media Asia frederick_tsui@mediaasia.com
Three
Dir Johnnie To
Produced by Media Asia Films and Milkyway Image, the latest crime thriller from Johnnie To revolves around a showdown in a hospital involving a criminal with a bullet in his head, a policeman about to turn rogue and a surgeon from mainland China. Vicky Zhao Wei, Louis Koo and Wallace Chung head the cast of the film, which is in post-production.
Contact Fred Tsui, Media Asia frederick_tsui@mediaasia.com
To The Fore
Dir Dante Lam
Lam's first sports action drama grossed $23m in China this summer and has been selected as Hong Kong's entry for the best foreign-language film category of the Academy Awards. Produced by Emperor Motion Pictures, the film revolves around two cycling support riders, played by Eddie Peng and Shawn Dou, who become disillusioned after helping a champion sprinter, Korea's Choi Siwon, to win his race. They leave the sport but years later are inspired to form an amateur cycling team.
Contact May Yip, Emperor Motion Pictures mayyip@emperorgroup.com
The Vanished Murderer
Dir Lo Chi Leung
A continuation of Lo Chi Leung's The Bullet Vanishes, The Vanished Murderer tells the story of a police inspector who follows an escaped female convict to a city struggling with corruption and an apparent wave of suicides. Sean Lau Ching-wan reprises his role as the police inspector; Gordon Lam, Li Xiaolu and Jiang Yiyan also star. Produced by Derek Yee and Mandy Law for Beijing-based Le Vision Pictures, the film is scheduled for release in mid-November.
Contact Virginia Leung, Distribution Workshop virginia@distributionworkshop.com ns