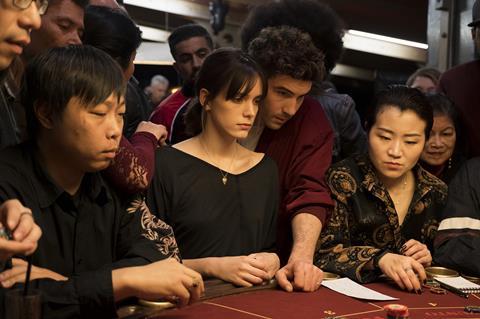 Gaspar Noé's Climax, Ciro Guerra and Cristina Gallego's Birds of Passage, and Mamoru Hosoda's feature animation Mirai are among the features that will premiere in the 50th anniversary edition of Directors' Fortnight this year.
Artistic director Edouard Waintrop unveiled his final selection, ahead of his departure this autumn, at a press conference at the Forum des Images in Paris on Tuesday (April 17). The 50th edition line-up – running May 9-19 - comprises 20 features and another 11 short films.
"I would like to thank the SFR which over a period of seven years gave me absolute freedom to programme Directors' Fortnight, which was an immense pleasure," said Waintrop his opening remarks.
The full line-up is below:
FEATURES
Amin (Fr) dir. Philippe Faucon
Carmen & Lola (Sp) dir. Arantxa Echevarria
Climax (aka Psyché) (Fr) dir. Gaspar Noé
Buy Me A Gun (Cómprame Un Revólver) (Mex) dir. Julio Hernandez Cordon
The Snatch Thief (El Motoarrebatador) (Arg) dir. Agustin Toscano
The Trouble With You (En Liberté!) (Fr) dir. Pierre Salvadori
Treat Me Like Fire (Joueurs) (Fr) dir. Marie Monge
Le monde est à toi (Fr) dir. Romain Gavras
Leave No Trace (US) dir. Debra Granik
To The Ends Of The Earth (Les Confins Du Monde) (Fr) dir. Guillaume Nicloux
Los Silencios (Braz) dir. Beatriz Seigner
Mandy (UK/BEL) dir. Panos Cosmatos
The Pluto Moment (Ming Wang Xing Shi Ke) (Chi) dir. Ming Zhang
Mirai (Jap) dir. Mamoru Hosoda
Birds Of Passage (Pajaros De Verano) (Col) dir. Cristina Gallego and Ciro Guerra (OPENING FILM)
Petra (Sp) dir. Jaime Rosales
Samouni Road (It) dir. Stefano Savona
The Load (Teret) (Ser) dir. Ognjen Glavonic
Troppa Grazia (It) dir. Gianni Zanasi (CLOSING FILM)
Weldi (Tun) dir. Mohamed Ben Attia
SHORT FILMS
Basses, dir. Félix Imbert

This Magnificent Cake! (Ce Magnifique Gâteau!), dir. Emma De Swaef and Marc James Roels
L'Arbre Et La Pirogue, dir. Sébastien Marques
The Song (La Chanson), dir. Tiphaine Raffier
La Lotta, dir. Marco Bellocchio
La Nuit Des Sacs Plastiques, dir. Gabriel Harel
Las Cruces, dir. Nicolas Boone
Le Sujet, dir. Patrick Bouchard
O Órfão, dir. Carolina Markowicz

Our Song To War, dir. Juanita Onzaga
Skip Day, dir. Patrick Bresnan
Colombian directors Guerra and Gallego's 1970s-set Birds of Passage, exploring the early days of Colombia's drugs trade, is the opening film. The pair were last in Directors' Fortnight in 2015 with the Oscar-nominated drama Embrace of the Serpent, which Guerra directed and Gallego produced. With Birds of Passage, they share the directorial credits.
Italian filmmaker Gianni Zanasi's Troppa Grazia, starring Alba Rohrwacher as an architect battling to save a beautiful valley earmarked for a development, will close the 50th edition.
Zanasi presented his first feature Nella Mischia, a comedy about a gang of trouble-seeking teenagers growing up on the outskirts of Rome, in Directors' Fortnight in 1995.
SCORSESE AND TAXI DRIVER TO KICK OF 50TH EDITION
As per the tradition of the parallel section - organised by the French directors' guild the Société des Réalisateurs de Film (SRF) - the edition will kick off on May 9 with the presentation of the Carrosse d'Or award, honouring a filmmaker whose work is imbued with "innovative qualities, courage and independent-mindedness". This year's recipient, as previously announced, is Martin Scorsese who will attend for an on-stage conversation after a screening of Mean Streets, which first played in Directors' Fortnight in 1974.
"He agreed to accept this prize with emotion as it was at Directors' Fortnight that he was discovered in 1974 with Mean Streets and it is this film he has chosen to show," said ," said director Céline Sciamma, co-president of the SFR alongside Rebecca Zlotowski and Yann Gonzalez.
The film, she said, will be screened at 2.30pm at the opening ceremony followed by "a conversation between cineastes", involving Martin Scorsese, Zlotowski, Jacques Audiard, Bertrand Bonello and Cédric Klapisch.
ESTABLISHED DIRECTORS
Over its 50-year history, Directors' Fortnight has distinguished itself from Cannes Official Selection as a home for newcomers and atypical works by established filmmakers, a trait stemming from its birth as a breakaway section from the official festival.
For his final year, however, Waintrop has delivered a selection featuring a number of filmmakers, who have spent most their careers in Official Selection, with just two first-time features, Treat Me Like Fire by French director Marie Monge, and Carmen & Lola by Spain's Arantxa Echevarria.
"Arantxa Echevarria is a Basque filmmaker. It's a love story between two women set against the backdrop of the gypsy community," said Waintrop.
Monge's much anticipated film stars Tahar Rahim as a gambling addict who introduces his naïve, younger girlfriend, played by Stacy Martin, to Paris's illegal gambling scene with dangerous consequences for both their lives.
Among the Cannes habitués selected for Directors' Fortnight this year is Spanish director Jaime Rosales with Petra, starring Barbara Lennie as an artist who goes in search of the unmentionable father she never knew after her mother dies.
Rosales made his Cannes debut in the parallel selection in 2003 with The Hours Of The Day but has since shown most his films in Official Selection's Un Certain Regard, most recently with Beautiful Youth in 2014.
"Petra, for me, is his most beautiful film to date. It is extremely cruel in the vein of a something that might have been written in the 18th century. It's offers an unusual vision of Spain, Catalonia."
Gaspar Noé arrives in Directors' Fortnight for the first time with Climax (a.k.a. as Psyché) – about a group of dancers who are brought to the brink after they are mysteriously drugged during a rehearsal - having shown his last three features (Irreversible, Enter The Void and Love) in Competition in Cannes Official Selection.
Waintrop did not divulge any further details about the film, which has been kept largely under wraps, saying: "The film is sufficient in itself."
STRONG FRENCH PRESENCE
Climax and Treat Me Like Fire are among six French feature productions in the line-up. Philippe Faucon returns, for a second time, with Amin, the tale of Senegalese man, who leaves his wife and children, to work on building sites in France, where he gets involved with a French woman. Faucon's award-winning film Fatima, about an immigrant woman struggling to navigate life in France, began its career in Directors' Fortnight in 2015.
Guillaume Nicloux also returns with Vietnam-set drama To The Ends Of The Earth, starring Gaspard Ulliel as a young French man who gets embroiled in the war, opposite Gérard Depardieu as shady, duplicitous writer and long-time resident of the country. Nicloux showed his third film Faut Pas Rire Du Bonheur in the Directors' Fortnight in 1994.
"It's sort of in the mould of Heart Of Darkness or Apocalypse Now expect there's no apocalypse… It follows what happened in Vietnam in 45 and 46. It's follows how a colonial war can become the personal war of one man."
Pierre Salvadori will unveil ensemble crime drama The Trouble With You (En Liberté!), starring Adèle Haenel as a police inspector who discovers her fallen hero, police captain husband was not as exemplary as his public persona suggested. The cast also features long-time Salvadori collaborator Audrey Tautou as well as Pio Marmaï and Vincent Elbaz.
The sixth title from France is Romain Gavras's Le Monde Est À Toi, starring Karim Leklou as a former drug dealer whose plans to go straight and set up a business in Algeria are derailed after his mother, played by Isabelle Adjani, blows his ill-gotten gains at the gambling table. Vincent Cassel and Divines star Oulaya Amamra also feature in the cast.
"This film was a nice surprise for us," said Waintrop. "It was one of the first films we fell in love with."
LATIN AMERICAN ALSO OUT IN FORCE
Waintrop has championed Latin American cinema throughout his tenure as artistic director at Directors' Fortinght. In addition to Birds of Passage, further films from the region in this year's line-up include Mexico-set drama By Me A Gun (Cómprame Un Revólver), about a drug addict's determined efforts to keep his teenage daughter safe in a world that is not kind to women It is the latest feature from US-Mexican-Guatemalan filmmaker Julio Hernández Cordón, whose last feature Atrás Hay Relampagos premiered at the International Film Festival Rotterdam in 2017.
"Julio Hernández Cordón is a director who I am particularly happy to have in this line-up," said Waintrop, adding he had been following the filmmaker since his 2008 debut feature Gasolina.
"By Me A Gun is an incredible film. A mix between Peter Pan and Mad Max in Mexico, not of today, but perhaps, of tomorrow."
Argentinian director Agustin Toscano will premiere his second feature El Motoarrebatador about a mugger with a brutal past who wants to seek atonement for his crimes but finds it is not that easy. Toscano made his Cannes debut in Cannes Critics' Week in 2013 with comedy Los Deuños, co-directed with Ezequiel Radusky.
Brazilian director Beatriz Seigner will unveil Los Silencios exploring Colombia's 50-year civil conflict through the fate of two young brothers who end up on a mysterious lost island with their mother as they try to escape to Brazil. It is Seigner's second feature, after her 2010 picture Bollywood Dream about three Brazilian actresses who head to India to break into Bollywood.
SECOND FEATURES
Further second features include Tunisian director Mohamed Ben Attia's Weldi about a father who goes in search of his son after he leaves home to join extremists in Syria. It marks a Cannes debut for Ben Attia whose revolutionary-era coming of age tale Hedi, won best first feature at the Berlin International Film Festival in 2016.
Serbian director Ognjen Glavonic will premiere his second feature The Load (Teret), about a truck driver who is hired to transport a mystery cargo from Kosovo to Belgrade at the height of the NATO bombing of Serbia in 1999. The film grew out of Glavonic's last film, the feature-length documentary Depth Two exploring the discovery of a mass grave in a suburb of Belgrade in 2001.
ANIMATION
The selection also includes two feature-length animations, Italian director Stefano Savona's documentary work Samouni Road and Japanese animation maestro Hosoda's Mirai.
The timely Samouni Road revolves around a Palestinian family preparing for a wedding as they replant olive groves and rebuild homes on the outskirts of Gaza City, destroyed in the latest flare-up in the conflict with Israel, and attempt to reconstruct memories of lost loved ones and ways of life.
Hosoda's Mirai is a portrait of a young boy dealing with a sense of abandonment following the arrival of a baby sister, who finds solace in a magical garden allowing him to travel in time where he meets his mother as a small girl and his sister as an older child.
His last film The Boy And The Beast played at TIFF in 2015.
Asia is also represented by veteran Chinese director Zhang Ming's The Pluto Moment (Ming Wang Xing Shi Ke). It is the first feature in five years from the filmmaker whose work has always been characterised by its zeitgeisty take on contemporary Chinese life.
"Zhang Ming is a Chinese cineaste in his 50s who belongs to the so-called 'Sixth Generation'," said Waintrop. "It's the first time in seven years we've had an independent Chinese production in this vein.
The Sixth Generation, he explained, were the Chinese filmmakers who came after Fifth Generation, characterised by the likes of Chen Kaige, Zhang Junzhao, the first group of directors to graduate after the Cultural Revolution.
"The Sixth Generation is the generation of filmmakers who came after who did not experience the acts of the Cultural Revolution in person, even if they were born while it was still going on," said Waintrop.
"Their work is often described as 'urban' but what is surprising about The Pluto Moment is that it is urban spirit but also takes place in the forest in the West of the country, in the director's home region of Sichuan. It's a film that talks about cinema, politics and the relationship between the town and the countryside."
SUNDANCE SELECTIONS
As in previous years, the line-up features titles which premiered at Sundance.
They include Debra Granik's Leave No Trace, about an ex-war veteran who has opted to bring his daughter up outside of the mainstream society, out in the open in Portland's Forest Park. This way of life is brought to an abrupt end after a jogger spots her hiding in the undergrowth and reports his behaviour as suspicious to the authorities.
Granik, best known for her 2010 Oscar-nominated, Jennifer Lawrence-starrer Winter's Bone, has never screened in Cannes before.
The other Sundance premiere in the line-up is Panos Cosmatos's revenge thriller Mandy, starring Nicolas Cage as a lumberjack, living the simple life in the mountains, who is set on a path of blood-thirsty revenge after his partner is abducted by the leader of a local cult.
The Fortnight has steered clear of any Netflix titles. Jeremy Saulnier's Hold The Dark could have been a candidate given the director's associations with the section: Blue Ruin premiered in Directors' Fortnight in 2013, winning the FIPRESCI prize, as did his following film Green Room.
The section has never made an official comment on its policy with regards to the intended distribution windows for the films in selection.
The submission requirements on the website state a film "must not have been shown on the internet or broadcast on TV or commercially released in France" prior to its screening in Cannes but do not stipulate the film must be free for theatrical distribution in France in the future.
It is not clear whether Netflix's boycott of Cannes, announced on the eve of the Official Selection press conference last Thursday (April 12), includes the parallel sections of Directors' Fortnight, Cannes Critics' Week and ACID as well.