With the main Cannes competition over, Screen's gathering of top international film critics saw their view on best film tally with that of the official jury.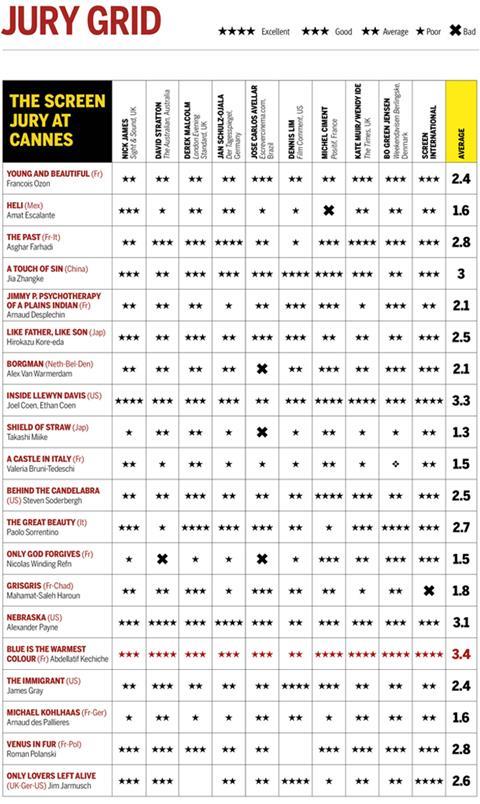 For the first time in some years the response from the critics was in tune with jury president Stephen Spielberg and his fellow jurors, with the highest percentage rating of 3.4 going to Abdellatif Kechiche's Blue Is The Warmest Colour, which snatched the lead from the Coen brothers Inside Llewyn Davis with just a few days to go.
The film enraptured critics, and it has been awarded five scores of four stars (the highest rating in the Screen chart), which seems to be clear indicator that it has been well appreciated by the Cannes critical community.
As Screen reviewer Jonathan Romney commented in his review: "Kechiche hits emotional paydirt with a story spanning several years of the early adult life of a young woman, focusing on a passionate lesbian romance. A coy coming-out drama this most definitely isn't."
In her Screen Cannes competition blog, Fionnuala Halligan added: "Blue Is The Warmest Colour is the five-star, must-see, talk of the Croisette. It does feature lengthy sequences of graphic, real sex between two gorgeous young actresses, but that's not the [only] reason why the film was so warmly received; it's also a deeply tender look at first love."
At the bottom of the Screen critics jury rating this year was Takashi Miike's crime drama Shield Of Straw with 1.3, though closely followed by Nicolas Winding Refn's controversial Only God Forgives (which polarised critics); Valeria Bruni-Tedeschi's A Castle In Italy and Arnaud des Pallieres' period drama Michael Kohlhaas.