Other winners include Arnaud Desplechin's My Golden Days and Deniz Gamze Ergüven's Mustang.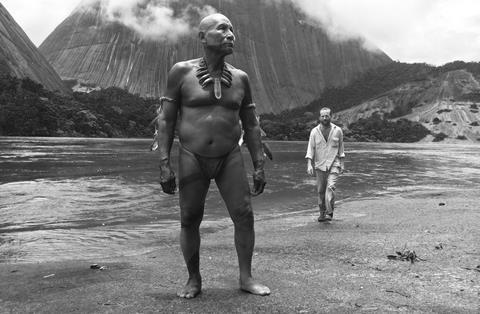 Embrace Of The Serpent (El Abrazo de la Serpiente) picked up the Art Cinema Award at the 47th Directors' Fortnight in Cannes this evening (May 22).
Anticipation surrounded Guerra's return to the Croisette after the Colombian director's acclaimed 2009 Un Certain Regard entry The Wind Journeys.
His new film chronicles the friendship between an Amazonian shaman and two scientists and claims to be the first film to shoot in the Colombian jungle in three decades. Sales are handled by Films Boutique.
Screen Future Leader Cristina Gallego of Colombia's Ciudad Lunar produced with Venezuela's NorteSur and MC Producciones and Buffalo.
Screen revealed last week that Gallego is to reunite with Guerra on Birds Of Passage (Pajaros de Verano), set in an arid region of Colombia where a rare rainstorm leaves a trail of devastation. Shooting is set for early 2017.
Embrace Of The Serpent marked a further Cannes win for Latin American cinema after the Critics' Week sidebar awarded its Grand Prize to Argentina's Paulina and the France 4 Visionary Award to Colombia's Land and Shade.
Desplechin victory
My Golden Days (Trois souvenirs de ma jeunesse), from French director Arnaud Desplechin, won the Fortnight's SACD Prize, presented annually to a French-language film by the Society of Dramatic Authors and Composers.
There was surprise last month when Desplechin's latest film was not announced as part of Cannes' official selection. The director is a Cannes veteran who has had five films nominated in Competition, from La Sentinelle in 1992 to Jimmy P. in 2013.
Sold by Wild Bunch, My Golden Days revisits the childhood of Paul Dedalus, the protagonist of Desplechin's My Sex Life… Or How I Got Into An Argument (1996), who also featured in A Christmas Tale (2008) - both of which premiered in Competition at Cannes.
Mathieu Amalric and newcomers Quentin Dolmaire and Lou Roy-Lecollinet star in the story about an anthropologist detained upon his return to France who recounts his memorable life story to the authorities.
Le Pacte released the film in France on Wednesday (May 20) and Magnolia Pictures picked up all US rights during the festival.
Europa Cinemas winner
Mustang, from Turkish director Deniz Gamze Ergüven, won the Europa Cinemas Label for best European film in the Fortnight.
It marks the 13th year Europa Cinemas has presented the prize in Cannes and comes with the support of the Europa Cinemas Network, with additional promotion and incentives for exhibitors to extend the film's theatrical run.
The debut feature of award-winning shorts director Erguven, who won acclaim for Bir Damla Su (her graduation film from Paris's La Fémis film school), is the story of five sisters growing up in a remote Turkish village who attempt to assimilate into the modern world, despite the pull of tradition from their family and community.
Mustang is a CG Cinema production, co-produced with Bam Film (Turkey), Vistamar Filmproduktion (Germany), Uhlandfilm (Germany) and the Doha Film Institute (Qatar). Ad Vitem has French rights.
Earlier this week, Cohen Media Group acquired all North American distribution rights to Mustang and plans to release the film theatrically in early 2016.
In addition, the Illy Short Film Award went to Fyzal Boulifa's Rate Me while a special mention was given to Peter Tscherkassky's The Exquisite Corpus.
Directors' Fortnight closed this evening (May 22) with Rick Famuyiwa's Los Angeles-set teen comedy, Dope.