Triet's latest stars Virginie Efira as a workaholic Parisian lawyer.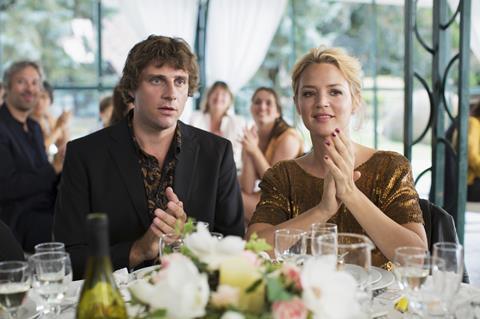 French director Justine Triet's In Bed With Victoria - a comedy drama about a criminal lawyer juggling single motherhood, a heavy caseload and complicated personal life with undertones of Woody Allen, Billy Wilder and Paul Cassavetes - opened Critics' Week at this year's Cannes Film Festival.
Triet explains the protagonist grew out of her well-received 2013 debut Age of Panic (La Bataille de Solférino), set against against presidential victory celebrations in front of the French Socialist Party headquarters n May 2012 and revolving around a TV presenter covering the event while arguing with her ex partner about who is supposed to be looking after their children.
"The idea was very simple. From the beginning I wanted to go back to the same sort of character as in the Age of Panic, a single woman with children, who works and has a full life, the reverse of the female characters you find in traditional comedies, who you rarely see working and spend most the film looking for a man."
Unlike many French female directors who are reluctant to discuss how being a woman impacts their work, 38-year-old Triet is refreshingly open about her desire to create a strong female protagonist for In Bed With Victoria, drawing on central character of her debut work.
"Questions on gender can be complicated in that you want people to talk about your film, rather than the fact you're a woman but In Bed With Victoria is undeniably a portrait of a contemporary woman with a busy life and powerful job directed by a woman, which in itself is a feminist approach."
Popular Belgian actress Virginie Efira stars as Victoria, a high-flying criminal lawyer with a frenetic personal life who hits an emotional and professional wall when her a best friend asks her to defend him in a murder case at the same time as her ex creates a racy blog which is a thinly veiled portrait of her life.
"Both the drama and the comedy come out of this double process of defending a friend and prosecuting her ex. One thing that was important for me was that there is no more intimacy. Everything is out in the open, nothing is private."
Triet cites various directors as sources of inspiration for the film including Howard Hawks, Billy Wilder, Blake Edwards and Woody Allen.
"It's difficult to pin-point my influences because I've got so many. One film that did stick in my mind while I was writing the script was [John] Cassevetes' Opening Night," says Triet, referring to the US director's 1977 film starring Gina Roland, as an alcoholic actress trying to pull herself together ahead of a big performance.
Like Age of Panic, In Bed With Victoria unfolds partly against a chaotic, untidy domestic setting, strewn with kids toys, heaped up clothes in a modern block, a far cry from the neat parquet floored, high-ceiling Hausmannian apartments that so are so often the setting for French dramas and comedies.
"The décor was incredibly important and always present. In a chaos in the flat – combined with the constant disruptive presence of the children –reflects what is going on inside Victoria's mind – although the children weren't quite as disruptive as in Age of Panic."
The role of Victoria marks a change of scene for Efira, who has made her name as the go-to actress for French rom-coms, co-starring opposite Pierre Niney in It Boy (20 ans d'écart) and Jean Dujardin in the recently released Up For Love. She appears in Paul Verhoeven's Palme d'Or contender Elle.
"She brilliant actress and I just fell in love with her not so much for her past films but rather listening to her in interviews. It true she hasn't been in many films d'auteur but I could feel she wanted to move her career in another direction and I wasn't wrong. The problem in France is that we're too quick to pigeon-hole actors in a certain category."
Vincent Lacoste, whose credits include Hippocrate: Diary Of A French Doctor, plays Sam, a former younger client with a history of drug dealing who quietly inveigles himself into Victoria's life.
"He's just 22. There's something pure and melancholic about Vincent that drew me to him for the role immediately. He had this capacity to start out looking slightly adolescent and then transform in to some more virile and mature," says Triet. "The fact Sam is younger than Victoria wasn't really a key story arc of the film. It was just there."
Future Projects
In Bed With Victoria marks Triet's second production with upcoming Paris-based production house Ecce Films, which also recently produced Théo and Hugo in the Same Boat as well as political satire Gaz de France.
The director hopes to collaborate with them for a third time, on a drama revolving around the relationship between a mother and a daughter.